I started my blog site after having it re-designed by my good photographer friend DJ of Conway, Arkansas, who is a whiz at photoshop and building websites, he built this one for me after re-designing it and did a fantastic job with it. So if you go back to the original posts, I started adding material in July of 2010 after my summer trip to southern Arkansas…so this post will basically just be a recap of the entire year of 2010.
My shoots in 2010 started off a bit late due to a busy month in January with other things taking place…and despite a very cold and snowy February, a few new models met with me and allowed me to photograph them in order to get them started…a few of my photographer friends reached out to me in the local area and asked me to assist them in their searches for models for paid shoots. Many of the models I worked with this year I was able to line up with them as well and created a win-win situation for everyone involved. My first shoot was on a very cold day in Feb at a friend`s farm in one of the haybarns, with a young man named Bryan who had moved down here from the East Coast in search of concrete work…he turned out to be a tightly toned blonde haired young man who was a lot of fun to work with over the next several months for a few of us….he had a few colorful tattoos in the right spots and wanted to get into nude print work….these first four images I shot of him in the haybarn on a very cold day…Bryan was a real trooper for standing the cold like he did and I was impressed with his personality and his looks….
…so much that I invited him down to shoot with me again a week later and I promised him it would be a much warmer shoot this time….
…I still had my Christmas backdrop up and he liked the looks of it and some of the outfits with it….
and he wanted to try the fire gear as well….which he looked very hott in, I might add…..
…he enjoyed that shoot and returned a week later for yet another shoot, and this time one of my photographer friends came down to work with him as well….
…he spent the next few weeks working and shooting with another photographer friend of mine nearby, and then returned in April when the bluebells were blooming…I took him to a nearby farm where they always bloom in bunches….
Needless to say, Brian was one of the highlights of 2010 for me and my photographer friends who were fortunate enough to work with him before he left for home.
In May, I had the good fortune of working with a  hot muscular guy named Greg, who came down one day to shoot some poster work with me, and looked fantastic I might add, all dressed in fire gear…..
On the very first day of June, I photographed a cute guy named Charlie, who contacted me two weeks before online…he was in southern Illinois and wanted to get into some modeling work to offset his college expenses…said he enjoyed showing off and it shows in his images….he turned out to be a very good model….
…and then I took him to my friend`s farm nearby…..
Charlie came back to work with me and some of my friends after that first session.
Early June, I talked to a hot guy online that was from down around Fort Wood, he wasn`t in the military, but was attending college and very much wanted to get into some modeling work, so he came down and shot some test shots with me…Nic turned out to be much hotter looking in person than the photos he sent me and I was very impressed with him….
Nic was a very hot guy to work with…..
The following week I was up in Kansas City for a Babe Shoot, several babes I should say, in swimwear and lingerie, at a private residence. It was a two day shoot and I had planned to stay both days to shoot, however the accomodations for us photographers did not turn out to be what was promised for the fee, so I left early the second morning and met a hot young Asian model named Ed, at one of the parks in southern KC near Union Station…he turned out to be quite a hot model to work with that morning before I returned home…
…and the next image is posterized of him….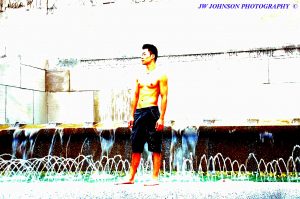 …then I took him down to some fountains where one could get some great reflections of him….this would have been perfect for fire gear but I did not bring any with me…..
…by this time, traffic was really picking up behind me, there is a roundabout there and we were causing quite a sensation of interest, so we packed it up and headed to a private pool that he knew of nearby, where I could photograph him in his speedos….
…and then we were done…we never did get any pool shots, although we were right next to it…there were a few gals in it and we didn`t want to disturb them….Ed was a lot of fun to work with, hope to see him and shoot him again sometime.