One of the highlights to my Kansas City trip in June of 2010, was photographing Ed, a hot Asian swimmer at a few of the fountains in Kansas City. I had contacted him and told him of my trip to KC to photograph some swimwear babes all day on Saturday and we decided to meet up downtown KC on Sunday morning before I headed home.
I got up bright and early at the swimwear shoot host residence, and took off after saying goodbye to three of the other photographers who were awake at that early hour and headed for downtown KC. I texted Ed that I was on the way and gave him a projected arrival time, but not knowing traffic patterns up there, I wound up being about fifteen minutes late, due to hitting some heavy traffic in the Shawnee Park area. Lucky for me, Ed is a patient guy and waited for me at Liberty Memorial where we decided to meet up. I spotted him after parking on the opposite side of the Memorial parking lot of what appeared to be a car show starting to organize.
Ed asked if I could take some casual dressed photos of him first, and I agreed, and he hopped up on the wall by the Memorial itself. Looking out behind him, I saw the clouds forming to give us some nice sunbeams behind him…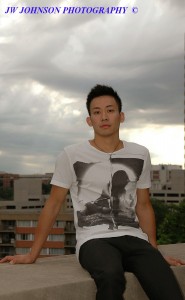 I then had him whip his shirt off and show me his very hot, toned build.  Ed is definitely one hot guy to work with and easy on the eyes too. I had him stand next to the Memorial Tower itself for a few pics so I could again get the sunbeams behind him…lighting was a little tricky and finally had to resort to the flash a bit…
and there was a steel door there behind him so he backed up to it and allowed me to get a nice shot of his hot build…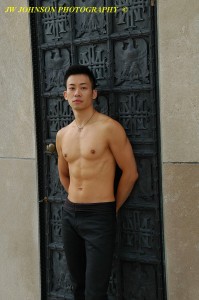 we then walked over to the north side building and he asked me to shoot him up against the blue tiled wall….
After this shot, he changed into his khaki shorts and we walked down to the fountains on the west side of the memorial…stopping on the stairs to get this shot…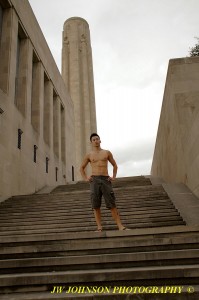 …to get the Memorial Tower in the background with him…and then we walked down to the fountains themselves…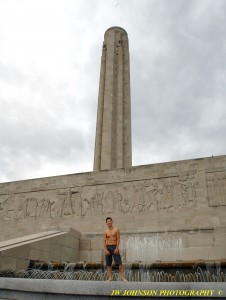 where I recorded my first beautiful smile from this hot guy…and while up on the fountain wall, he showed me his athletic abilities….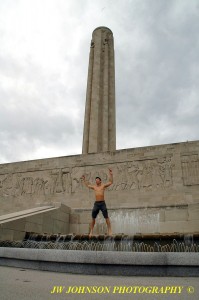 and then while standing still, I was playing with my shutter speed and trying to get the slow shutter effect I get with the waterfalls and instead came up with a high contrast image…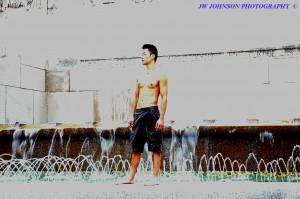 which I decided I like as well…and then he laid down on the fountain wall so I could try some more slow shots…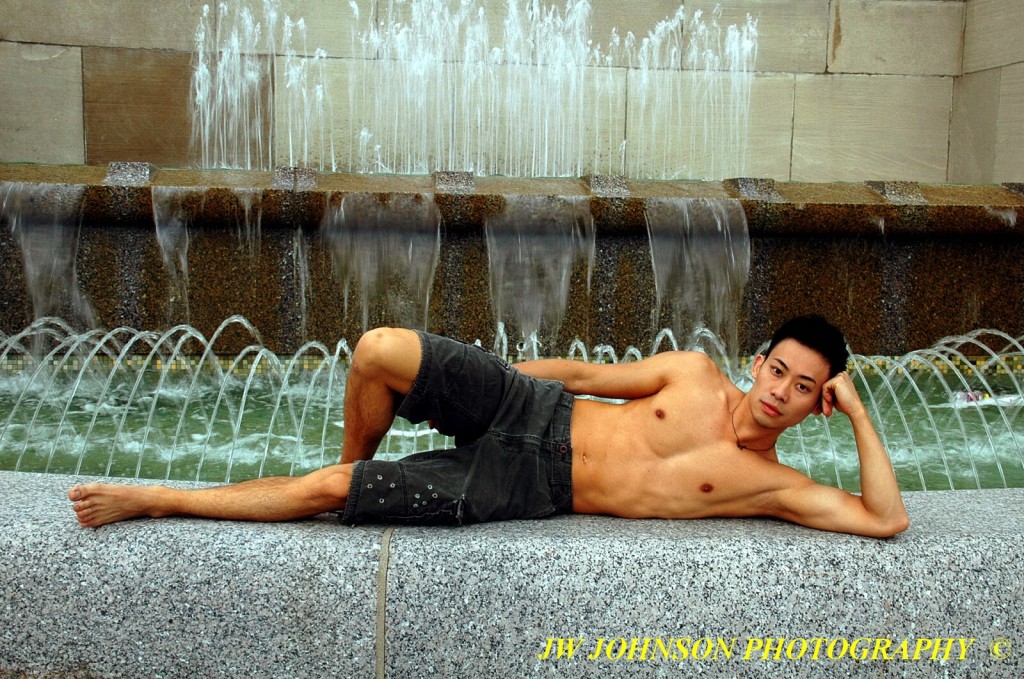 and while down there, we looked to the west and down the hill and spotted one of my favorite Kansas City fountains…Union Station has this fountain that has several water patterns on the jets, plus a really nice reflection pool surrounding the jetted area….we drove down and decided to shoot a few pics here as well….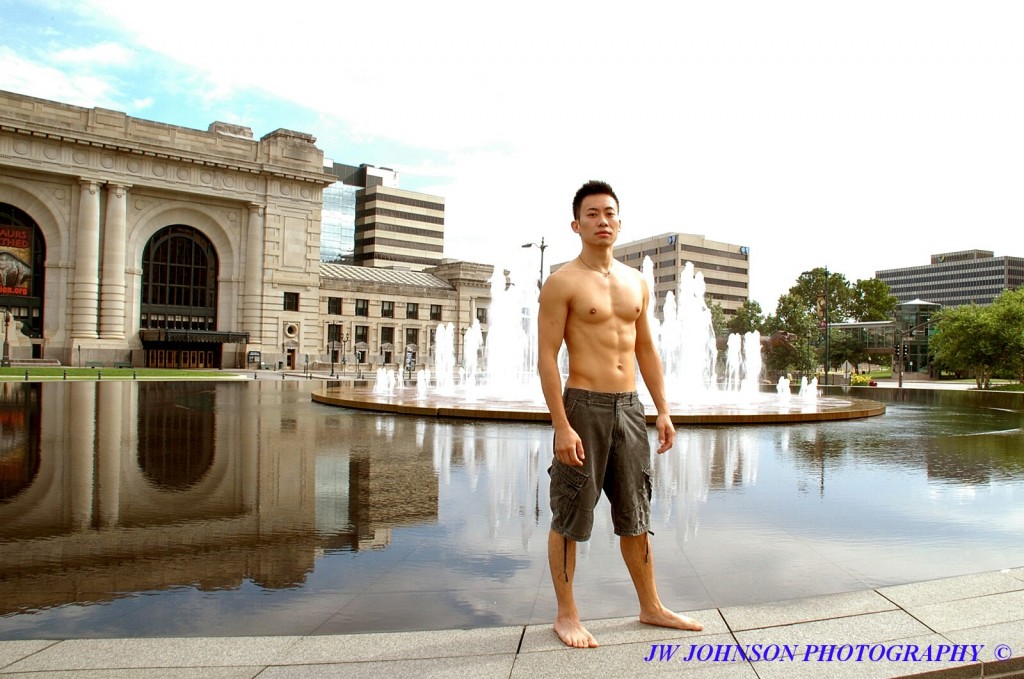 and the reflections looked so nice…with him out in front, I asked him to wade out and shoot in the pool itself…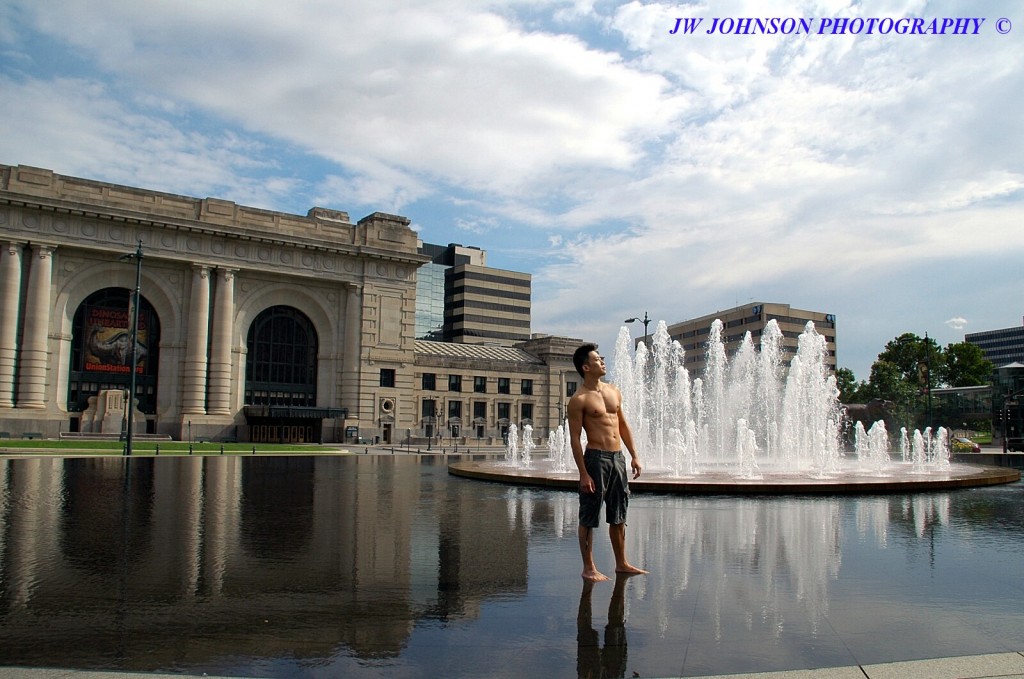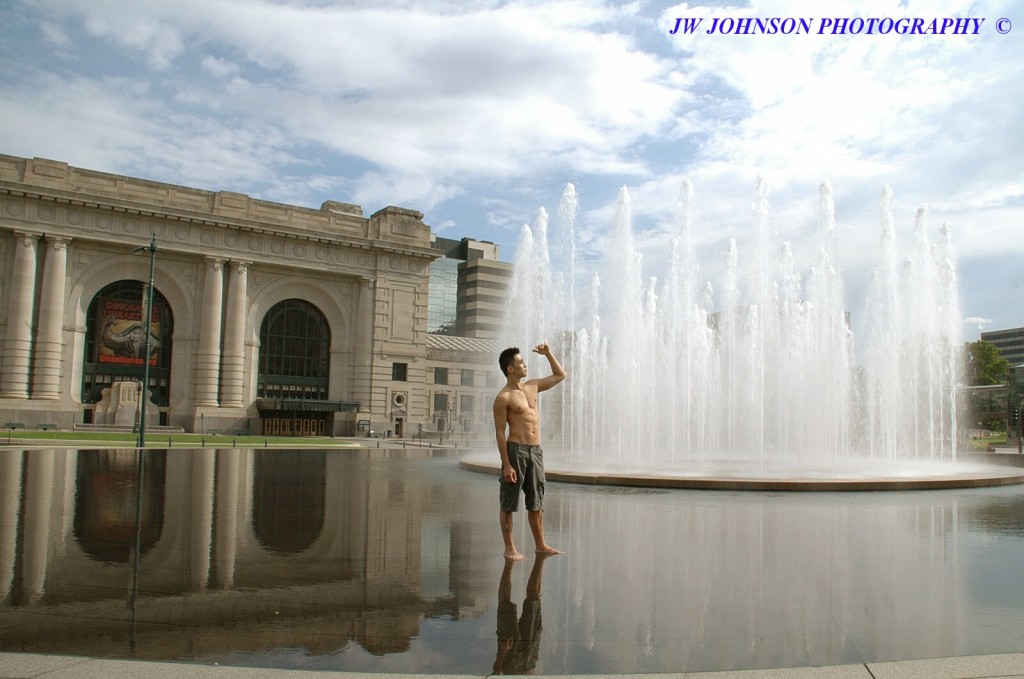 well after shooting at the fountains, we decided to get some breakfast and headed over to get some hot cakes…then he mentioned to me that he had some speedos and wished he had brought them to shoot in…by that time I was regretting not shooting him in my fire gear at the reflection pool, too…we went up to his apartment complex pool near Country Club Plaza and I was able to shoot some nice pics of him in his speedos before I headed home…
and he gave me another winning smile too…very innocent and sexy smile…
and looks great with flowers too…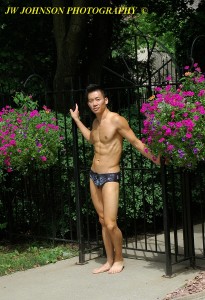 in fact, he looked so good here between the flower baskets that I placed him in the flower garden too…
Sure look forward to my next shoot with Ed….