I had the pleasure of working with a gorgeous country girl last week,  and while she has only been modeling for a short time, she has a super personality, beautiful build and bod, gorgeous smile and eyes… had several expressions and I was able to teach her a few new ones too…she was running a little behind on her schedule but she kept me updated the whole time and so we shot for a couple of hours and then I let her get back on the road home cause she had a bit of a drive home. I`ve made that drive myself a few times when I drive down to hunt in western Kentucky, luckily its all interstate though. She has the desire to get into Maxim Magazine and possibly others too, so we took a few photos with that in mind and I plan to shoot her at least a few more times in the near future. She was absolutely great to work with ! Here are a few of her images…
the first outfit I shot was a red shirt she had tied up some and her holie jeans, and her brown suede boots, and she looked stunning in the outfit…def a country girl here…this next outfit is partially my collection of outfits, blue jean jacket with gold fringe and cowboy chaps loaned to me by one of my male models…
..then the jacket and her holie jeans again……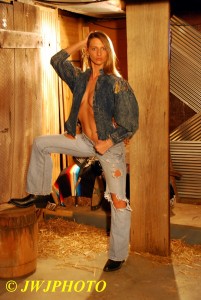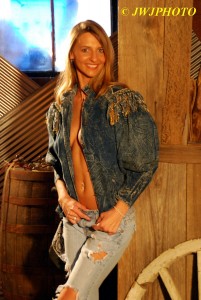 showing off that beautiful smile above…and those sexy eyes….
and the jacket and a pair of short shorts one of my female models left with me a few years ago…they show off the legs and butt real well….
and then she posed in an artistic way in the barn set…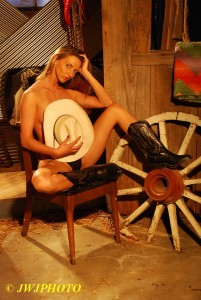 and she brought with her a neat dress that resembled a bodystocking and made for some great shots that showed off her legs and feet well…
I also photographed her in some fire gear…she saw my poster work and wanted to be a part of it and I wanted to work with her on that as well…and will again…so I shot her in some older fire gear that a good friend had provided me with several years ago….
I`ll add some more of her images soon…Thanks gorgeous !