I was driving down to Central Kentucky last year early in September, on vacation, and had been in touch with a nice young man I located on a modeling website since August. He had already done some video work with some friends of mine in the business, but not as much print work and he was in need of some new print work for his portfolio. I liked the strong countryboy features that he had, so I offered to work with him at an old mill on my way to my vacation destination one morning. His name is Connor and soon after meeting up with him at the mill, I discovered he has a strong work ethic in addition to good looks and a great build, and I knew he could go as far as he wanted to in print and video work both.
We started out shooting in an area of the property that I had not been to before, with an old stone wall for a backdrop…yes I know, Kentucky is full of stone walls and fences…they prob don`t have very many with good looking countryboys standing next to them either. 🙂  He was wearing jeans and a t shirt when we started out, I asked him to remove the shirt and show me how much he knew about posing so far…
When he sparked that smile, I knew I had a great model to work with…he had a really good ease to him, which you dont find in all models anymore, most start out nervous and a little anxious, sometimes that wears off quickly and with a few it does not…if Connor was nervous or anxious, I never spotted it. I had a good feeling this was going to be a very nice session at a very pretty location….
After shooting those initial images,  I had him change into the holie jeans for some images…they looked fantastic on him….
…from the stone wall, we walked down to the waterfalls and shot some images there…
…and then we shot some in the shadow of the old mill….
…and the red flannel shirt didnt look bad on him either…..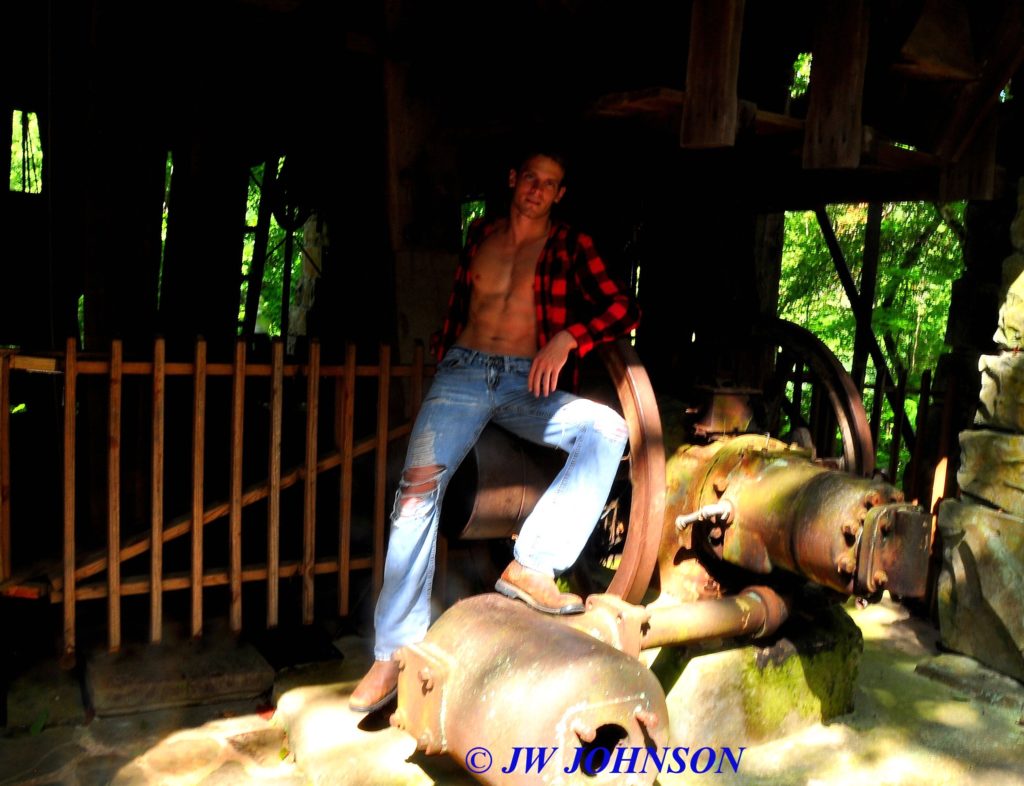 As he was getting ready to head home, he decided he liked those holie jeans a lot and was gonna leave them on….thanks again Connor for an enjoyable shoot…look forward to working with you again sometime….
If anyone is interested in modeling work like this, give me a shout at jwjphoto@fidnet.com