A friend of mine likes to collect antique fire trucks in Illinois and has a few of them housed in a couple of private fire houses…he and I have been friends for years and since I have a hot female model located nearbyin northern Kentucky,  I contacted him a few months ago and then arranged to meet her at one of his firehouses in March, after all the snow had cleared off and it actually warmed up to about 55 that day, but we planned to shoot inside the firehouse anyway….she showed up in a pair of holie jeans and high heel boots and just looked stunning, so I decided to start her off in her jeans first…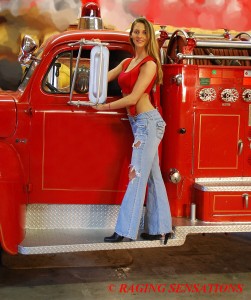 …she had asked me to bring the cropped red t top that I have, she had worked with it in her first shoot and liked it, so I brought it along for her to wear with her jeans. She is one hott gal to work with, very pretty and a dazzling smile too and has good command of body language, posing, and expressions, she is every bit a photographers model.
She also added the red suspenders to the jeans and just looked great….you`ll prob quickly notice that I have kind of swirled the background colors together in the images…..my friend has collected quite a collection of fire service memorabilia over the years and has much of it hanging on his firehouse walls, which can be a bit of a distraction when you have a beautiful model showing off a truck…so I took the liberty of making it easier for the viewer to maintain focus…sorry buddy….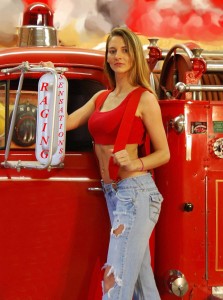 For the next series,  I helped her up on the hood of his 48 Ford American LaFrance after she removed her heels and we shot these images….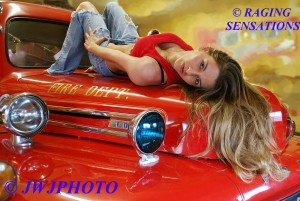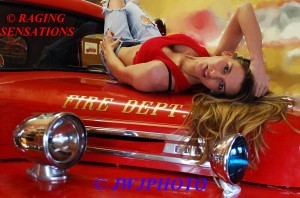 and I even posterized a couple of them…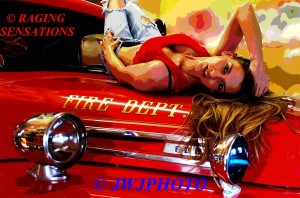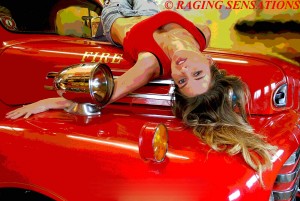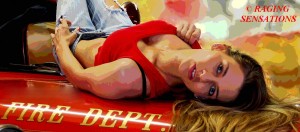 …..where you will really tell the difference is in the background and her clothing…the truck pretty much stayed looking the same, deeper colors maybe but that was about it…..
She then switched to the blue jean shorts and fireman boots….one of her fine features, among many believe me, are her long legs and nice derriere, which she likes to show off a lot…who am I to argue with a model like that……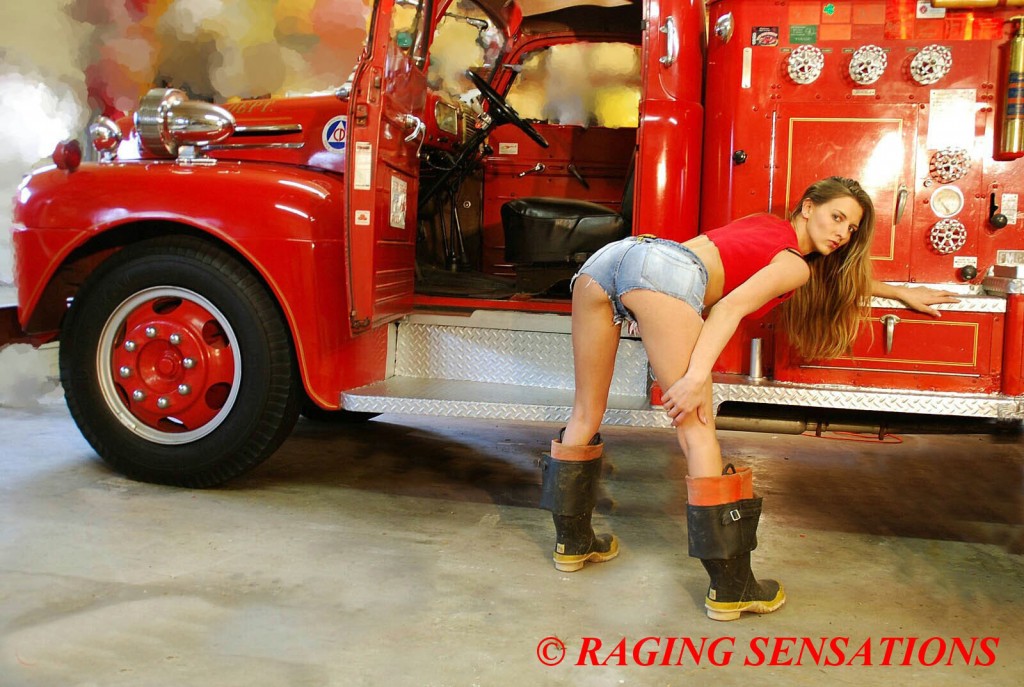 …shorts like these are great for helping a model show off both her legs and her butt…and posterized as well….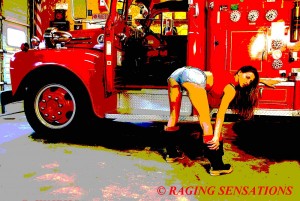 ..she also helped me with one of my ideas for an antique truck with a firefighter riding along the side of the truck…okay we got a little carried away…. she was riding a little further back than most of them ever did….
..but you have to admit, the angle sure looks nice from here….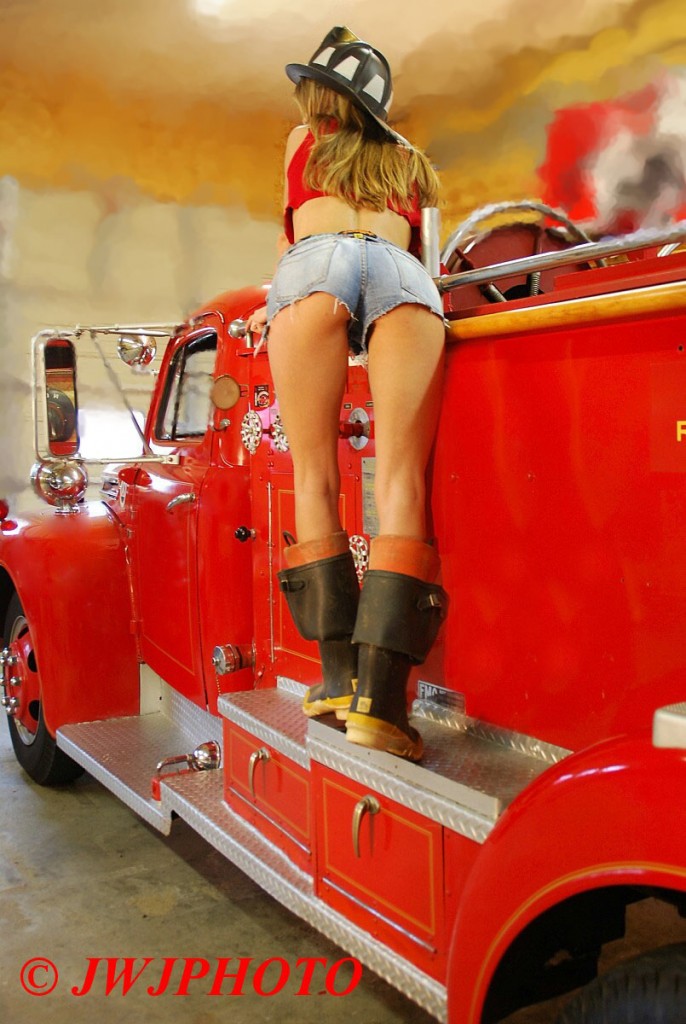 …and we switched gears and moved to some nice red lingerie….a hot red colored baby doll, perfectly fit for a Baby Doll in the cab of the firetruck….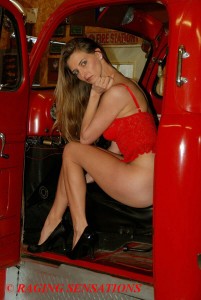 …then she swung around in the seat with an idea for a shot….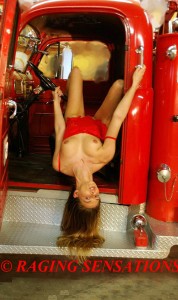 and then I posterized it too….
…WOW… a baby doll with legs like that….wow…..and then…….she then put on a firemans jacket and hat,  sat down and put her feet up, to mann the radio and keep an ear out for calls…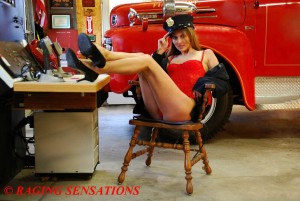 My buddy has a couple of neat antique hose carts in the firehouse too, so we decided to shoot a few images with one of them while she was wearing the red babydoll, too….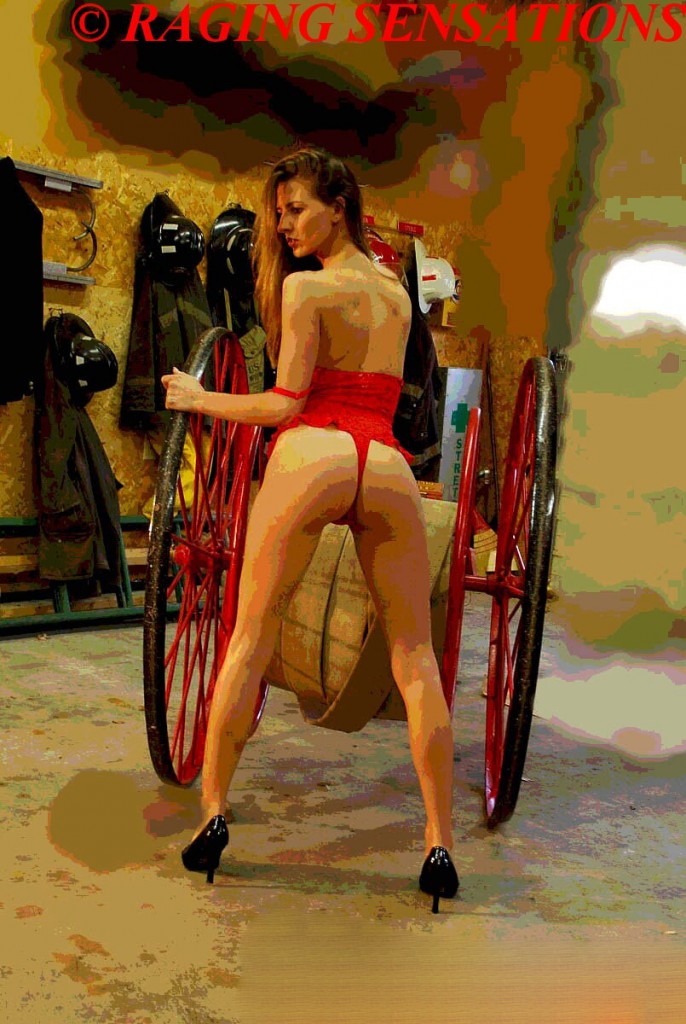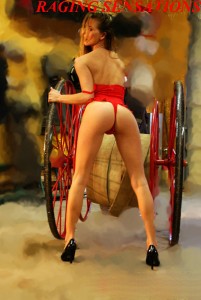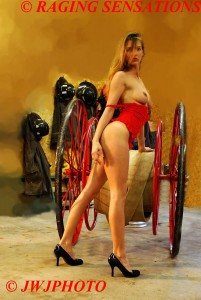 ..and then we worked the jacket and hat and truck some more….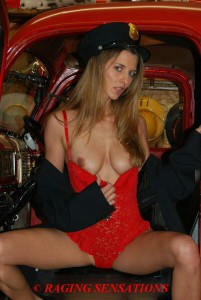 …..and then we allowed her to work the truck over….and dressed her in coveralls to make sure she stayed pretty and clean….and while most mechanics normally start by looking under the hood for problems, she started out by laying on the hood….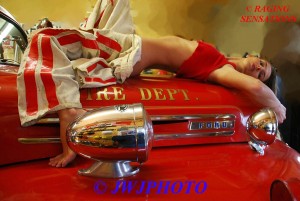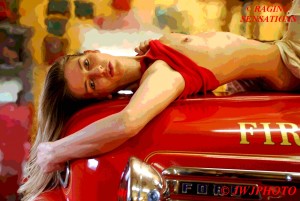 …and then she decided to make sure the back step of the truck was in good working order as well since one never knows when they will have to step up there and pull hose….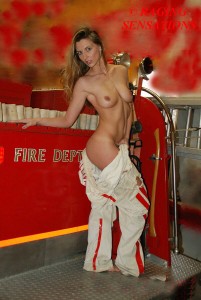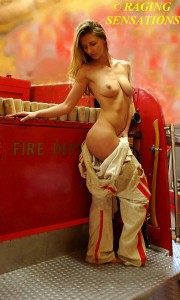 …and looked just fine I might add…..while back there, she switched to the short shorts and suspenders again for a few images….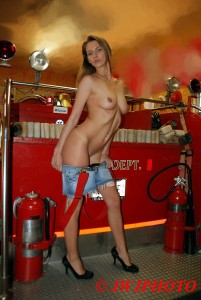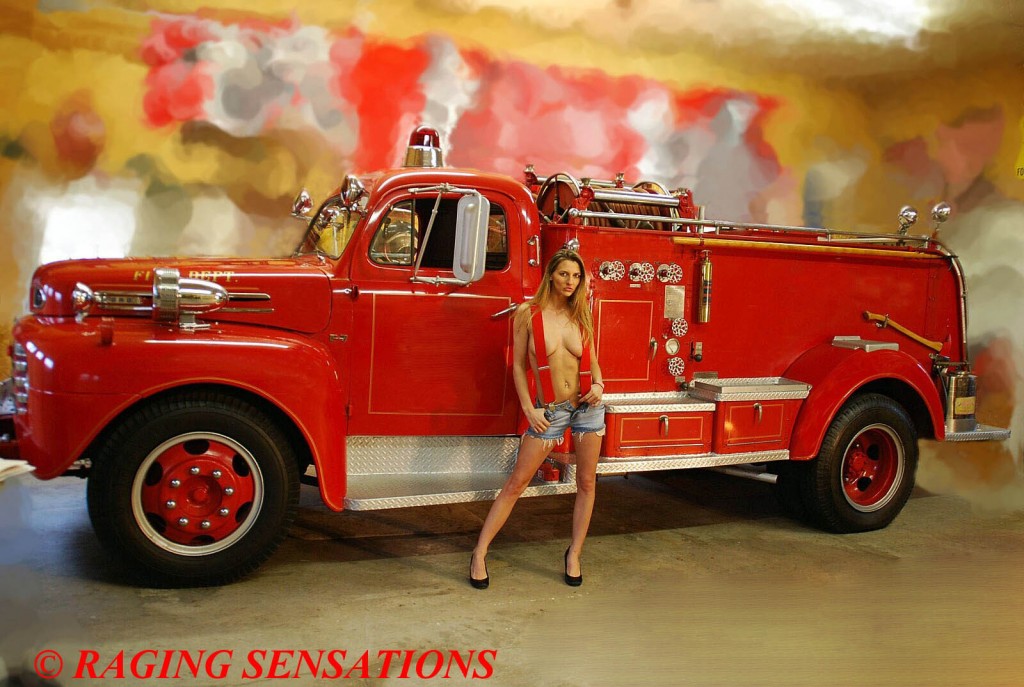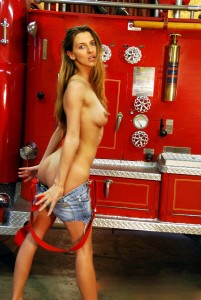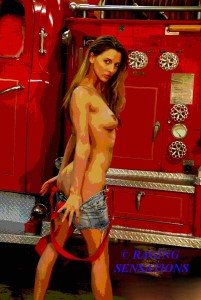 Heck, I would let her work on my truck anytime….I had the opportunity to shoot her again a few months later….again, we were trying to shoot a layout of her washing off the trucks in the hopes of submitting it to Playboy or even Maxim Magazine, but once again, the forecast for nice weather didnt pan out and we had to shoot inside once again to stay warm, but all in all, it turned out to be yet another good shoot with her.