I worked with a hot guy named Mike, who is in the Festus area and is a personal trainer, found out he grew up on a farm and has a dazzling smile and great look and build. I first photographed him in my studio barn a few weeks ago and took some great shots of him….
and found out he looks good in chaps too….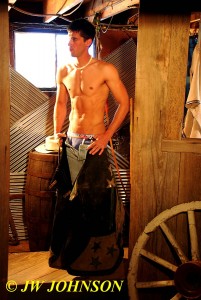 …he brought his own hat and some holie jeans too….
He looked so good and photographed so well and was so nice and easy to work with, that I invited him back to work with me again last week on one of my days off. One of my new photographer friends, Bobby, was going to join me but got stuck in traffic and was unable to make it. I met Mike in the Union area and lead him to a friend`s farm for the shoot. The weather was great and we got some more great shots…starting outside the smaller haybarn this time…
and then working with the chaps…
and while Mike has a dazzling smile and smiling eyes, he also has a flirty serious look too, which prob works well for him on the babes……
and looks like an art statue when looking down or away too….
..he def knows how to move and pose on the farm….
and amongst the haybales….
We went over to the larger haybarn next…I have never worked in this loft and now cant figure out why, it has some beautiful light in it and there was a wall of haybales in it too…
The light up above, from his waist upward, was just phenomenal as you can see, looked like he just stepped out of a tanning bed….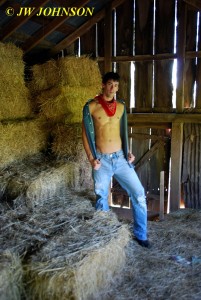 I then had him stretch out on the bales for a few photos and as you can see, the light was only up above….
and he has some of the biggest brown eyes too.
After shooting the hay bales, it started getting very humid up in the big barn loft, so we opted to go over to the horse barn and cool off in the shade, and while there, grabbed a saddle and went back to the smaller hay barn for some saddle shots…
..and found out in the next two shots what a flirt Mike can be when in his natural elements….
and…
..and changed the saddle up and gave me a few more smiles…
…from here,  he stripped down to his underwear and gave me some arty poses on a motorcycle….
…and then he donned some leather motorcycle wear and I allowed him to show me his serious, aka mean looks….
We shot a few more but I havent edited those up yet…so will finish this one out later….