One of the sexiest female models I have ever had the pleasure of working with, a friendship that lasts to this day, was referred to me by one of my local male models many years ago….I`ll refer to her as Model X here….she could really push your buttons if she enjoyed working with you and since she returned to work with me so many times, I`m guessing she really enjoyed working with me,  as much as I enjoyed her personality and working with her. 
She turned out to be a very erotic model who moved very gracefully and catlike in her posing…I never had to do anything more than give her a starting idea and she was off to the races and you better be able to keep up or you would lose out on some great images of her. In the early days you could easily shoot ten or more rolls of film on her and later in the digital days, you better have a couple of flashcards handy cause you were going to need them. I would easily compare her to a Penthouse model any day of the week, she could have given any of them a run for their money.
I wish I had more of her images saved digitally, but I lost alot of my print files and negatives when my basement flooded a few years ago after a long lasting rain storm, courtesy of the city`s aging stormwater system. I`m still hoping to find some more files that were not damaged or lost, and will post more of her images if I locate more, here are the few that I have of her….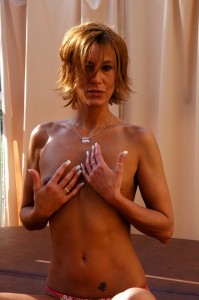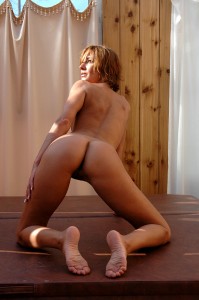 …above she is shown posing on my hot tub cover…..it never looked so nice….and below in my barn…..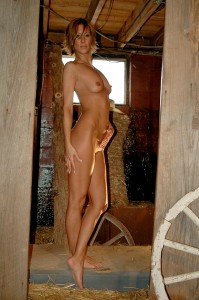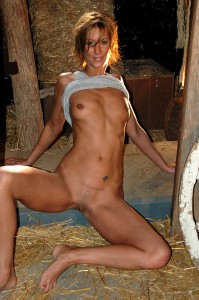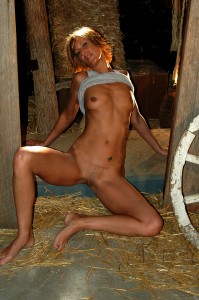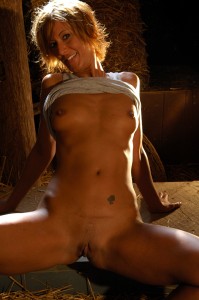 …and she looked good with leather too….
Another model that came to me on a referral, and I honestly cannot remember now who referred her, was Jada….she only shot with me one time, mainly because she was almost out of college when she shot with me and then got a nice job and moved away….she came down while I had an older model motorcycle in my studio, so that`s what we used for the prop….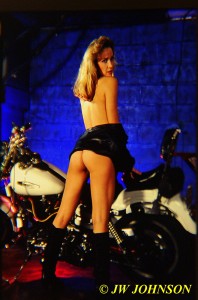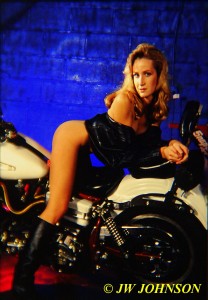 …she was another model that I enjoyed working with, albeit briefly.
Heather was a hot female model that I met online, she danced and stripped at a Como club on the weekends, so came down to model with me a few times through the week…very hot but brief duration….
Like most strippers, she did not have a problem showing off anything at all….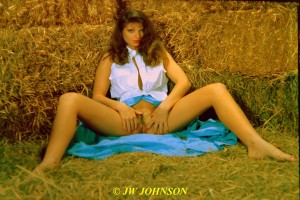 Karen was a model that I met online and interviewed in St Louis one day, when I was looking for models for the calendar project…her interview went well and she came out to test shoot the next day. She did very well in her test shoot and we worked her into a few shoots for the calendar, the main shoot for her was the cover of the calendar. She had so much fun with that and was such fun to work with, that I continued working with her on other shoots and she had expressed an interest in possibly getting into some magazine work as well.  She gave it her best shot anyway…..
She had a dazzling smile….
as well as a sexy bedroom eyes look….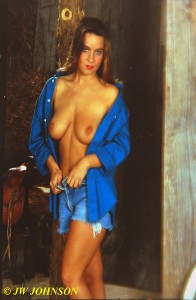 …and she looked great in bloomers, too…
She had given the information in her interview that she was a DOLL to work with, and she proved that very well.