I was recently down in southern Illinois and found two hot guys down there to photograph, they each had a small amount of experience in modeling glamour work and wanted to get into some more modeling work as well. I was on my way to Kentucky and decided to take an extra day to do some sightseeing on the way down there. I had to make some changes to my route on the way down there, due to some flooding issues from all the rain we have been having here and there lately, but it all worked out in the end.
I had been in touch with Jack a few weeks before and we had discussed a few locations in southern Illinois that would be good for some glamour shoots.  Both guys had sent me some pics, but let me tell you, they didn`t do them justice, they looked much hotter in person. I found out Jack likes fast cars and bikes and my next shoot with him will involve a beautiful mustang….car that is. Riley had worked with a friend of mine who is a gifted painter in western Kentucky, so I was looking forward to working with him as well. 
We had originally planned to shoot at a beautiful waterfall close to Jack, but the rains the day before, wiped that plan completely out, so we opted for a couple of other locations that I found online instead. They were down in southeast Illinois and either that area drained better or just didn`t receive as much rainfall lately. I picked up Riley on the way down and we drove over to The Garden  to meet Jack, but found out that he was running late, so while waiting for him to show up, I photographed Riley by some beautiful rocks…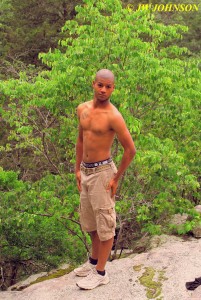 …and found out very quickly that he has a very nice artistic style about him…another natural model….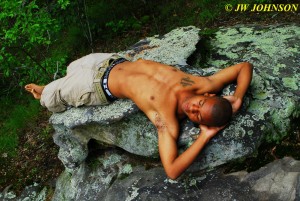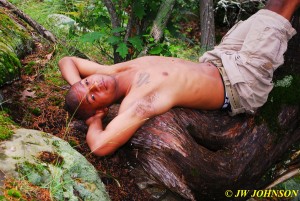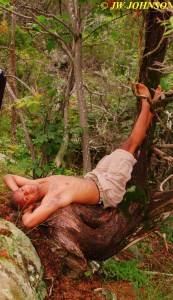 ..we climbed around on the rocks some more before discovering some neat little ledges and niches in the rocks…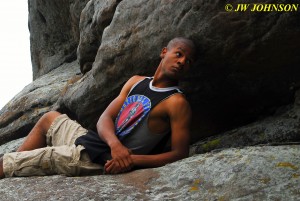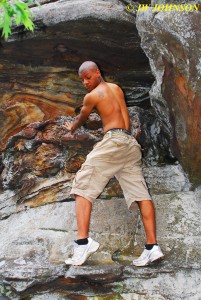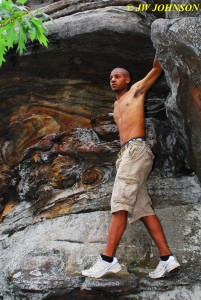 ..it was about this time that Jack showed up, in his beautiful mustang, and we decided to head over to Rim Rock, which also had alot of neat rocks, and wasn`t too far away. We arrived there and found a myriad of trails to choose from, and chose one that took off to the left. A short distance down the trail, we came upon this neat looking cedar tree, all knarled up and twisty-turney from the ground up. Riley wasted no time in climbing up to the midway point, where the tree took a horizontal turn and created a bench before ascending on up into the sky….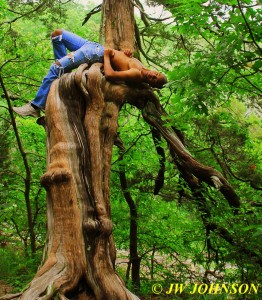 …I converted the next one into a painting effect with my editing program…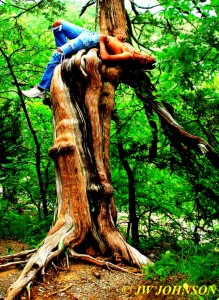 We wandered on down to the huge rocks below and found a very long stairway descending to the huge rocks where the trail made its way thru a maze of thick green mossy covered walls of huge boulders….Jack really liked this area….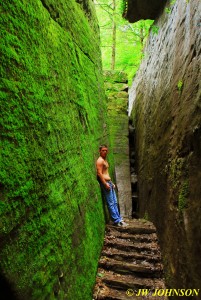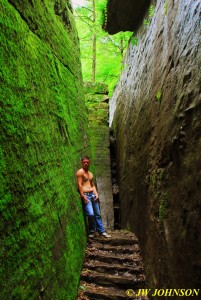 …we walked all the way thru the passages covered with the thick pretty green moss and then found ourselves out in front of this huge escarpment of boulders that made up the huge bluff…Riley took advantage of the entranceway in the holie jeans…
…and then a rock out in front of the huge bluff…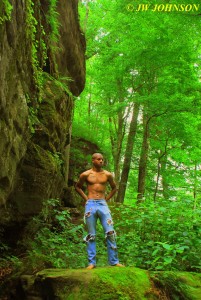 …he and Jack then decided to walk on down the trail and see what was ahead before returning to shoot some more….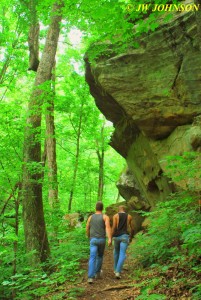 …I was looking around at the sheer beauty of the place, when I turned around and caught Jack adjusting his belt in a natural twist and turn pose….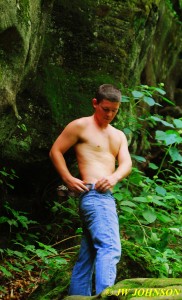 …we walked on down the trail to see what else we could find and came upon some nice smaller bluffs to work with…. 
…and around the corner, another rock wall that has a cave like opening up high…Riley climbed up on to the rocks inside it….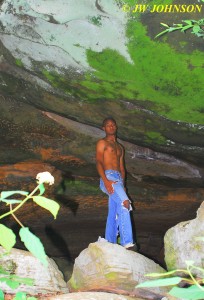 …and from there, we headed back up the trail and up the hill toward the parking lot…it was quite steamy hot out there, so shirts were left off by this time…luckily there were no bugs flying around to bug us either….just before reaching the parking lot, we came to a nice long footbridge with some rocks in the background…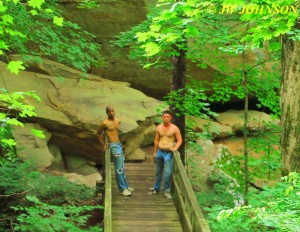 …definitely want to come back to Garden of the Gods and Rim Rock Trail, but maybe in the fall when its much cooler.