I also had the pleasure of working with a hot guy named Joe this summer…Joe lives in the metro St Louis area and is a photographer…a few weeks ago I helped turn him into a model…very cute boy next door looks and a nice swimmers build….
..he also has a beautiful smile and just a great toned build…..total HOTTIE….
I only shot a few of him the first session, hope to shoot him again soon and outside this time…
I found out he looks pretty sexy in overalls only, as well, in the barn…one of these days I want to shoot him outside with sunlight streaming in and backlighting him too…
I also shot him on my fire/lava backdrop in a set of fire gear provided to me by an old friend a few years ago, here is a preview of that one for ya….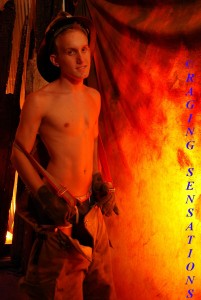 …wheww…things are heating up on this page……stay tuned for more of this up and coming HOTTIE….
..