I was going thru a list of models a few weeks ago to see who might still be modeling and who had retired or stopped modeling, mainly to stay up to date on everything, and I sent one of the hottest European guys I had ever had the pleasure of photographing, an email to check and see what he was up to these days…found out he still lives in the Chicago area but travels to New York a lot and was doing some modeling but would like to shoot with me again,  so I invited him down since he said he gets down to the St Louis area often.
Lo and behold, he contacted me earlier this week and said he would be driving through my area and could he stop and shoot with me again…I told him I would love to shoot him again and so we have set up a date and time and I plan to shoot some poster work of him as well as some outdoor location work too…and I have a few photographer friends interested in shooting him also…his name is Lucas and here are a few of his photos from ten years ago…very much eye candy….
and what beautiful captivating eyes he has….wait til you see his dazzling smile though…
…see what I mean ?  this was one very sexy boy to photograph, easy on the eyes and easy to work with….shot him in my barn too….
and…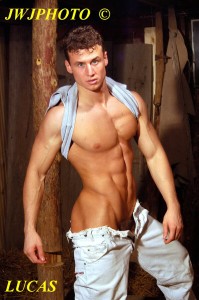 and another one with that sexy smile….
…plus I had a Christmas backdrop up at the time and he wanted to shoot a few like that…and I know by now you are saying to yourself, he surely shot some nudes of this hott guy showing off, didnt he ????….and the answer is….
….you bet your ass I did…lol….this boy loves to show off, so you better believe I captured all of his showing off abilities….and then some….
…and I`ll just leave you with one more for now….
…and will be posting the updated pics of him soon…..