After a few years of working primarily with female models in the early 90`s,  I began working with male models as well, having located markets for the guys in the sporadic calendar and poster lines, as well as book covers and magazine layouts….this work was known as Beefcake, shooting shirtless hunky guys in sexy poses to appeal to a female or gay audience.  By the mid 90`s, the Beefcake craze took off and my work with guys took off as well.
Cheesecake, for the first time ever, took a backseat to Beefcake, at least for a few years. I continued to shoot the Cheesecake work, because the dealers still needed their posters for the shows, but by the mid to late 90`s, my work primarily migrated to working with male models much of the time.  Soon after,  demand for my freelance work with guys expanded exponentially over the next several years into many markets besides calendar and poster work, markets that included magazine layouts, magazine covers, romance novel covers, and video work opportunities with various producers. By this time, ninety percent of my work was glamour and nude print in beefcake and occasionally some cheesecake as well.
With assistance of a friend named Dave, in the mid 90`s, we also launched a line of posters and a calendar, that ran for a year and featured many models, male and female, as well as many fire trucks, new and antique. Unfortunately, this line didn`t last longer than a year or two and so I continued on shooting on my own.
Below is a smattering of images of the male models that I worked with from the start….starting with Brandon, a sexy young man with a nicely toned build….
and another friend of Brandon, that I photographed later that summer in my studio barn, Buckley….
….and here are four guys I shot at Ebo at the dunes…with a red jeep…from left to right, Jason, David, John, and Anthony….
I went out there to the dunes and shot quite a few models with four wheel drive trucks and four wheelers back in those days…here another of Anthony….
…and Emily, who came to me on a referral as well, shot her on a friend`s jeep out at the Dunes of Ebo back in the day when everyone was out there four wheeling on the weekends…
…it was a great location to shoot four wheel drive trucks and suv`s, as well as dirt bikes and four wheeler`s….specially with the beautiful babes on or around them….local babe Michelle in the pink bikini below and the other two babes were from the St Charles area….
and I actually found a few male models while shooting out there as well….one of those guys was Pete…found him one day when I was out there shooting one of my hot local female models, Raye….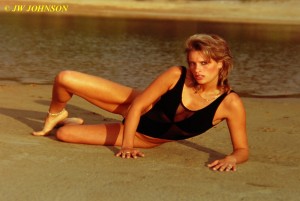 ….from across the wide expanse of sand, Pete and some of his buddies spotted us and came riding over on their four wheelers to see what we were up to……and who in their right mind wouldn`t speed across the sand to see Raye up closer, lol….but he pulled up there in a cloud of dust and about a week later was modeling for me himself…and we returned to the scene and shot this one on his four wheeler….
and later I turned him into a sexy blacksmith as well….
And another young man named Clayton, that I met while at a baseball game one summer, …came up and shot in the attic of an old home that was about to be torn down to make way for a parking lot….
Cory, from the same area, came up one day and shot some photos for the calendar I was working on and then we went outside to shoot some more photos of him….he was a high school football player and worked out alot each day, about five hundred crunches a day he told me…
…another time he came up and shot some on a beautiful red motorcycle as well…. a Vulcan that belonged to a good friend of mine at the time……
I also photographed several old water and grist mills across the state and in adjoining states back in the 80`s, and occasionally shot some male models at those old mills as well…this first one at Paydown Mill west of Belle, in November on a fairly warm day and I photographed Alan Christopher under the mill down by the old machinery, illuminated by the natural light coming through the stone wall columns….
…and then there was an old mill in southwestern Missouri near Lebanon, and Alan went with me to this one, where I shot him up on the wheel….
…and later I photographed Bobby at the same mill south of Lebanon, fishing off the mill dam…. 
…and later on I shot one of my younger models at the old Nosers Mill, fishing with an old cane pole down by the dam….Chris looked good with his bright red hair….
…think I about froze him out at one point down there…he had gotten wet and then the wind started blowing a bit down there and he got a bit chilled….
…but this was while wrapping up after shooting all of the following images first….
…so its prob no wonder that he did get a bit chilled a few minutes later….Chris went on to enlist in the Marines and fought in Iraq….raised by his grandparents primarily, and turned out to be one of the nicest kids I have ever known…still is, too.
I shot one other model at Nosers Mill a few years later…his name is Mike….he couldn`t resist the temptation to get wet as well….
…and then one day I drove down to Falling Spring Mill, near Winona, and shot two young men from Bourbon, fishing out in front of the old mill, Chris Petersen was one of the guys…. I can`t recall the other boy`s name….
..and Chris was with me when we were driving around near Redbird one day, looking for an old mill on the Bourbeuse River that no longer existed, so I photographed him on some rocks instead….
Back then, I worked with a lot of guys in sports, football players, baseball players, found some of these guys on my own and some came to me on referrals as well….like Danny and Ray….
Travis was one of my original models who was a natural flirt in front of the camera but he also could work an art pose well too…. 
I wish I could have found more of his images to include here…..stay tuned for Part 2 of this story….