Luckily for me over the years, my photo programs kept track of my images by the dates taken, so even though I lost some model files along the way due to computer crashes, I had the original shoot dates and could more easily put these updates together chronologically…however since I have an extensive collection of images,  this may wind up being several parts long…….I will try to give some background on each model, too. Not everyone will be listed here, so if I leave someone out, I`ll apologize in advance. 
Over the last thirty years, I have helped literally thousands of guys and gals get into the business of glamour and nude print work which includes magazine layouts, greeting cards, calendars, posters, and some advertising work,  helped hundreds get into nude video work, as well as assisted a few with their portfolios for fashion work.  I find both sexes to be beautiful, I don`t discriminate at all when it comes to beauty.
This story will include art nude images I began shooting a few months after working with the male models who chose to pursue art nude modeling work. This is the main reason I shot three styles, to give models a choice, glamour, art nude, and erotic nude, as well as print or video or both……believe me, there were people that wanted to shoot everything offered,  and some that only wanted to do glamour…I was fine with one or all back then, because back then I was just starting out and needed to get some experience as well and had many markets to shoot for then.
Jake was one of the first guys I photographed in the art nude style of print work…he was a muscular young man that contacted me online one evening, from the Boston area, and wanted to travel down here in the fall and shoot some art nude images with me. Back then I had an art nude website that he had found online. Here are some of his images from that weekend, starting at a farm near the river….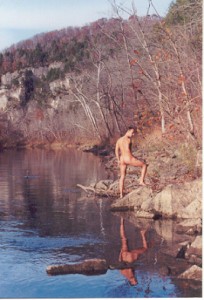 …I then took him up to a local landmark where we found an old stone building with leaves scattered inside across an old staircase….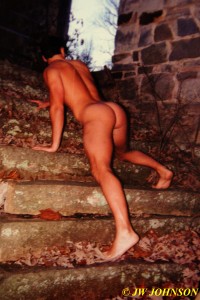 …and then he spotted the neat crack in the stone wall and made good use of it as well…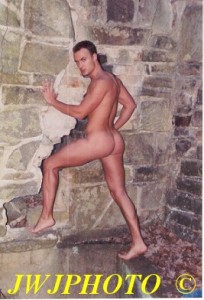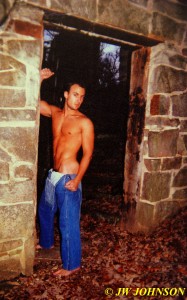 …we then wandered over to a nice waterfall, but for some reason I cannot locate those images…if I ever do, I will def add them on here.  
Another guy who I worked with at that time, came to me on a referral from his cousin…Chris was out of high school a year and kicking around what to do with the rest of his life, was working in concrete at the time and not much interested in college, he preferred to work instead and it worked well for him, showing up in his muscle tone….I remember the first day Chris came down and shot with me in my studio…he was such a natural at it, that I pulled out all of my ideas at the time and shot ten rolls that Saturday….I had only worked through half of my folder of ideas, and he had enjoyed it so much, that he said he could return the next day and help me shoot the rest of the ideas….Chris turned into one of the few guys I worked with over an extensive period of time….and a great friend as well…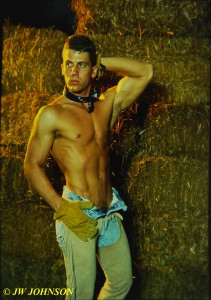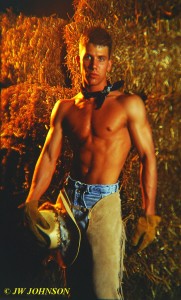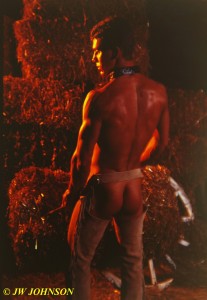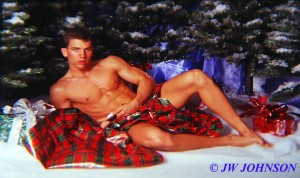 After shooting him extensively inside my studio, I took him to a few neat locations to shoot some images…this one was a beautiful barn on the north side of town where a branch bank now sits….I really wish they had left the barn that was there….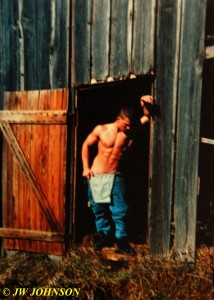 …and some bluffs and caves….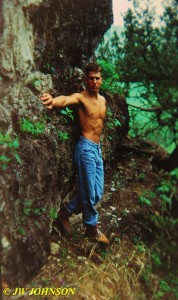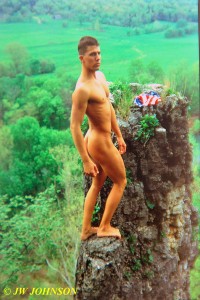 …and Chris looked great in waterfalls too….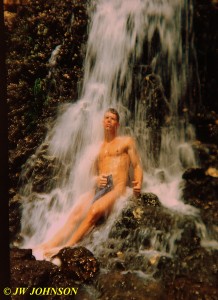 …and to a few other old buildings with great windowlight…. 
Chris was the kind of model you could call and say, hey I have a female model coming down for a shoot on location at a waterfall or a location with a beautiful car…can you come along for security ?  and he was there in a heartbeat…he also referred alot of others to me for modeling work, one was a good friend of his named Mel….who like Chris, had a boy-next-door look and great build, and turned out to be another great model….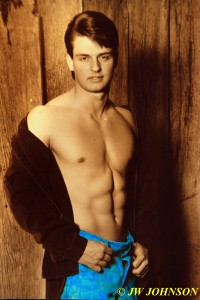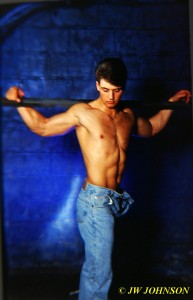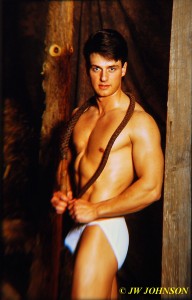 Like Chris, Mel looked good in just about anything as well as out of everything….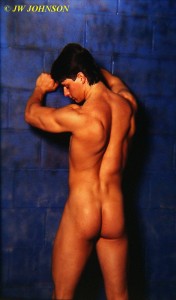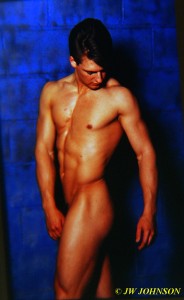 ….back then I began experimenting with double and triple exposures and with models available, it soon spread to modeling work as well… 
…and also like Chris, Mel became a very reliable model to work with when it came to other models, especially female models. Another guy that Chris referred to me about that time was Mike, who was an avid bodybuilder and had a super nice personality and look and build, another great guy to work with alone and with other models…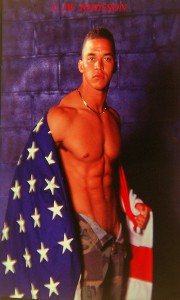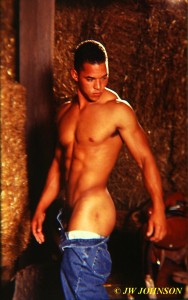 and as I have found with a lot of bodybuilders who are proud of what they have accomplished with their muscletone, he wasn`t afraid to show it all off for the sake of art…which is what it is….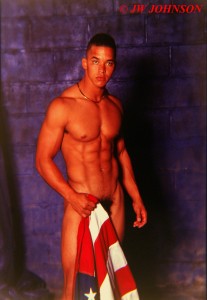 …and yet another superb guy to have around when working with female models too…never had to worry about much when Mike was around, thats for sure.