During the summer of 2009, DJ, my photographer friend in Arkansas, recommended another hot Arkansas model to me, and after some online discussion, Steven came to shoot with me in Missouri…he was what the girls refer to as a total hunk complete with sexy looks and a muscular build and pleasant personality…he also was not shy at all and open to nude work in both print and video work. I initially shot him in my home studio….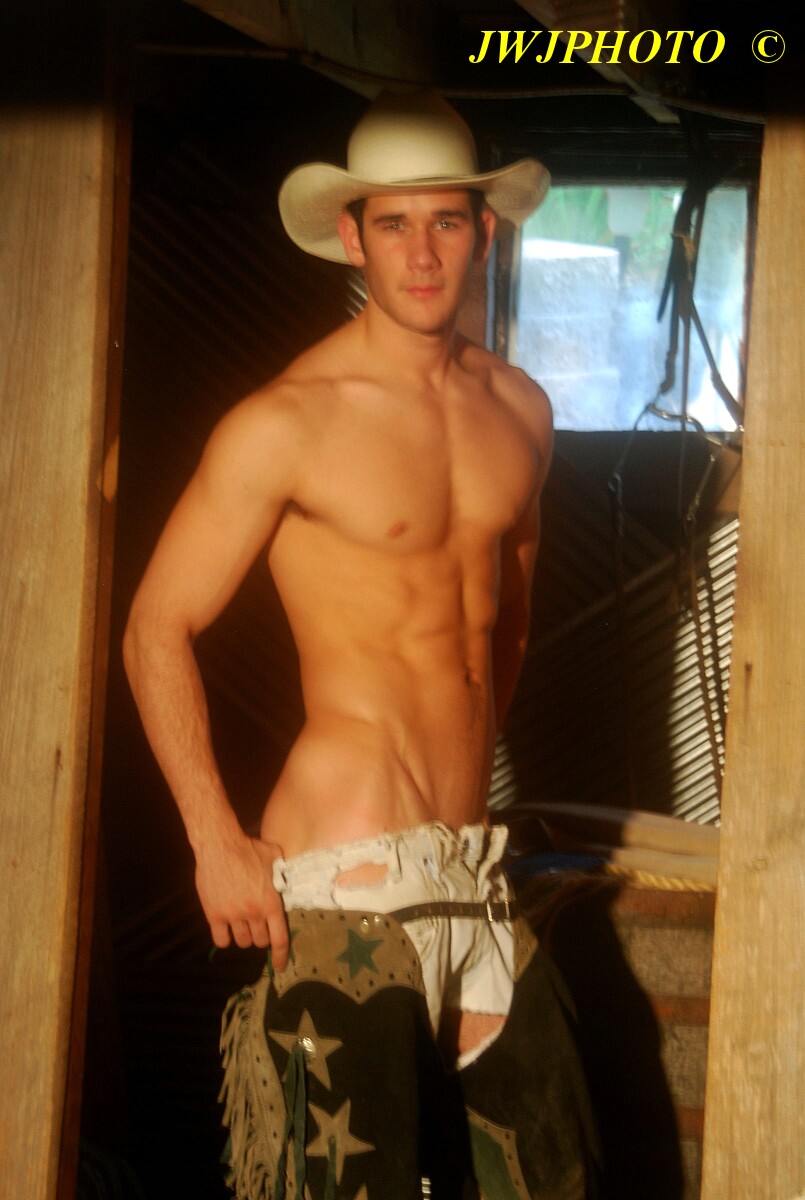 btw…also found out he looks stunning in fire gear….
and then I took him to the farm of some good friends where they have some horses, a pretty pool, outbuildings, and lots of privacy…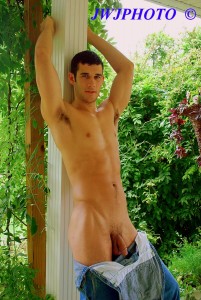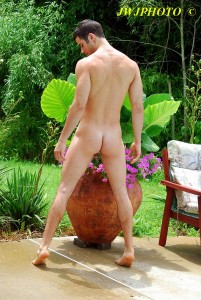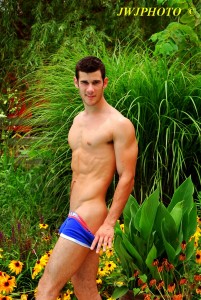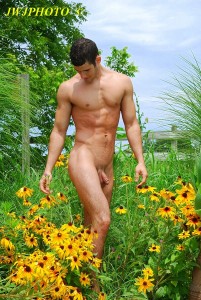 One weekend in September, I had a few models up for a shoot at a friend`s farm, two of the models were from Arkansas, Chris from the Harrison area and Cody from Fort Smith….. both are now shooting video work….I shot Chris earlier in the day….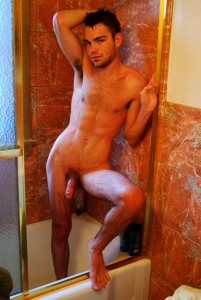 …and Cody who showed up later in the day….and felt he needed a good shower first….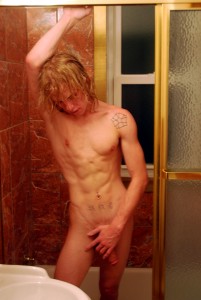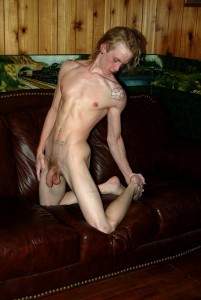 In the fall of 2009, I returned to my new  vacation spot on Lake Ouachita, and was joined the first couple of days by Krystin, one of my female models from St Louis, who was in desperate need of a break from working non stop at three different jobs. I had arranged a paid shoot for her the first evening there with one of my photographer friends from that area, who was very impressed with her looks and modeling abilities. After a great shoot with Randy, we had a late supper and rested up watching some television before getting a good nights rest.
We woke the next morning and I photographed her for a bit before we went to get a bite to eat, then drove down to Hot Springs to meet up with Randy, my Hot Springs model, at a gorgeous outdoor garden located on Lake Hamilton, that had some great waterfalls and bridges on the grounds there. It was a location that Joe had pointed out to me two years before when I asked him if he knew of any great waterfalls in the area. I photographed him there in 2007,  and then during the summer of 2008, I had taken some my Mom there to see the beautiful flowers and scenery, so I had a good idea of what I wanted to shoot there with a female model. I had brought along a wedding dress and Krystin graciously offered to wear it for me there, with a bikini underneath it. She also brought along a holie pair of jeans. We walked down to the Joy Moon Bridge and I photographed her in the wedding dress there first, then we shot at the waterfall below the small reflecting lake at the bottom of the hill, where Randy took the initiative and showed Krystin some poses that she could do on a rock on the far side of the lake….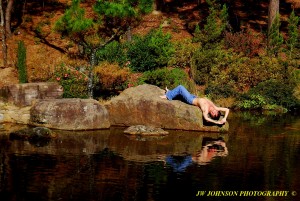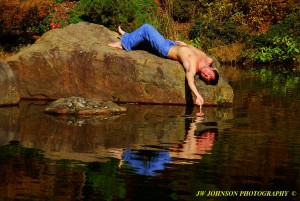 I finished shooting Krystin and then we all went to Colton`s Steakhouse in Hot Springs for lunch…I told Krystin she was welcome to stay as long as she wanted to, but she felt she needed to return to St Louis to start yet another job. She took off for home and Randy decided to come up the next evening and shoot some sunset images with me. Another one of my St Louis models, Kyle, came down that night by train, and stayed with me the rest of my vacation time there. The next day, I had a few models scheduled to show up and shoot with me….the first was Nikki, a young lady accompanied by her husband Taylor. She had come highly recommended to me by DJ, one of my Arkansas photographer friends, and when they showed up later that morning, I was very impressed with both of them, looks and pleasant attitudes, they were def a welll matched set.
We sat and talked a bit, told them I wanted to photograph them both and they were fine with that…..I started with Nikki and explained to them that I was giving another Arkansas model a chance to arrive, before we all loaded up and headed over to a few waterfalls to shoot at. I then photographed her husband Taylor, while she was changing outfits…here he is in fire gear….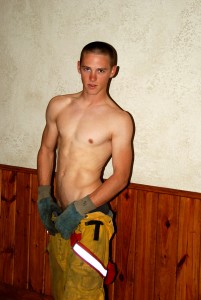 …and here is Nikki with him…they make a great looking couple….
Shortly after, Kai, from the Heber Springs area, showed up and we all loaded up and headed to the Mt Ida area to shoot at some waterfalls… Taylor had brought some boardshorts with him and although the temps were a bit cooler than I wanted, down in that deep canyon, they both toughed it out and gave me some great images……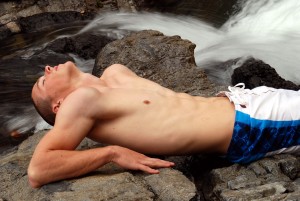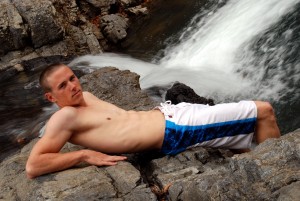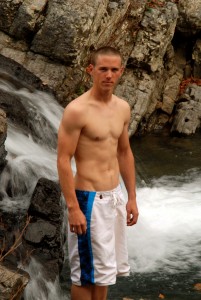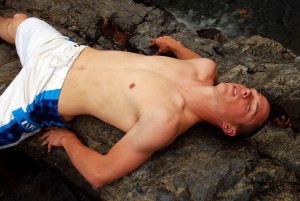 I then photographed Kai at the falls as well, before we ran out of available light…this canyon is much more suited for morning light shoots, so we were working with whatever light was left this time of day….Kai was also a tough guy….with a lean and toned build….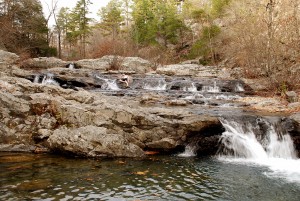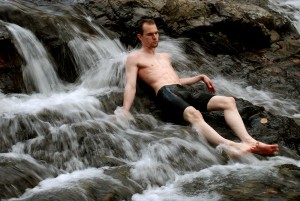 …we left shortly after this…Taylor and Nikki took off for home as soon as we got back to the main highway, while Kai, Kyle and I headed back to the cabin….where I photographed Kai a bit more. Randy met us there and while I was shooting Kai, he and Kyle decided to check out the lake view from the balcony. Kai and I started out in the bedroom when he saw the neat flower arrangement in there…
…then he spotted the mirror in the room by the bed and wanted to show off a bit….he has a great look and build and shows off what he has very well…
…and then he spotted the fire gear and wanted to shoot it as well….what I like about Kai beyond his good looks and toned build, is his ability to move and pose very well while showing off his lines and muscles….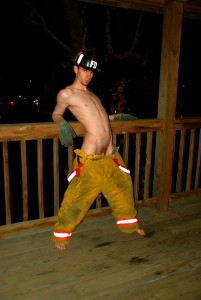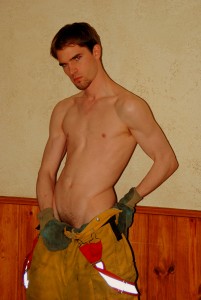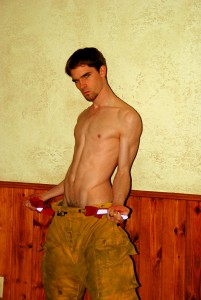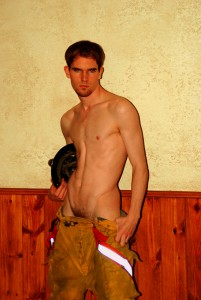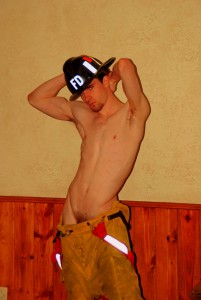 We then went down to the lake to a certain location where there are some nice rocks to pose on for sunsets….
…and then he headed for home…I def enjoyed shooting with Kai and would love to shoot with him again sometime. Randy shot a couple of sunset shots after I finished shooting Kai….
and I took a few of Kyle in his holie jeans as well….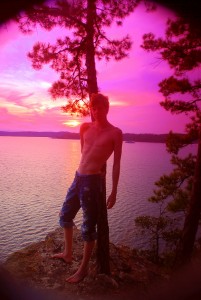 …by this time, the setting sun was enveloping everything in front of and around it…I should have been using my flash to light him up separately but I really liked the colors I was seeing here….and Kyle just photographs so well no matter what lighting you are using or what backdrop you are shooting at…one of the best models I have ever had the pleasure of working with….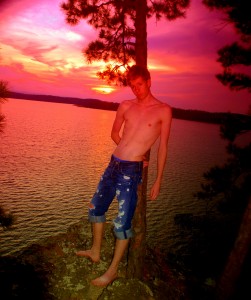 …the next morning, Kyle and I got up early at sunrise and went to a rocky shoreline on the lake and shot some more holie jeans images…