In the spring of 2010, I discovered a few more guys in Arkansas when I found out that I would be going to another reunion near Hot Springs once again. I took a few extra days off and started my trip in Joplin the first day, to shoot a couple of northwest Arkansas models at the waterfall there…one of the biggest and best waterfalls in the Midwest. I had no sooner checked into the hotel when Dane, the first of three models, showed up….Dane and I had been talking for a few months online…he is a super sweet guy with a nice slim build, had never modeled before, and wanted to get into some good opportunities in nude modeling work. He had a good look and build so I had suggested that he come shoot with me there for his first shoot. Since hotel rooms really don`t make good studios for test shooting a model, this one wasn`t too bad, there was good window light and one of those neat jacuzzi`s in the corner…..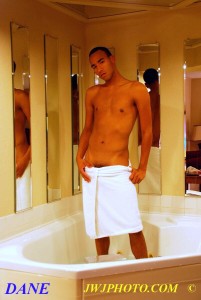 …but I had a better studio later that day at the waterfall, when I shot Dane and another Arkansas model, Crys, there. Here is a photo of Dane at the falls….more can be seen at the Waterfall Shoot at Joplin post in the Glamour Guys section….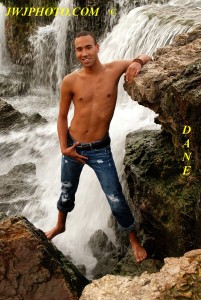 …and here are a couple of Crys, who I first shot in some waterfalls near Mena a couple of years earlier….this was my second shoot with Crys, who is a hot guy with a swimmers build and a natural flirt and model….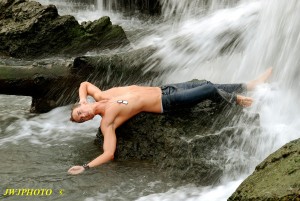 …when I say natural flirt, that takes no explanation but when I say natural model, that is to say that Crys is the kind of model that you tell him what your ideas for the shoot are…in this case, I told him here we are at a fantastically beautiful waterfall and I would love to see some posing in the falling water and spray…so Crys makes his way carefully down the slippery and slimy rocks to the bottom of the falls and poses on his own on top of the rocks in such a way that he shows off his sexy physique and build and muscles, that combined with the sensual water spray, makes a photographer like me want to shoot as many images of each pose as I can before he changes, in order to get a great one…and fortunately for me, Crys is the type of good model that he holds each pose for a few moments so I can do just that, get a great one or two or four….he was also adventurous enough to get into the pounding water as it was coming down and pose within….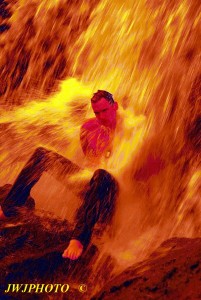 …I always think of Crys as art in motion when I am shooting with him, just a super nice guy to work with….and very easy on the eyes as well.
And since I had them out there late in the day with sunset approaching, I decided to shoot some of them together there as well…Crys was a good influence on Dane, some of his adventurous abilities rubbed off on Dane I`m sure and he helped Dane with some posing ideas as well…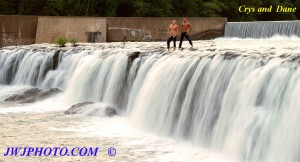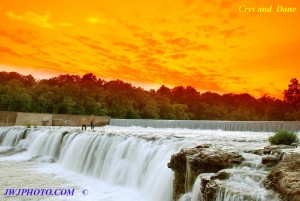 …Dane did very well tho, for his first shoot, being a natural flirt really helped him out….he enjoyed it so much, that he came up and shot with me the next weekend at a friend`s farm, for his second shoot, and did even better then….showing off his assets more there….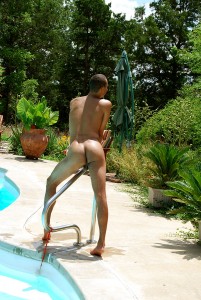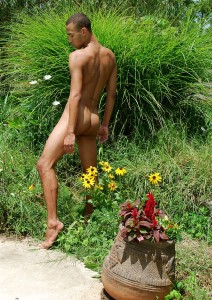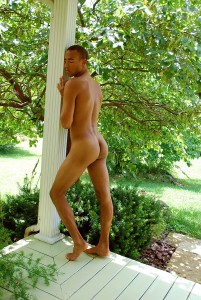 …after Joplin, I drove down to a neat old mill the next day and photographed a cute new southern Missouri model at a historic old watermill, you can see that story and shoot in another post on this site, also found in the Glamour Guys section, and then drove on down to the Hot Springs area afterwards. I met up with my good friend, Arkansas model Randy, who I have worked with a few years now…he took me to a neat waterfall that he had found earlier in the year and then we went to supper that evening at the steakhouse, where another of my models, Scott, worked at then….Scott has been with me several years and we have remained good friends through the years and whenever I am going to be down there, I always let him know so we can get together for a day and catch up on old times. 
Randy and I made arrangements to shoot a couple of days later on his day off at the falls and then after supper, I headed to Lake Hamilton to shoot the fireworks…that was a great show to see and photograph…..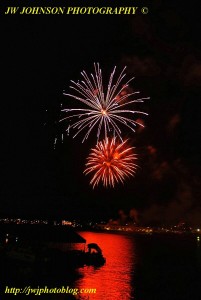 …the next night I shot the fireworks at DeGray Lake, and it was a neat show as well…. 
I had some other activities a couple of days while down there…after all it was a vacation for me…so I had arranged to meet and shoot Randy at the waterfall a couple of days later during the morning, and once we arrived, we found some friends of his there, and decided to just do a glamour shoot, meaning he kept his jeans on and took off his shirt….we started up at the upper end of the falls where three separate streams of water fall into the upper pool of water, which is about four feet deep…here he decided to get wet on a hot and sticky summer morning….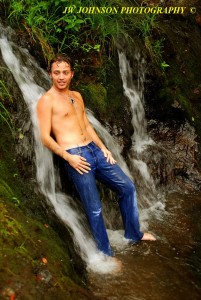 …and then once he was wet and accustomed to the cool temperature of the spring fed water, he decided to show what could be done with the next waterfall….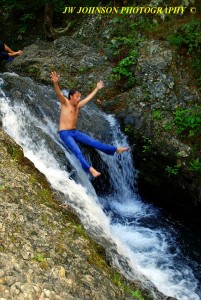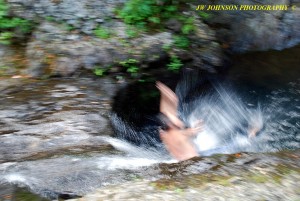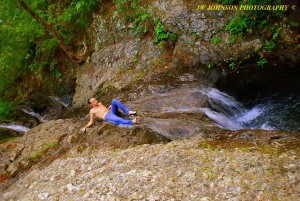 …we decided to do a couple of artsy type images with his jeans on on the log above the first set of falls….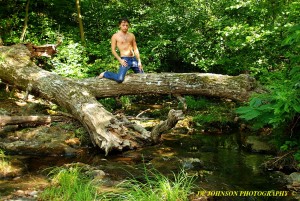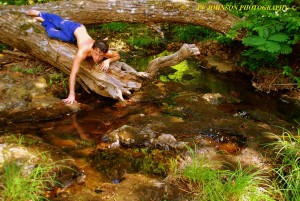 …then he was standing below the falls and resting up a bit…I could tell he was mulling it over…he wanted to shoot some nudes there, but that was impossible to do that day….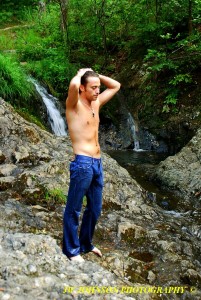 so we decided to come back the next morning and see if we could shoot with some privacy then….and as it turned out, we were the only ones there all morning and had great light and warmth….here are a couple of my fave images from the shoot …..you can see more of this shoot in the Waterfalls Near Hot Springs post in the Adult Nude Guys section….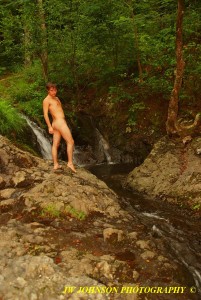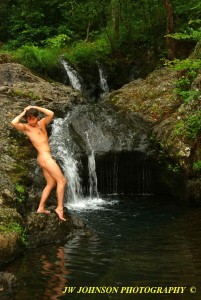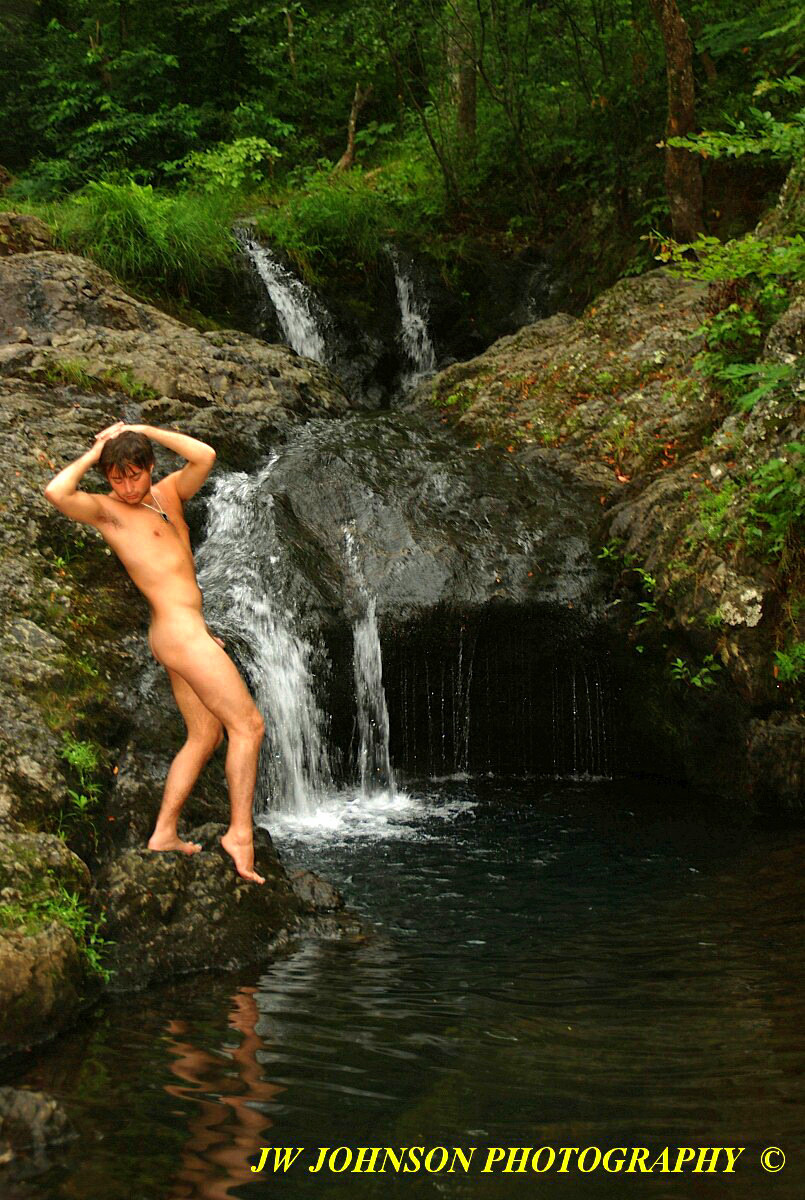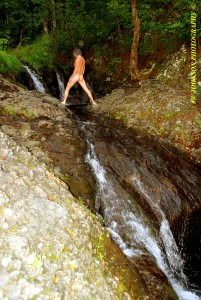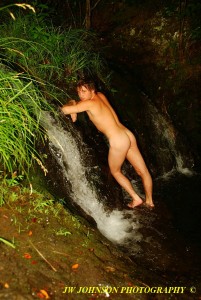 …and while I like all of these images above of Randy at the falls…I LOVE these next 2 images of him posing by the falls…they make him look so innocent and artsy…..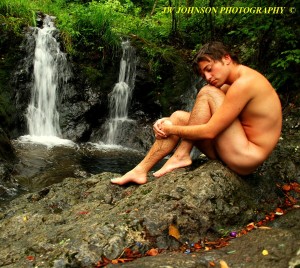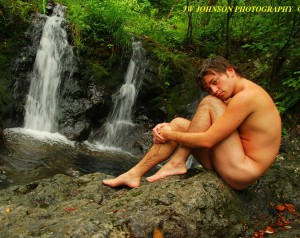 …I told him Chance, a model from the Little Rock area that was referred to my by my friend DJ, would be shooting with me the next day… I had the opportunity to shoot Chance the first time in St Louis on a brief layover between flights at an area hotel there…..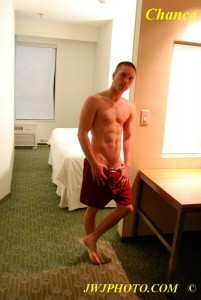 ….and I liked what I had seen of him at the hotel so much I had invited him to shoot with me on this trip as well…I planned to take him to the falls, so Randy graciously volunteered to meet us at the falls and be our lookout. Here are a couple of images, there are more in the story with Randy in Waterfalls in the Hot Springs area in the Adult Nude Guys section….
I returned in the fall of 2010 for my annual vacation there, and this time stayed in one of the all suite hotels in Hot Springs on Lake Hamilton, it was a very pretty hotel with great rooms and great views from the windows out over the lake…nice but not pricey like some of them can get. I gave Randy a call on my way down and met him for supper once again the first night at the steakhouse and got to see Scott there again as well. Randy came to the hotel the next day in the afternoon and we headed to the campground at the National Park nearby to shoot the beautiful fall colors there…I had driven through there that morning on my way to some other activities, and found the color there to be quite a bit nicer than years past when there….I started out up by the concrete arched bridge at the end of the campground…we were working with spotty sunlight and great reflections…. as I set my cameral controls, Randy made his way out on the narrow ledge with holie jeans and a maroon zippered sweatjacket on….and looked quite innocent and sexy in it….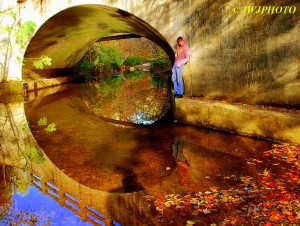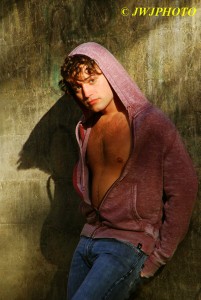 …we didn`t see much color on the other side of the bridge, so we walked downstream til we came to a very colorful area and shot a few images there…
…and then we went down to the lower end of the creek where it flows through some pretty large rocks and found more color down there…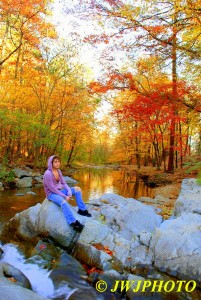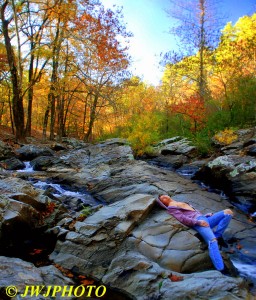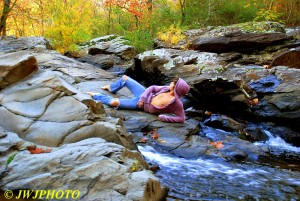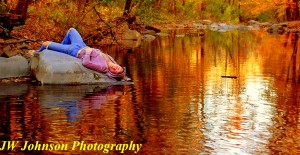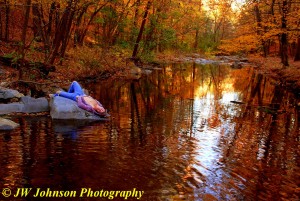 I always enjoy working with Randy, such a sweet guy to work with and visit with whenever I am down there, and a great friend as well. The next day I shot with a cute guy that I had photographed a few years before when he first moved into the HS area…Clint is a sexy blonde boy, and he gave me a shout early that fall to inquire as to when I would be down there, because he needed to spice up his portfolio so he could get into some good paying video work…as much as he likes to flirt with the camera, I knew these images would work well for him…and they did….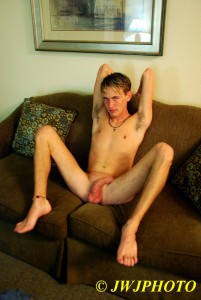 …he had turned into quite a cutie in that short span since I had seen him last….great smile too….
On the last day I was there, I was scheduled to shoot a new model that was referred to me by DJ, my photographer friend in Conway…he had told me about this hot guy named Pierre, who was out of the military and now had a job walking a lot…had a muscular build and very sexy look to him…I contacted Pierre and arranged to test shoot him the last morning in HS…he showed up on time despite having to drive down from the LR area in heavy fog…and I decided to shoot him there first and let the fog burn off before we ventured outside to shoot….I started him off in some fire gear loaned to me by a friend….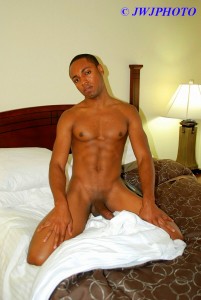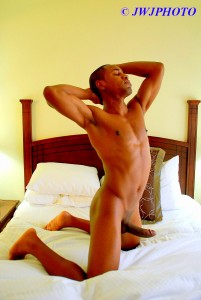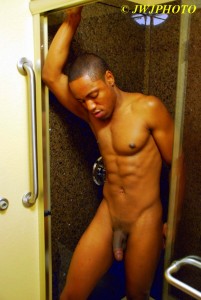 …then the fog finally lifted and we headed down to the falls first….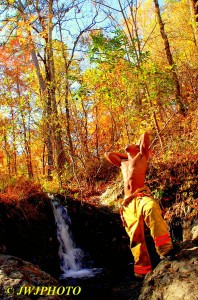 …for this next one, I had him lay down on a ledge that extends out into the water…wish I had shot a few more like this without the gear, but it was right about then that some people showed up and we went to the park campground to shoot some more images with color….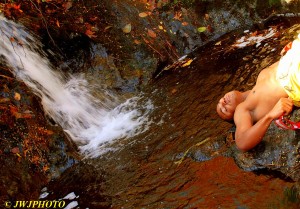 …we must have gotten there at the right time of day, because the colors were unbelievably gorgeous next to the creek and we wasted no time in shooting some fantastic images with the colors….
…we then went down to the area of rocks in the creek where I shot Randy a couple of days before and found the color there to be awesome as well….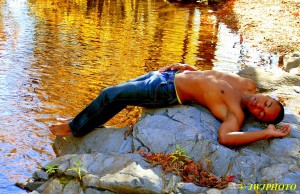 …Pierre was so easy to work with, he was starting to look like an art painting instead of an art photograph….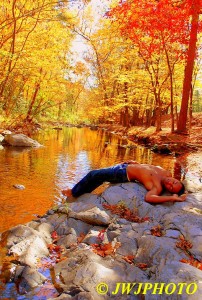 …we wrapped up the shoot after this and while he headed home to Little Rock, I headed north for another reunion before heading home later in the afternoon. I finally got to work with Pierre again a few years later, after he took some time off from modeling for family issues. Those images will be along soon.