I did a little more traveling in 2006 for paid shoots and in so doing, worked with a lot less models than I had in 2005, however I did make a few more discoveries, the first of which was Zack, who came to shoot with me a few days after the first of the year…..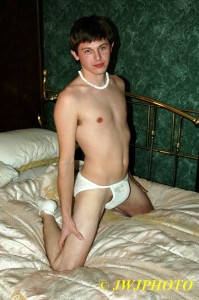 ….I lost several of his original images in the computer crash a few years ago, but luckily for me, Zack enjoyed working with me so much that he did some traveling with me and I was able to shoot him at a neat little waterfall in northern Arkansas on a spring trip that year….
…and then after he got his first mustang, called to see if I could shoot some photos of him with it…so I took him out to a neat place with some pine trees in the background to photograph him with his car….
and then he really got into it, showing up at a few shoots at the farm and some themed shoots as well….
…and a few days later, I discovered Wade, talked to him online and found out he was a dairy farm boy in south central Missouri, he came back to work with Zack on a shoot and then came up and worked with me on a themed shoot…I told him I had a neat gladiator outfit but it didn`t come with a very good sword…he said don`t worry about it, he had a sword collection and brought a few to shoot with the outfit….
…then in the next few months and the following year, I worked him into some themed shoots and a farm shoot or two….
On one of my trips returning from Arkansas, I stopped off in the Springfield area to photograph a new model…I had been talking to Allen for a few weeks and found out that he wanted to get into some good paying video work…luckily a friend of mine told me that I could photograph Allen at his house when I arrived…and it worked out well cause Chuck had a beautiful home to work with. Allen arrived soon after I did and since he only had about an hour to work with, we made quick work of it…I really enjoyed working with him and would have loved to have worked with him again…he had a great look and muscular build….
Marco was another cute guy that I photographed early in the year and he came back to work with me a few times before he moved out of state. He worked with Zack on a shoot as well….he was a hot Latino cutie with a slim build and a wild hairstyle sometimes, but very sweet guy to work with….
After shooting Marco with the fire gear, I changed a few things around, including lighting setups and had one of my models come test it out for me…Jeff lived a few blocks away at the time and was able to work with me soon after I contacted him. I had set up another backdrop as well, a projection set up that I had used a few times before in my other studio, one in which I had alot more space in, so this was going to be an experiment to see if it would work as well in a cramped space…and it did…albeit with a few trade-offs…..
while he was there, I had him test out some new lights in my barn…he looked great in holie jeans…..wish I could have worked with him more, he had a great look and build for modeling…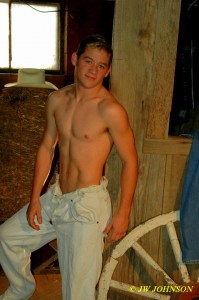 and here he is on a real call a few years later….
In October, I was returning from Kansas City and had arranged to stop off in Como and photograph a young man I found online who was interested in modeling…his name is Tiko and I photographed him at a neat park there, he turned out to have a sexy muscular build and exotic look to him….
…and then we went to a private farm where we were able to shoot some nude images…..
…and finally on my fall trip to Arkansas, I discovered a hot muscular guy down there named Joe…Joe was obviously into bodybuilding and met with me while I was down there in November to shoot some images with me….starting indoors….
…the next day we drove over to an outdoor garden where we found some beautiful fall foliage to shoot in as well….
…what a beauty and a beautiful way to wind up my year !!