2007 was another busy year of photographing models, working with a few more babes this year as well. One of the first guys I worked with was a cute young guy from St Louis County named Steve…
….while I have stayed in touch with him and would love to work with him some more…. and finally did in April of 2016….
During the same week, I had the pleasure of working with a new guy named Jordan from southern Missouri, who traveled up to work with me in my studio….talk about a hot muscular guy….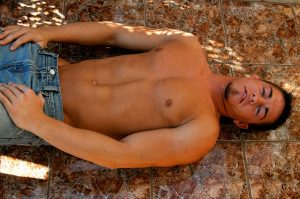 …Jordan had a good muscular build for a college boy and the next guy I met was Danny, a hot Thai guy that was into bodybuilding and looked younger than his true age…another thing I like about Asians, they always look younger and their skin is flawless….when Danny found out that Kurt Wild was gonna be visiting and shooting with me in February, he decided that was the weekend he wanted to come out and shoot also….a fan no doubt….so I shot them together for a few posing ideas….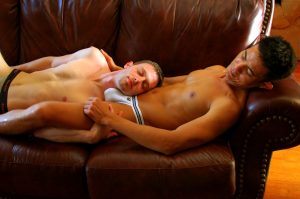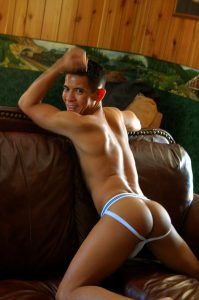 A few weeks later I met a cute college boy online, he was interested in possibly getting into some modeling work…he was tall and toned and decided to stop by my studio on his way home from school in southwest Missouri to give it a try and see what it was all about. I gave Drew some instruction and he was off and running with it…turned out to be a natural flirt for nude work….even had a cute schoolboy look….
When the weather finally started warming up in April, I photographed a young man and his girlfriend who were both very interested in getting into some good paying modeling work and drove up from northeastern Oklahoma to shoot with me. Shortly after their arrival, allowing me to take a good look at them, I could tell they were both going to do well no matter what area of modeling they chose to get into. Fortunately for me and some of my friends, they were both open to shooting glamour and nude print work, as well as open to some video work. Tim was a farm boy from central Oklahoma and no stranger to hard work, so it was not surprise to me that he was a natural flirt as well and had a great toned build to go with his sexy countryboy looks. His girlfriend Sophie, had a very exotic look to her, probably due to her Cuban heritage and a gorgeous build and bod to boot, she was also a very natural flirt and did quite well too…I shot them separately for their initial shoot…Sophie`s images can be seen in the Babes of 2007 story….I started Tim out in the studio barn….he looked great in and out of his jeans….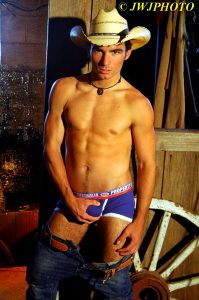 Since he looked so good in the barn, I decided to shoot some other backdrops and outfits to see if he would work out for some other shoots I had going on in some calendar and poster work….let`s just say Tim looked great in everything and nothing at all….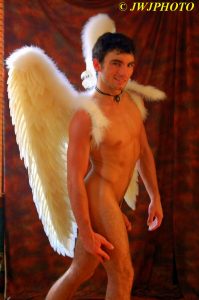 Tim enjoyed modeling so much, he decided to come back several times that year and in the following few years for more calendar and poster opportunities…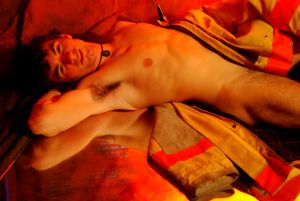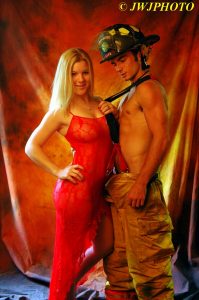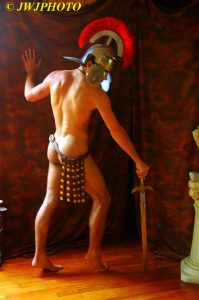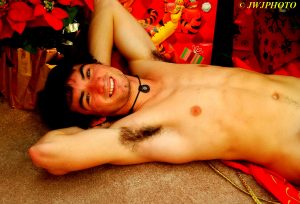 …..he turned out to be a great model to work with.
The next day, another hot guy showed up to shoot with me, his name was Vince and he was from Kansas….turned out to be yet another great natural at modeling work and I worked him into my calendar/poster line of work along with Tim and a few other models that year. Vince turned out to have a few pleasant interests that worked out well for modeling work….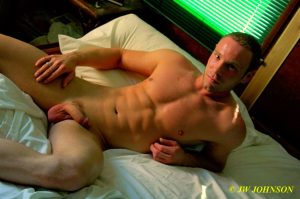 …needless to say, I saw alot of Vince as well later that year when he came to work with me on some poster work for my calendar/poster site….
Vince was great to work with, always brought a sense of calm to the set and the gals enjoyed working with him as well.
Early in May I talked to a young guy with a lot of blonde hair on his head named Collin…said he was a twink and when he arrived, true to his word, he turned out to be a very sexy looking twink who was open to glamour and nude work both….
After shooting inside for about an hour, we opted to go to a farm I have access to, where one of my producer friends was currently shooting at as well…since there were several farm buildings there I knew we would be able to find at least one to shoot in without disturbing them while they were shooting elsewhere…there are three barns on the farm and we were able to shoot in one of them…I found out Collin looks quite sexy in holie jeans too….
…a few weeks later, I had a rodeo boy show up from Oklahoma that wanted to get into some nude modeling work, his name is Mikel and he turned out to be a very cute and nice guy to work with….
..unfortunately I lost several of his images in the last computer crash, so these are all I have left of him…maybe one of these days I`ll be able to work with him again….
Dan was the next model to come along…discovered him in the springtime and he came down to shoot early June when college let out…he was an aspiring bodybuilder and interested in fitness magazine work, but also decided to try his hand at glamour and nude work as well….
…Dan looked great in and out of various outfits, wet as well as dry… and had a sexy serious look and smile too….
Dan came back and shot with me several times that summer, getting in on some calendar work opportunties as well….
Late in June, I drove down to Arkansas for some vacation time and on the way down, stopped off to photograph a few guys…the first one was Brandon in southern Missouri, who met me at the home of a friend of his….he had a tall drop of water sexy look to him and nice build, and wanted to get into all types of glamour and nude work….
Needless to say, I was ready to sign Brandon up right then and there…unfortunately I had a tight schedule to keep and hit the road again soon after letting him know he could come up and shoot with me anytime. My next stop was about 90 miles south of there in northern Arkansas, where I stopped off at a corn farm to photograph Jaye…a hot slim young man that worked in the medical field and was interested in getting into some modeling work. Jaye was quite a cutie and had a set of brightly shining eyes that just held you locked in his gaze, and was very mature acting for his young age as well…I instantly found myself liking him and knew he would do well…we worked together like a well oiled machine for the next 90 minutes and I shot a couple hundred images of him in no time flat. He was alot of fun to work with and he lef me know fast that he wanted to get into anything and everything….
Jaye had so much fun shooting with me, and wanted to shoot some more, so I invited him to join me on my trip to southern Arkansas in November and he accepted. I looked forward to photographing him in the fall scenery and colors down there then.
I headed on down to the Hot Springs area and while there, worked with a couple of new guys…the first was Nic, a sexy Italian guy who had a hot and hairy build…he told me he was hung like a horse and proved it soon after we started shooting, lol…he had a very cute look to him and proved to be another natural flirt in front of my camera….
…I was pretty limited what I could shoot of him inside the cabin so we decided to go outside and see if we could find some nice areas to shoot at…and we did….
…and as you can see, storm clouds rolled in and chased us out of the forest and back to the cabin shortly after….I still see Nic on some of my trips to the Hot Springs area and he still looks as sexy as he did back then. I was able to hook him up with a few of my photographer and producer friends in Florida too. I returned home in July and a week later, I photographed another hottie named Nick, this one from St Louis, who soon became a good friend and model both, nicely toned and quite a natural flirt as well….
…well as you can tell by now, Nick had no problem showing off everything about him and he really liked showing off nude while touching himself…he had so much fun showing off he decided to come back a week later on my birthday and shoot some outside images…we went to a friend`s house and shot there….
…and then four weeks later returned to shoot some calendar work with me again…..
….pretty smokin` hott, huh ?
A week later, JC showed up and had such a hot exotic look and smokin` hot build, that I worked him through several outfits knowing that he could pull them off just fine, and he did…..here are the better ones….
In August, a hot guy named Billy, from upper state Michigan, decided to come home for a visit and stopped by to ask me to drive up to his farm the next day and photograph him…since I had nothing better to do, I gladly accepted the invite…glad I did now…another tall drop of water country boy….with curly blonde locks….we started inside his log cabin….
…then this hottie and I walked over to the lake to take a few images in the water…well him in the water and me standing on dry land…next to this stunning old barn….
…and two weeks later I was graced with another hot guy from Oklahoma…this one a firefighter named Shane….naturally he had seen my fire service work and wanted to shoot some images in fire gear too…as well as other images….
Mid September, I met and photographed AJ, a hot young man from St Louis who was curious about modeling work…he came out one afternoon to shoot with me and I was glad he did, he had a very sexy look and build to him…I thoroughly enjoyed working with him…
And then at the end of September, I drove down to Joplin for the weekend and wound up photographing a few guys down there too….Tim came up from Oklahoma and spent the weekend with me, and the second night after several shoots during the day, male and female models both, we were graced with a stunning sunset and I was able to get some great images of Tim with the setting sun and clouds behind him at the falls….the first model that weekend was Alex, who drove down from Springfield to shoot with me…he was into theatre so we both figured modeling would be a shoe in for him…and it was….he was a natural flirt even through the interview….
…after shooting a few hundred images of this hot hunk of a guy inside, we decided to drive over to the falls and see what we could capture there…Alex had brought a white shirt and pants with him, and we decided to shoot him sitting in the water spray in that outfit…
…I very much enjoyed working with Alex, he was well traveled, well educated, and had a great personality and beautiful build and look. He decided he liked modeling and wanted to do more, so we made plans to shoot again in November when he could find some time to drive up and shoot with me some more.
I next photographed one of my Joplin models named Erik, I had actually discovered him on a prior visit to the area and a friend that I was staying with that weekend, allowed me to photograph Erik at his home…it had been a few years and he came to update his look and get some newer images taken…I am glad he did because his build was much more muscular now and he need new images to submit to photographers and producers in search of more modeling work. He only had a little free time so we decided to shoot at the hotel….however those were some of the images I lost in the last crash. I also photographed a hot female model named Babey, check out the babe section of my site for those images. Tim assisted me on that shoot as well and then we returned to the falls for the sunset right after that….Tim modeled for me above the falls for it…..
…and then I photographed him at the falls the next day….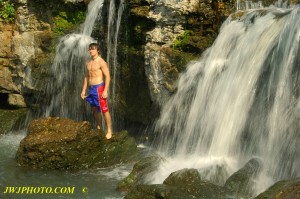 In October, I had the pleasure of working with a new model named Tommie…he had already done some video work and was looking for more as well as some nude print work. He had a sexy look and build and great personality to work with….and was a ball of energy when it came to posing. While I don`t mind teaching a new model how to pose to the camera, it was refreshing to work with someone who already knew how to do that….
I took my fall vacation in November and Jaye went with me to southern Arkansas, we stayed in a two bedroom log cabin on Lake Ouachita and had a blast while down there. We also found some nice waterfalls to shoot at with gorgeous fall color around the rocks and water…I had discovered a young lady in the Hot Springs area that wanted to do some modeling work and I decided to photograph her in swimwear and fire gear at the same falls…I photographed Jaye at the falls the day before I photographed Destiny, to get an idea of the light there….Destiny`s images can be seen in the Babes section….the color down there was exceptional this year, have not seen as nice color since then….Jaye had a great Huck Finn look there…
…and I have to say those are some of the best images I have ever taken at that waterfall, and have to say it was prob fifty fifty on the effort of Jaye and myself…but I will say this, if you have a great model, the hard part is over for the photographer, it is much easier to work with a great model, even if he or she is naturally gifted toward modeling, and Jaye is def a naturally gifted model. I always enjoyed working with him. The next day, after I photographed Destiny at the same waterfall, Jaye and I drove down the road to check out some other falls we had spotted on the way down there….some were a bit secluded even….
…the rest of the trip we just relaxed for a day or two and did a little bit of sight seeing…Jaye had so much fun modeling again that he decided to drive up and shoot with me in Missouri when he could find time…which turned out to be a weekend in February of 08.
After I returned home, I had the opportunity to photograph Alex again and we even shot some fire gear and Christmas themes…
…and that wrapped up 2007 for me…there are a few models that are not shown here, at their request, but believe me, it was an enjoyable and busy year of photographing models.