I began shooting quite a bit of magazine covers, layouts, and book covers by the year 2002, much of the time on location in my travels and occasionally in my studio as well. I was also scouting by this time for several producers and was able to place many more models with some good paying producers that also took good care of the models. I was contacted by a friend of mine in the summer of 2002 that had done extensive work with Colt Studios in California and was now living back home in Arkansas…Mike told me about this hot guy named Chris that I should stop and check out the next time I was down that way…and I did…Mike was right about Chris, he was a smoldering sexy hunk of a guy, lean swimmers build and gorgeous looks and facial structure…here are his test shots at his place in central Arkansas….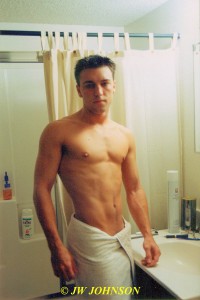 …so it was no wonder that he became an in demand print model right away with some of my photographer friends and even caught the eye of a few producers….
Jeremy Markum was another bodybuilder that I discovered one evening online…I was shooting a few bodybuilding shows locally for a friend of mine and found quite a few new models that way….Jeremy was primed and ready to go big and that is exactly what he did, once I was able to get his attitude under control and make him realize he could do far more good for his modeling career without it….he was a little rough around the edges and just needed a little polishing up. I started him off in glamour and studio lighting….as well as location window light…..
…and then we started shooting nudes as well, once he decided he was comfy with glamour, and then the demand for him just took off and exploded like wildfire, magazine editors wanted him for covers and layouts, especially the fitness magazines, and fine art photographers worldwide wanted to work with him and for a while, he was so in demand by photographers, that he had to put his college work on hold….
.after that initial start and push, it was all him….he did very well for a few years and then all but ducked under the radar and became invisible once he graduated from college. As far as I know, no one has seen or heard from him since.
In the spring of 2002  I worked with a few dancers from a group in St Louis, helping them with some advertising images for their promo brochures and over the course of working with them a few months, got to know and shoot some modeling work with one in particular, a hot Army boy who went on to become well known as Jeff White in the video business. Jeff was quite a cute guy and certainly was not shy about his look or his build and body at all either….he was a lot of fun to be around and to work with too….
…he was always quite the flirt too, a sexy smile and eyes that just bored through you…never a dull moment working with Jeff….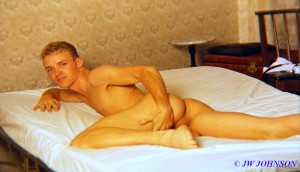 I was fortunate to work with Jeff before his video career took off big time and he became so busy that he had little time for anything else. We became good friends and I still talk to him frequently. He was truly one of the hottest guys I had the pleasure of working with, and not only that, but he also referred me to yet another of the hottest guys I have worked with….Brad, who had a lean swimmers build and started off working with me on glamour and art nude, but eventually shot even more work with me in nude print after he became comfortable working with me….
…I remember working quite a bit with Brad, both in studio on some glamorous drape projects and on location at some exotic places locally, he had a great creative mind and beautiful build to work with, one of my all time faves to work with. I still see him occasionally and he still looks great as do so many of the guys I worked with who still take great care of their bodies and minds.
In January I received an email from a hot guy named Jake, from the Boston area who wanted to travel down to work with me on some art nude images of him…I have to admit I was quite skeptical that anyone would want to shoot that time of year, outside especially, but true to his word, he arrived by mid month and outside is where we shot at…I took him to a few nice locations and he was quite the natural at it….wound up shooting some jeans as well as nudes….
…including a waterfall of all places….luckily for Jake, it really wasn`t that cold that day..if I recall correctly, it seems to me it was either high forties or low fifties that weekend. At any rate, we both had a great time working together and came out with some great images…I have often wondered how he is doing these days.
In the springtime, as I was moving from one apartment to another, I met up with a cute guy from central Illinois named Josh, who came down to visit and shoot with me several times…I lost many of his images in the computer crash a few years later but one of the better images of his I was able to save is this one…