A week after I worked with sensation Stephen from Arkansas, Kyle came back down to go rock hounding with me for the weekend and when we arrived at one of the locations, there was a road grader sitting there…so we took advantage of it as a backdrop for a few images of Kyle..
…and then I took him to another farm I have access to occasionally….
…and then photographed him doing some of his handstands that he is talented and flexible with….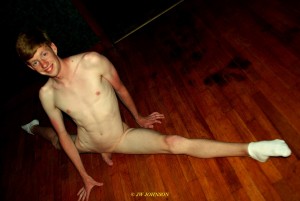 …how many of you can do the splits like that without pain ??? I sure can`t….you go boy….you rock !!  Yall should go watch him in person when he performs in St Louis on the silks and other trapeze performances….
Late in August I did some test shots of a couple of new models from southwest Missouri and photographed one of my south central models in fire gear….that eventually culminated into a larger group shoot in September. Jeff was the first of the new guys to arrive that weekend and did quite well for his first time modeling…
…and worked into a regular model for me and some photographer friends for the next several months….Chris was the second model up from SW Missouri that weekend, needing some assistance to get into print and video modeling work as well….he was quite a cutie with facial hair and body hair….99 percent of the guys I have worked with over the years were smooth or shaved…I rarely got a chance to work with guys with body hair, so Chris was a refreshing change for me…..
….really enjoyed the brief time I had to work with Chris…Kurt came down that weekend as well and I photographed him extensively in the fire gear…he helped me with testing some new backdrops for the fire gear images….
…and a couple of weeks later Kurt, Jeff, and Kyle came back to work with me at the farm on some projects I was working on…turned out to be a great weekend with three natural models…..
Later that month I was down in the Joplin area again and was fortunate to work with a couple of new models, one experienced female model and one male new to modeling work….Daniel drove up from Oklahoma and he met me at the waterfall as I was finishing up the shoot with the female model there….
…and after just a little bit of instruction on how to move and pose, he was doing quite well on his own….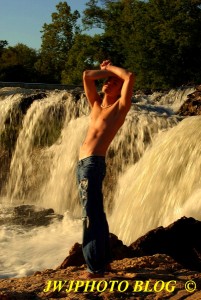 When October rolled around, one of my Florida based producer friends drove up to enjoy the Missouri fall scenery and shoot in the countryside as well and brought about twenty models with them.  While they were up here shooting, a new model named Justin, drove up from the bootheel area to test shoot with me…I took him out to the farm to shoot some there as well, while they were there shooting as well. Justin turned out to be quite a cutie to work with and I enjoyed working with him, he looked great in my studio barn as well as the farm barns….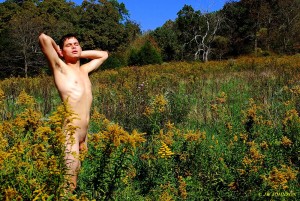 …and after a few hours out at the farm, we headed back to shoot some more at my house….Justin was a lot of fun to work with….
A few days later, Tim came back up with a new hairdo and look, to shoot with me and we worked on a few images in fire gear for poster work….here are the better ones…
…and a couple of days afterward, a new model named Brian showed up to work with me. While I normally work with models alone, one on one, to prevent distractions from third parties…his wife was with him and insisted on sticking around to watch because she was his manager…I told her my policy and told her I would allow her to do so this time, but any future work with him would not include her presence….I enjoyed working with Brian even though I wasn`t sure I could find him any work due to his manager insisting on being present for all shoots….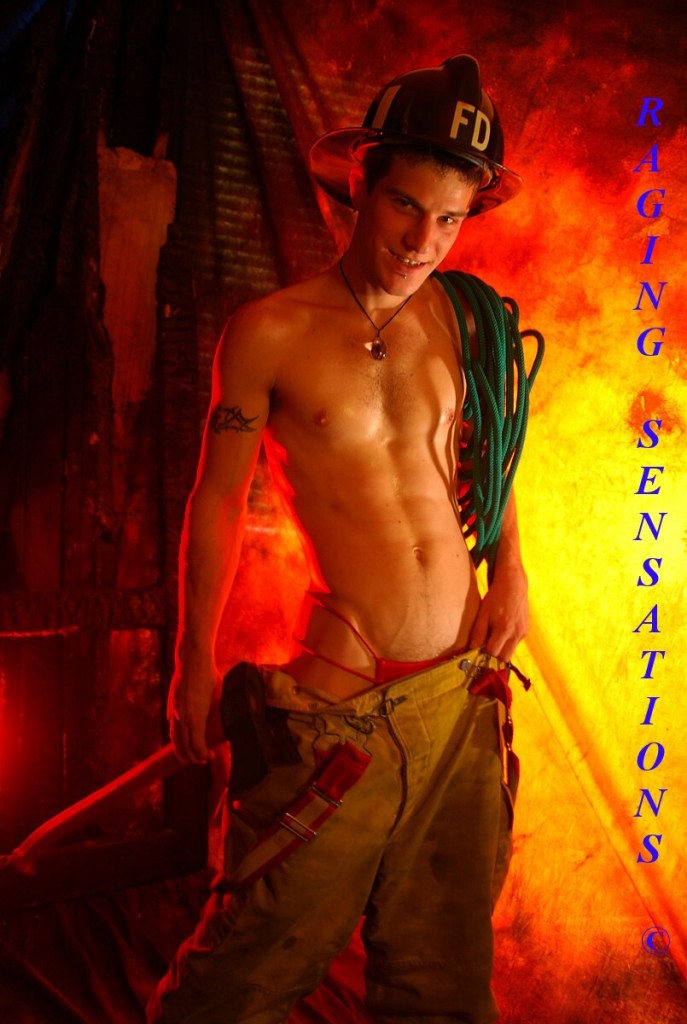 In the fall I traveled down to southern Arkansas once again and wound up photographing Randy once again, the cute Native American with long black hair….this time tho, he had chopped much of it off and still looked just fine. He met me and one of my female models who spent a few days with me on Lake Ouachita, at the beautiful outdoor garden spot on the southeast side of Lake Hamilton…..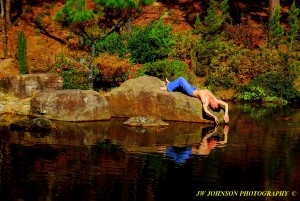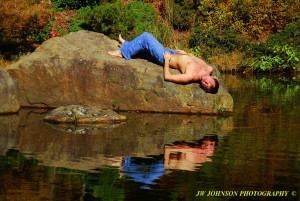 I took them both to lunch after that at the steakhouse…..the next day I had five models scheduled for shoots, starting with a new young female model from the LR area who was referred to me by a good photographer friend of mine. Nikki and her husband Taylor drove down late morning, after Kyle arrived earlier that morning by train. I worked with Nikki and Taylor first…after convincing Taylor that he should be modeling in addition to his wife….
…as I was working with them, Kai arrived from northern Arkansas and when I finished shooting Nikki, we all loaded up and drove over to some beautiful waterfalls nearby for some outside images….
…and then I photographed Kai for about 30 minutes, which is about all the time we had left as the skies had clouded up while we were there and the light started fading from the deep canyon we were located in…..Kai came highly recommended to me by the same photographer friend that referred Nikki to me……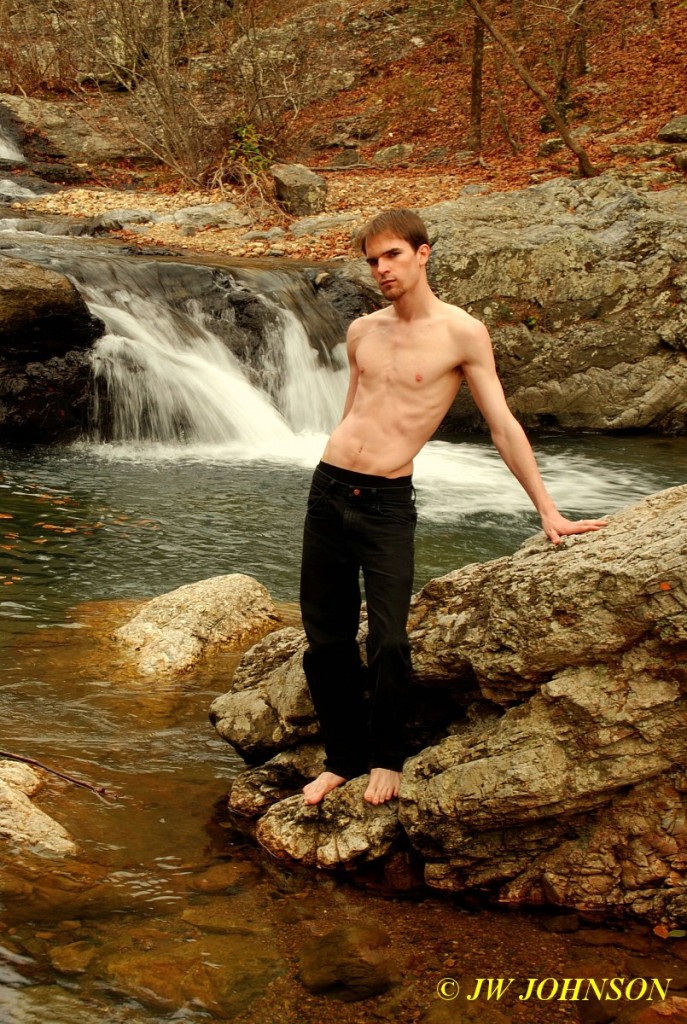 …by 4 pm, we were out of good light to keep shooting in the canyon so I told Kyle that we would stop off at another waterfall the next day and I would photograph him there. Nikki and Taylor headed home while Kai, Kyle and I headed back to the cabin, where we were met by Randy. After first shooting some sunset images lakeside with the guys, I finished up Kai`s shoot inside the cabin, so that he could get back on the road for his long drive home….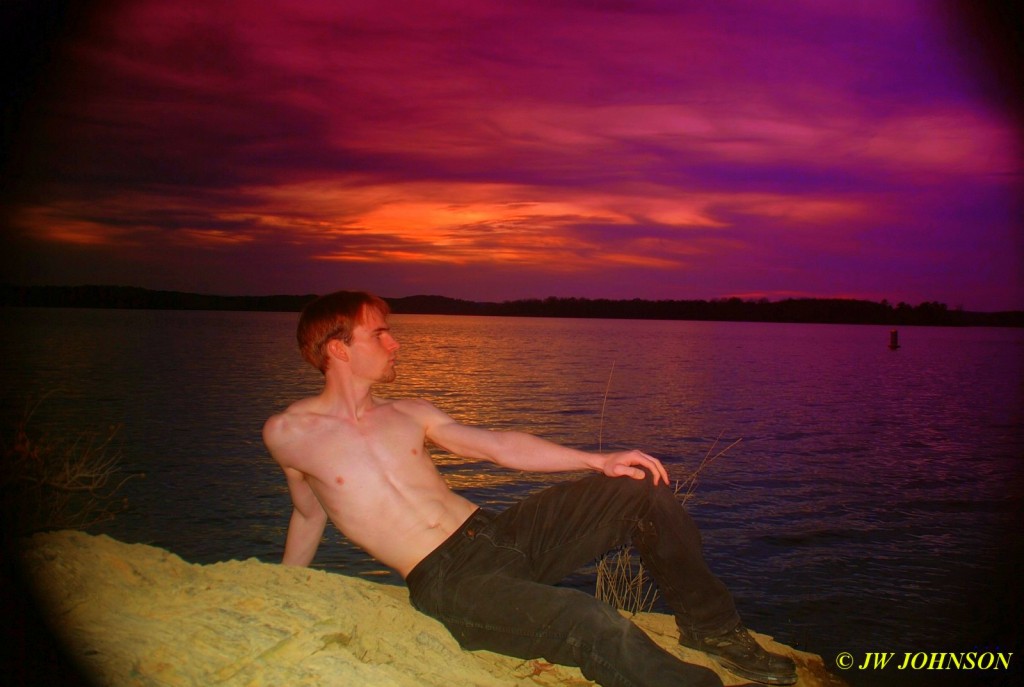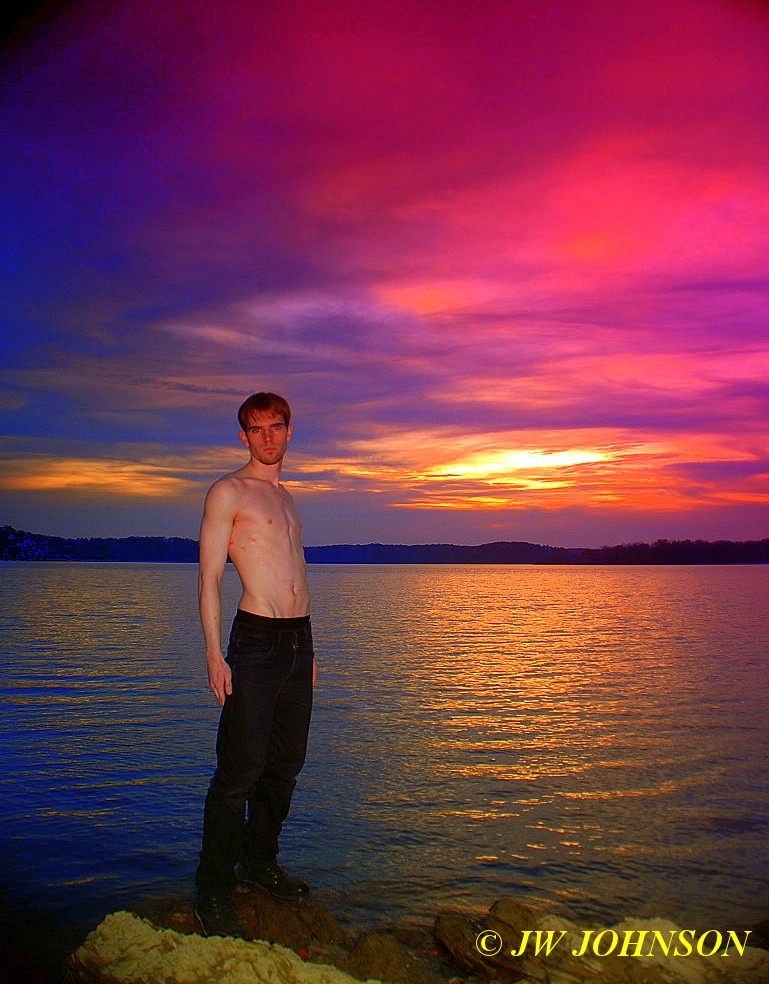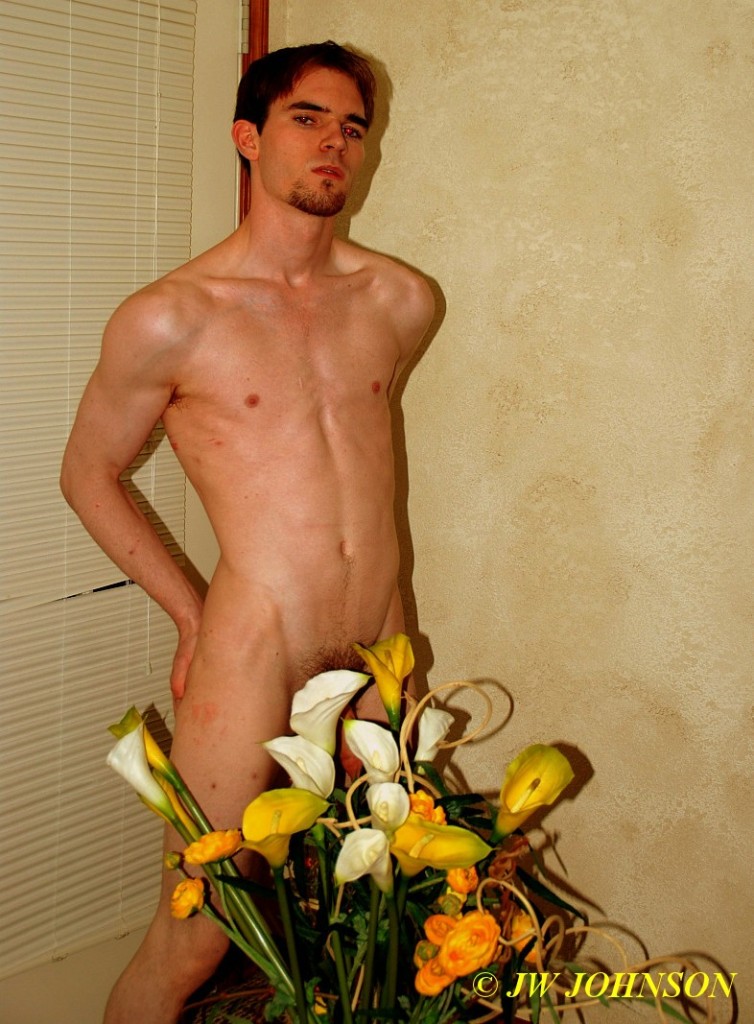 I shot these sunset images of Randy, Kyle and another model that drove in that afternoon as well, right before shooting Kai`s sunset images…then they soaked in the hot tub on the cabin deck overlooking the lake while I finished up Kai`s indoor images….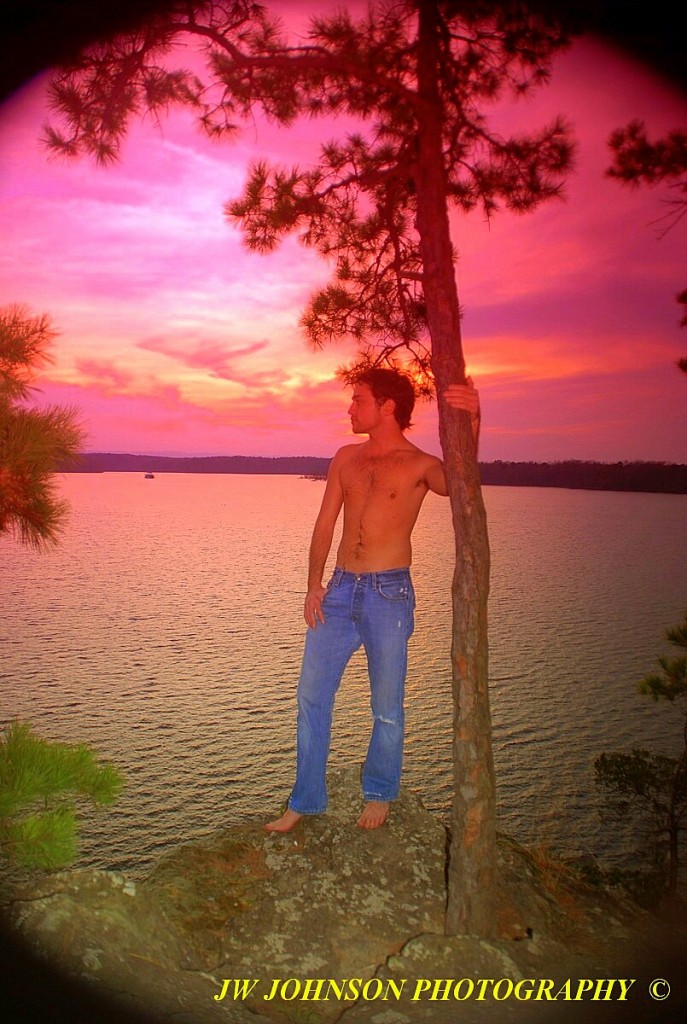 …I shot these images of Kyle at the lake just before the sunset images…he had a hot Huck Finn look to him there….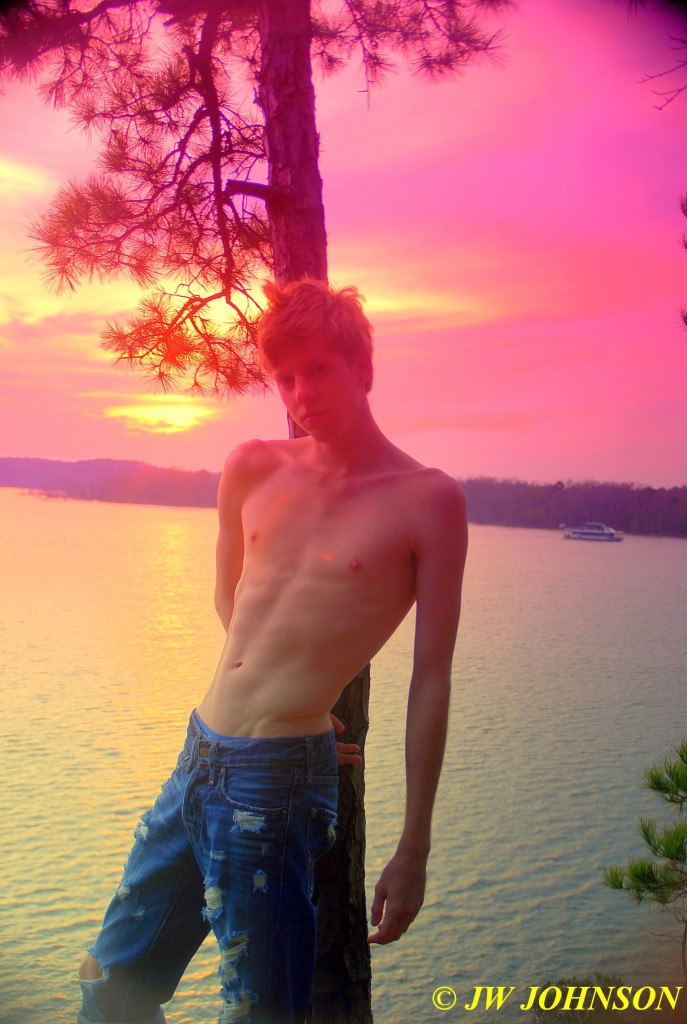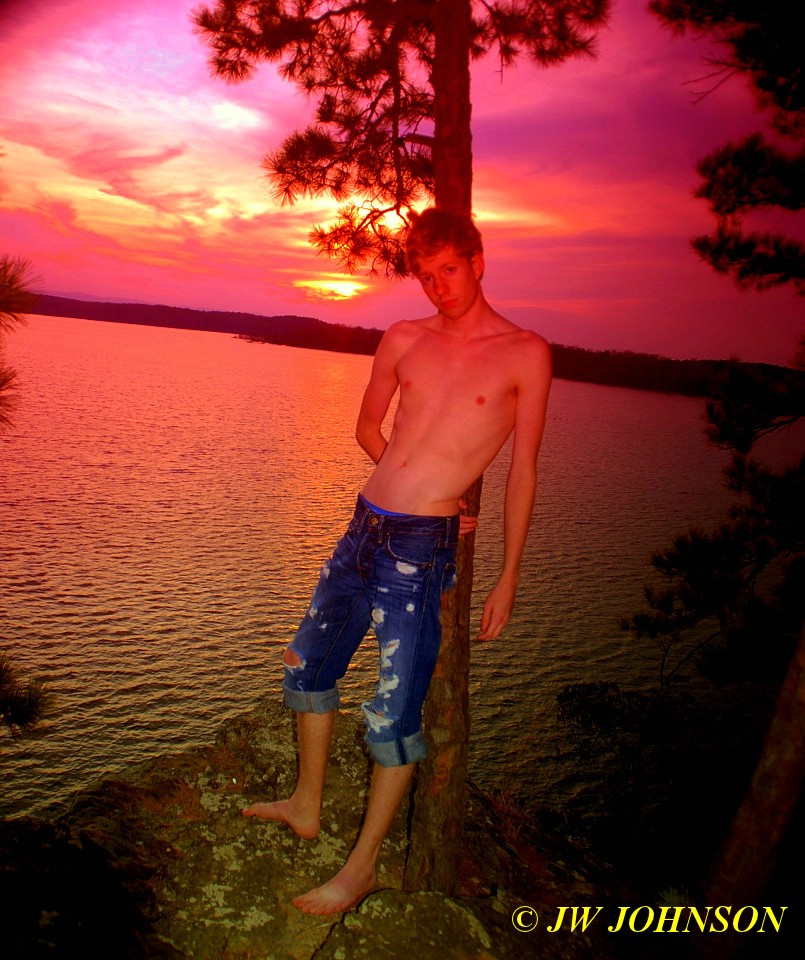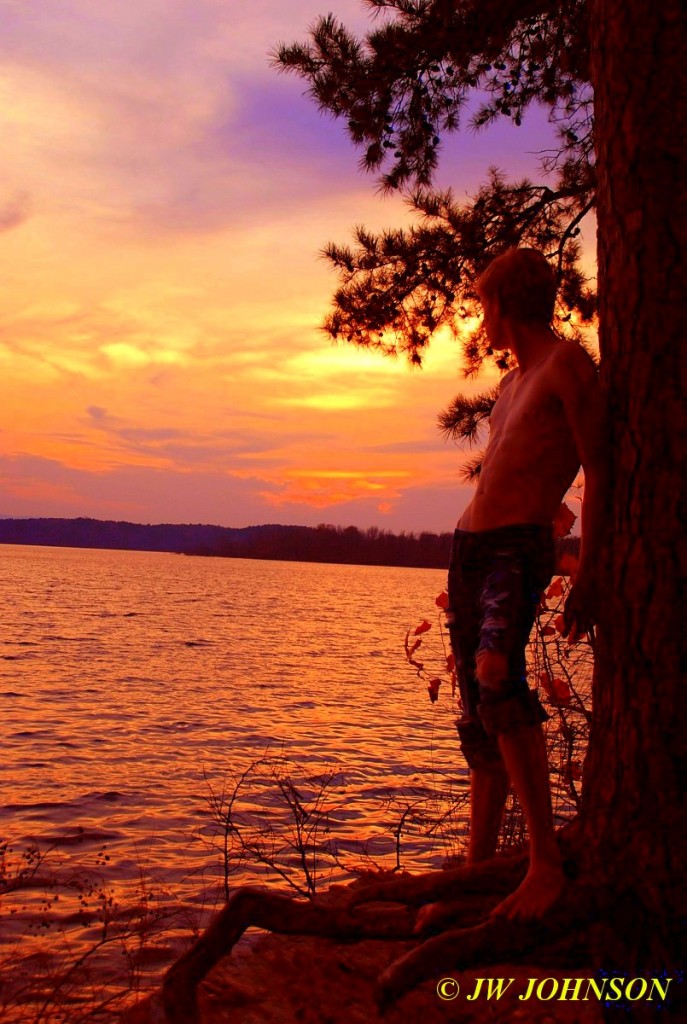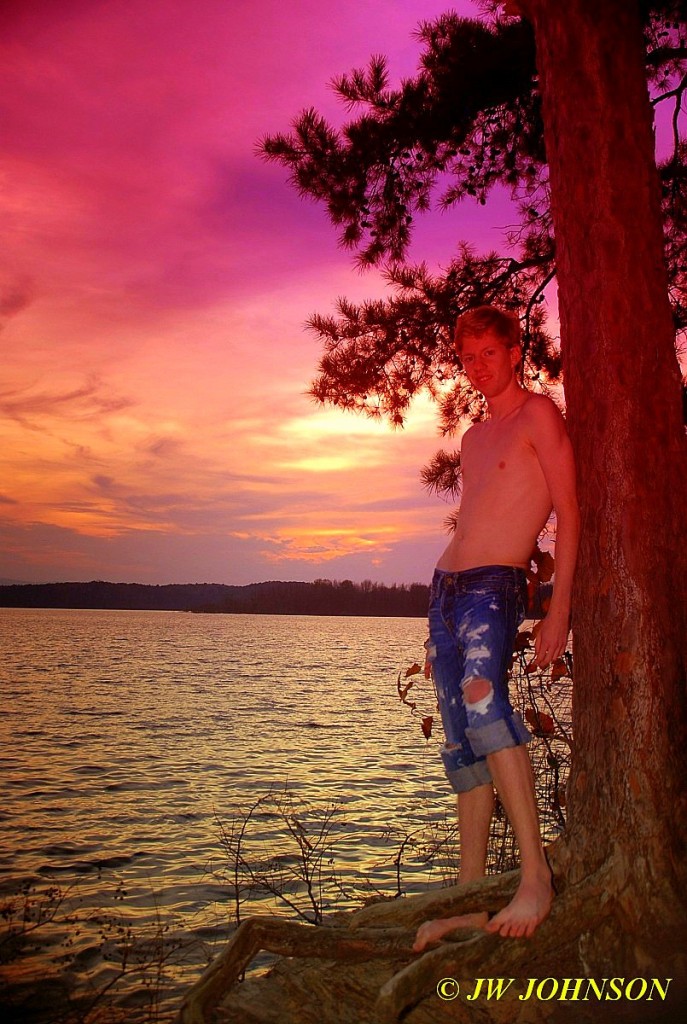 True to my word to Kyle, I found a waterfall on the way home and photographed him in it, in his jeans and his new swim trunks….and at a barn nearby….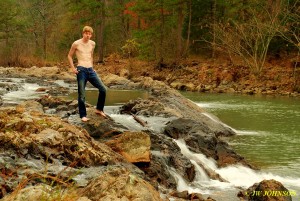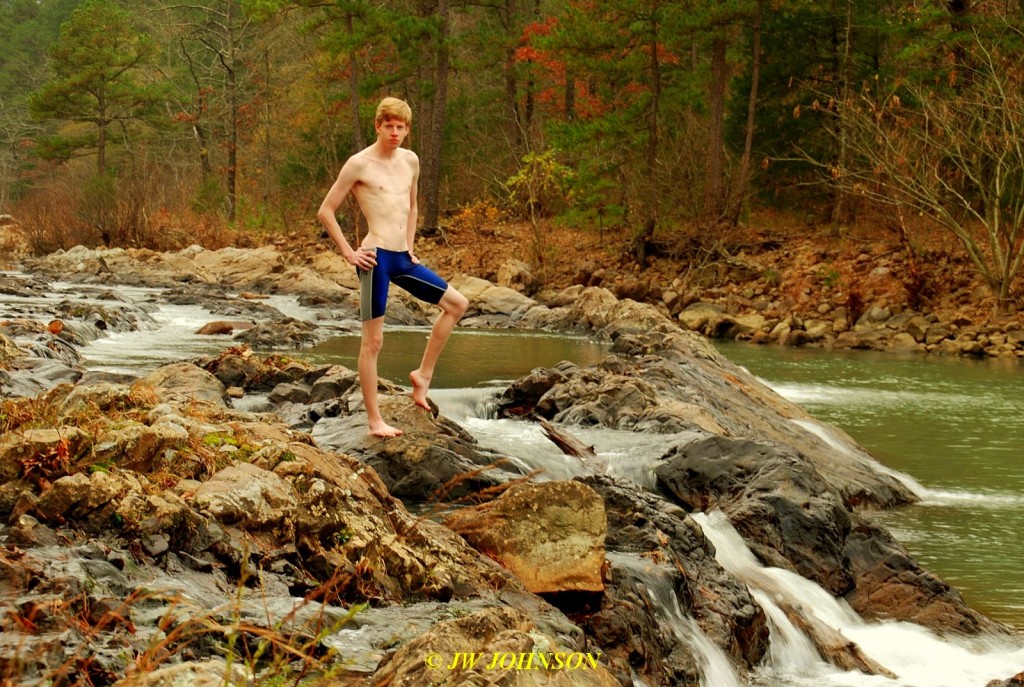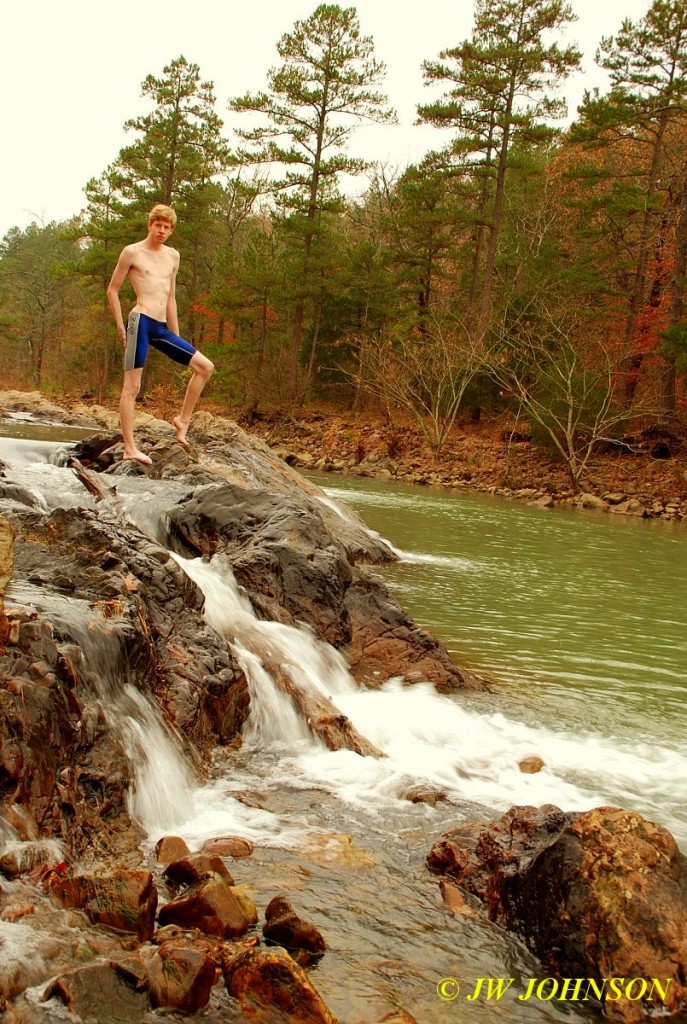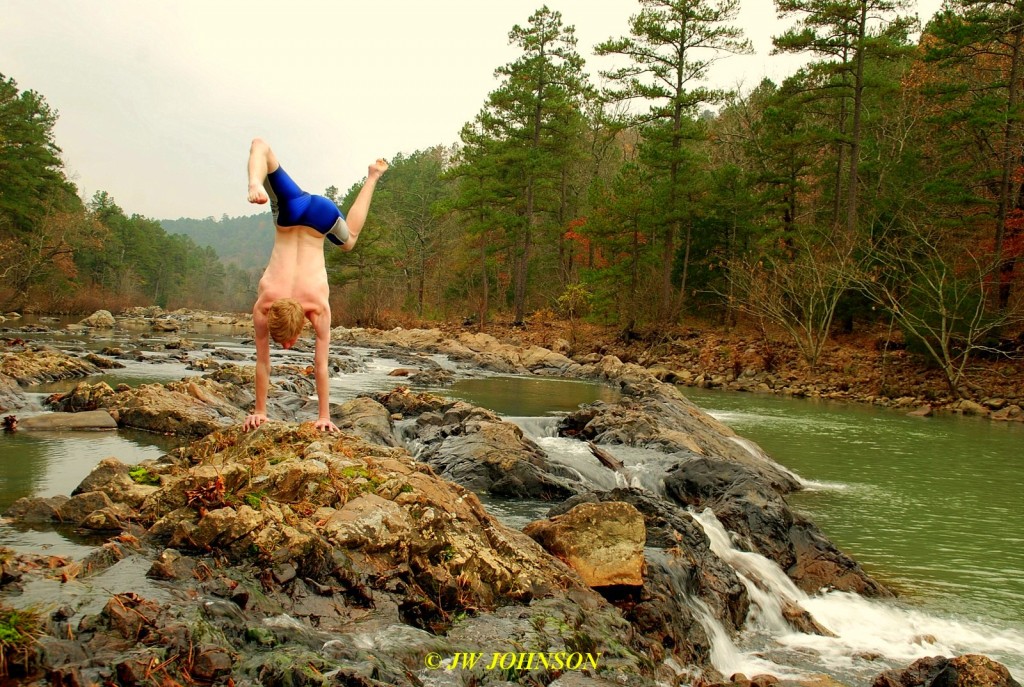 Then a week later, I was contacted by a young Russian named Valentino, who was interested in modeling….he turned out to be a very cute flirt….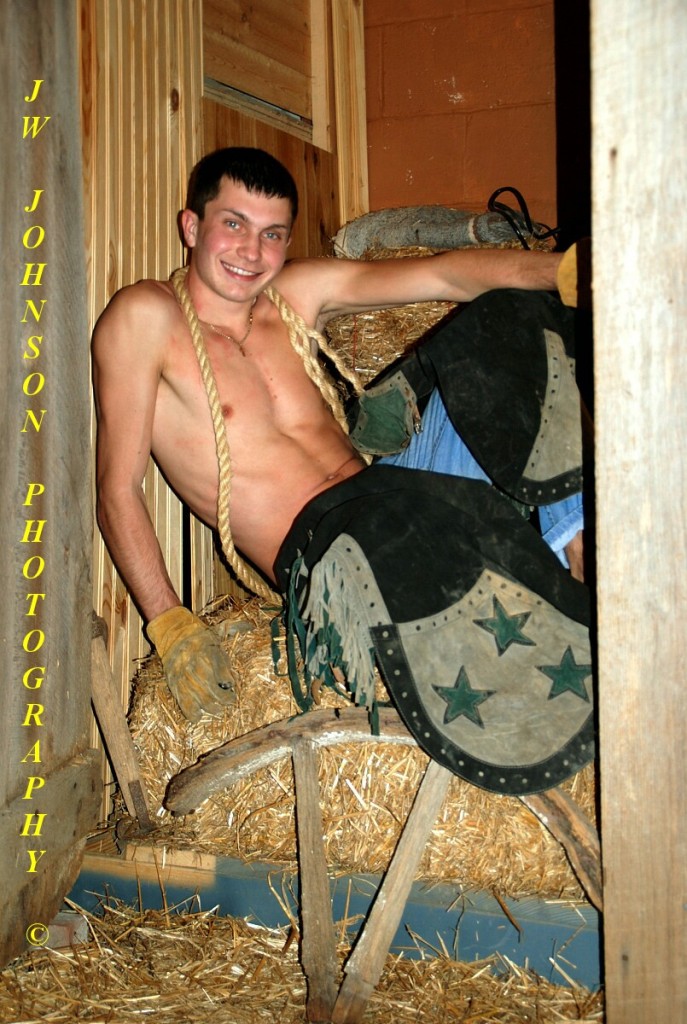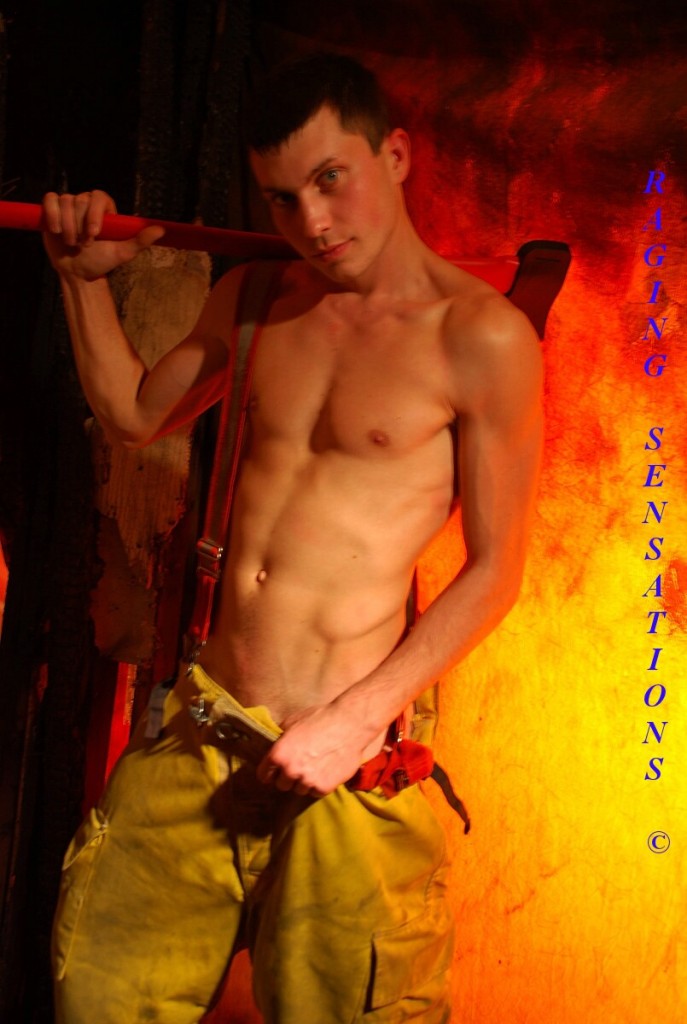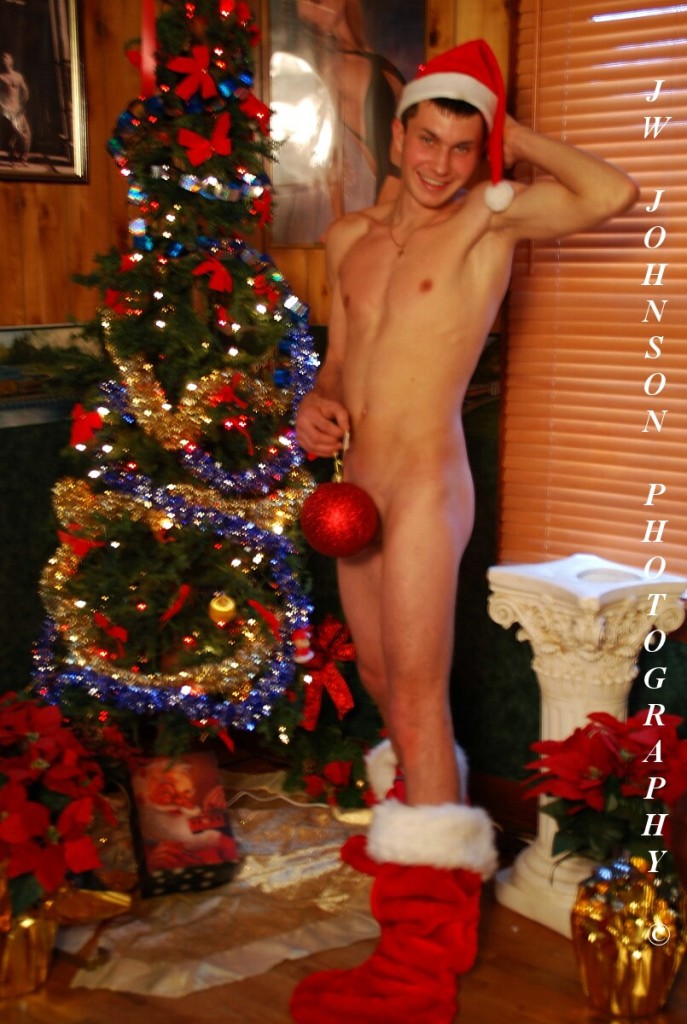 …and ironically, a week later I was contacted by a young female Russian named Alisa that also wanted to model….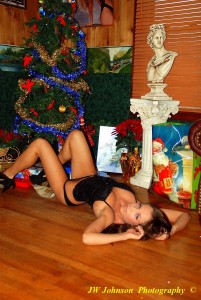 …and she finished out my season of 2009 !!  Merry Christmas !!