Drove down to Florida a few weeks ago for a few days of R and R and was able to photograph a few hot guys while there, and one hot female model, too…my family flew down a couple of days behind me so I scheduled a couple of days of photo shoots while there and then spent some time with them over the weekend…my first shoot was with Greg, a hot USF college boy who was in need of some new photos for his port, glamour and nude both, so we shot some the first evening there…. he is wanting to get into some good paying video work to help pay for his college tuition….
..talk about a hot guy…he is a rower as well and has a nice build and nice eyes and nice everything…..
The next day, Greg came over to Tampa Bay at the beach where I was shooting Justin, a hot Abercrombie model in the Tampa area, and joined the shoot….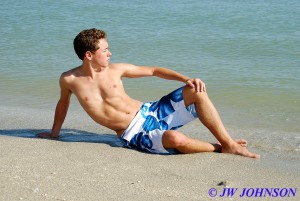 Greg kinda tossed me a challenge, he said he didnt take good pictures…so I had to prove him wrong and as far as I`m concerned, I did….he is a very good model to work with…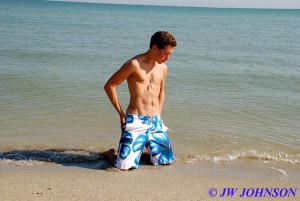 ..his Beach Boy series…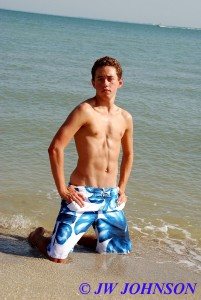 ..and then he switched to his black swim shorts…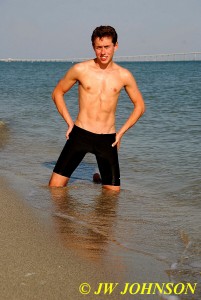 ..very tight fitting lycra shorts…
…and really make his definition pop….
…and sizzle…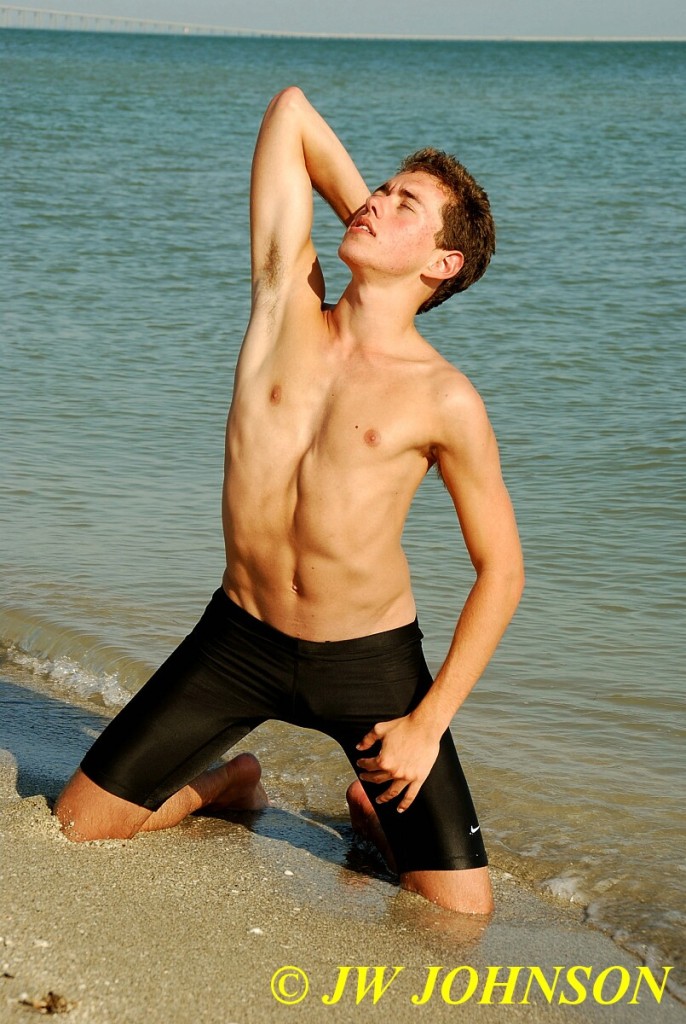 And as I said before, I started shooting Friday early afternoon with Justin…I had intended to start shooting late morning but it took me longer than I expected to get to Fort DeSoto Park this time and so we got started late…but Justin is one hot guy to work with and when I first met him at the east end of the County Park on the beach, I thought I was looking at a young Brad Pitt, he had the same look as Brad in Legends of the Fall….stunning…so its no wonder that I had a great time working with him, everyone else there thought he was related to Brad Pitt, too…….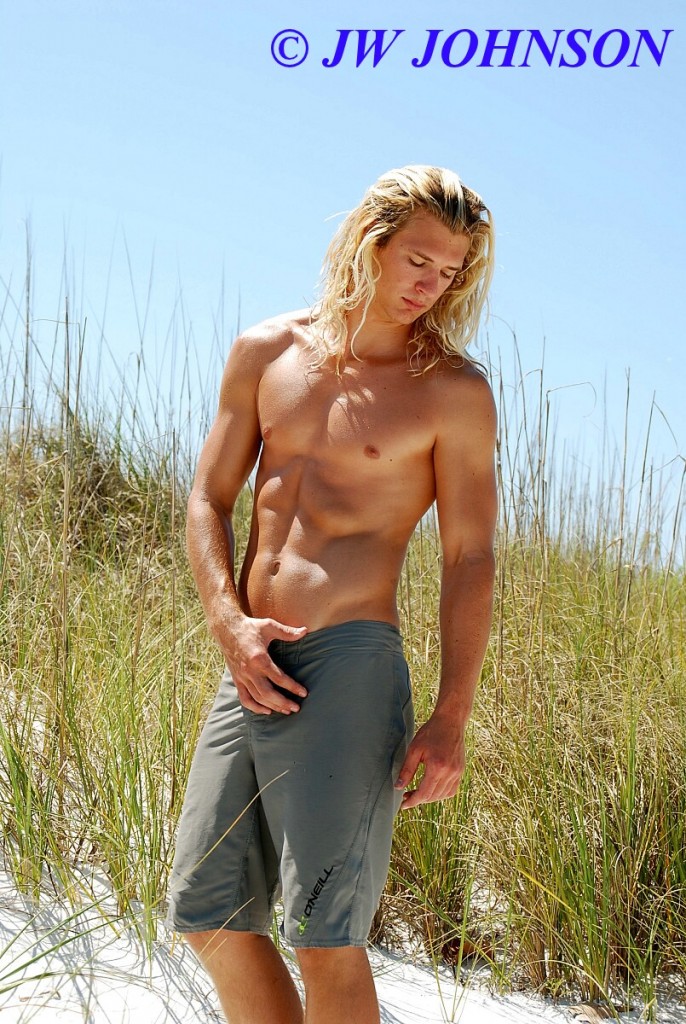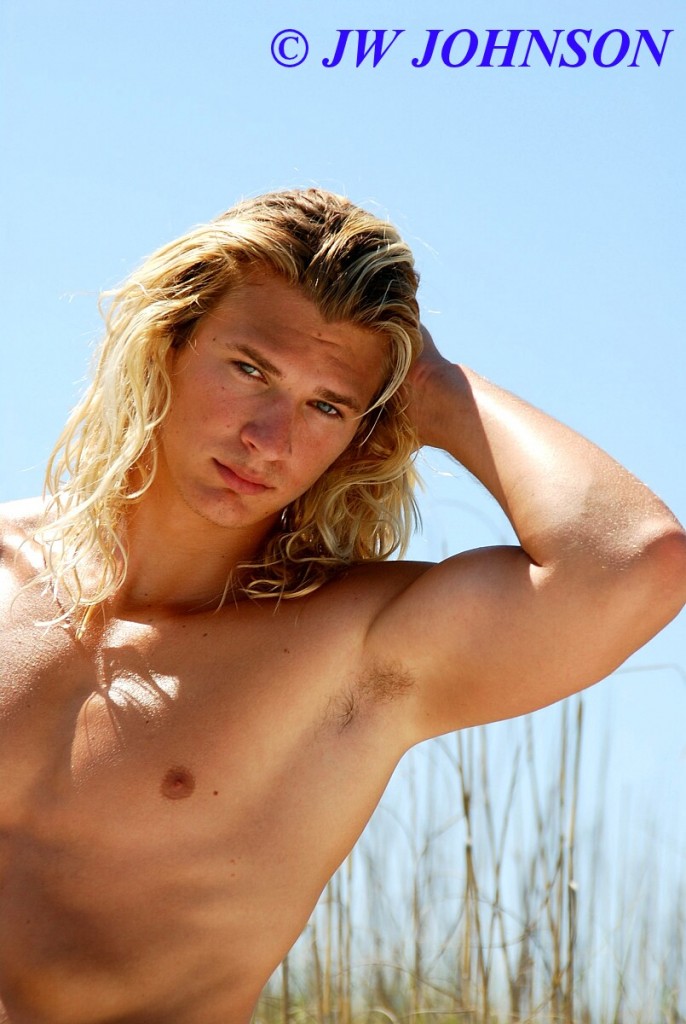 and this was where we began shooting, at the far west end of the beach near a grassy dune……people kept walking up and by and kind of getting in the way, we were at the far end to start due to so many people being at the beach in general…so then we switched and he walked out into the water and got wet and then worked the beach area for me…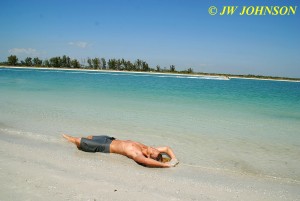 …looking like a Beach Hunk Washed Ashore…with waverunners in the distance on the water going back and forth…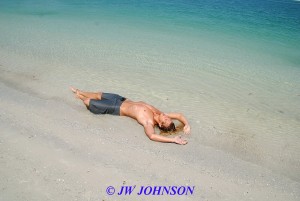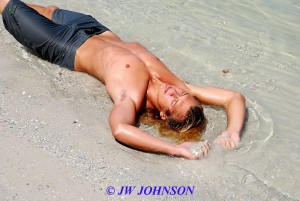 ..then he got out in the water and washed the sand off….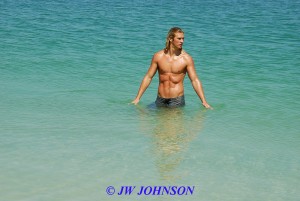 …as if you would doubt me….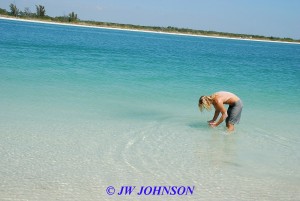 ..and showed me what he can do with his hair….
..we then decided to walk back to the parking lot and drive back down to the pier area and shoot some images, but found this grassy area to shoot at on the way…
…and this neat log to shoot at….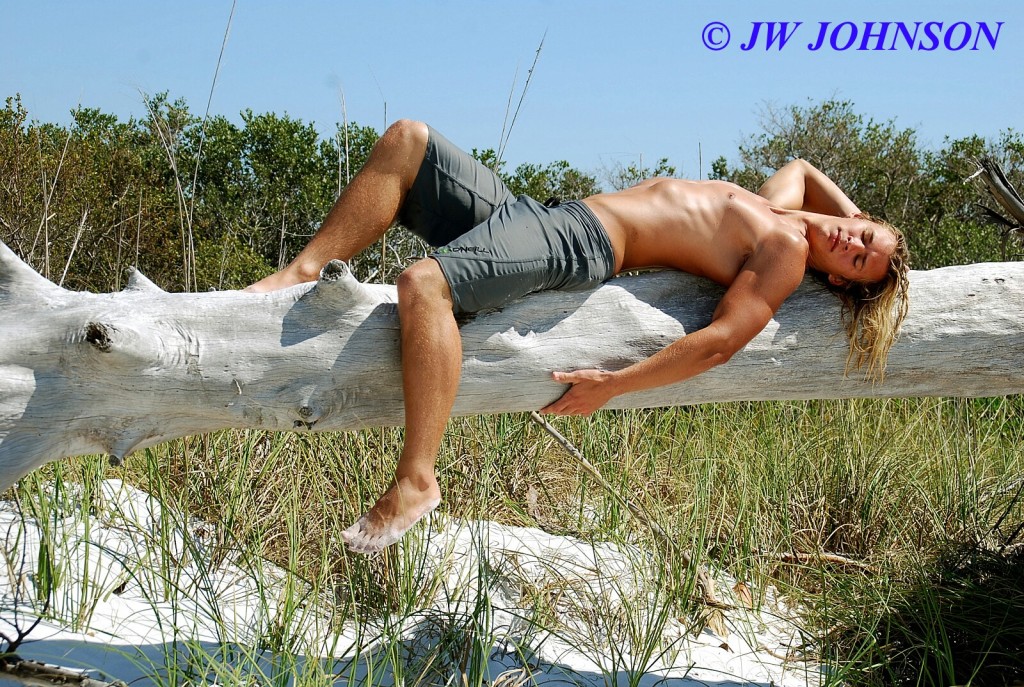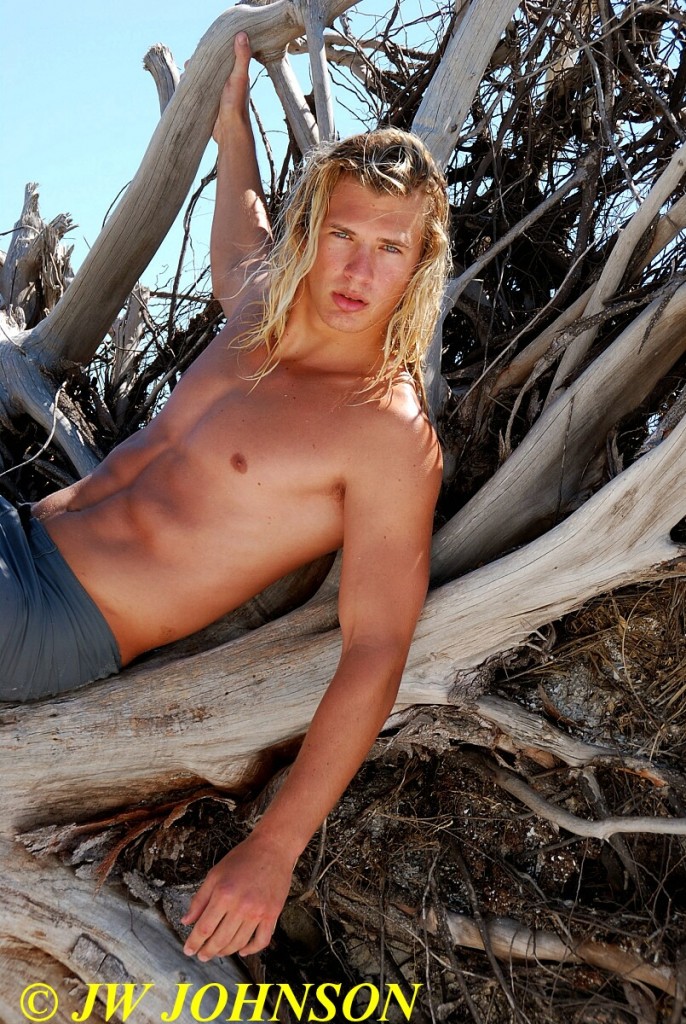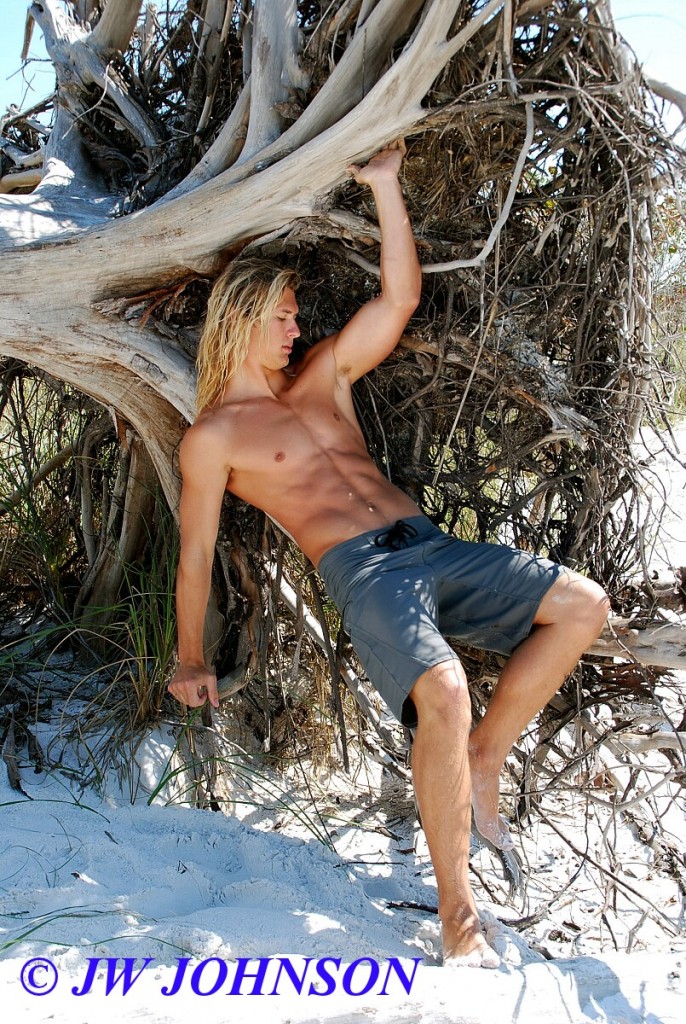 …and I came to the conclusion that Justin just looks great where ever he is located and whatever he is doing…sure is very down to earth and easy to work with….I looked out into the water and spotted this tree stump and he waded out and shot this next series…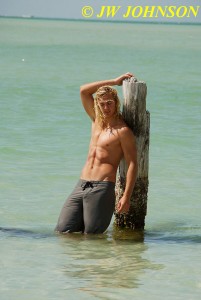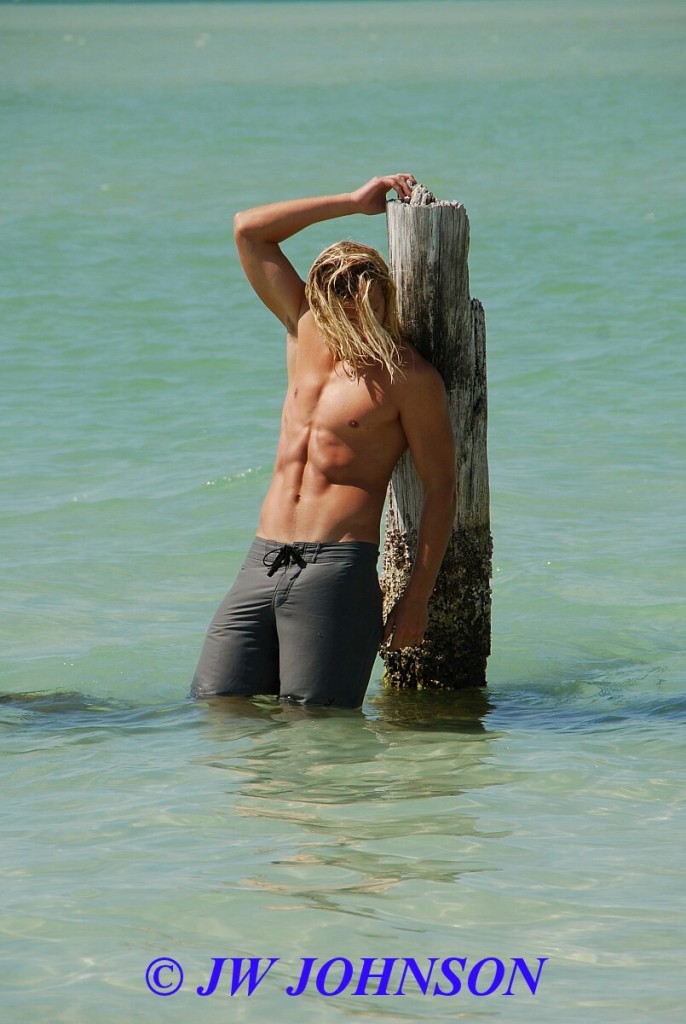 ..and then we finally made it down to the pier and shot these before Greg showed up to join us…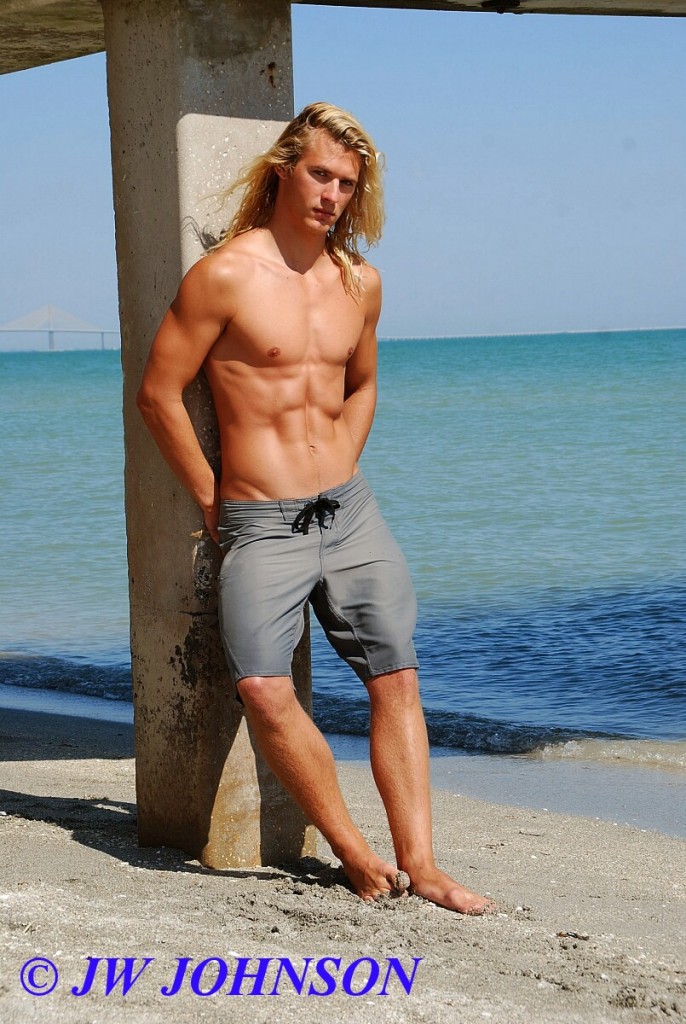 ..and here you can see the Sunshine Gateway Bridge in the background…
and then we moved up the beach and shot a few fire gear images….I`m fortunate to have many good friends who are also photographers and work with many models across the country as well…one of my friends gave me a couple of complete sets of older fire gear several years back and I usually carry an extra set or two with me on my trips to use for shoots such as these….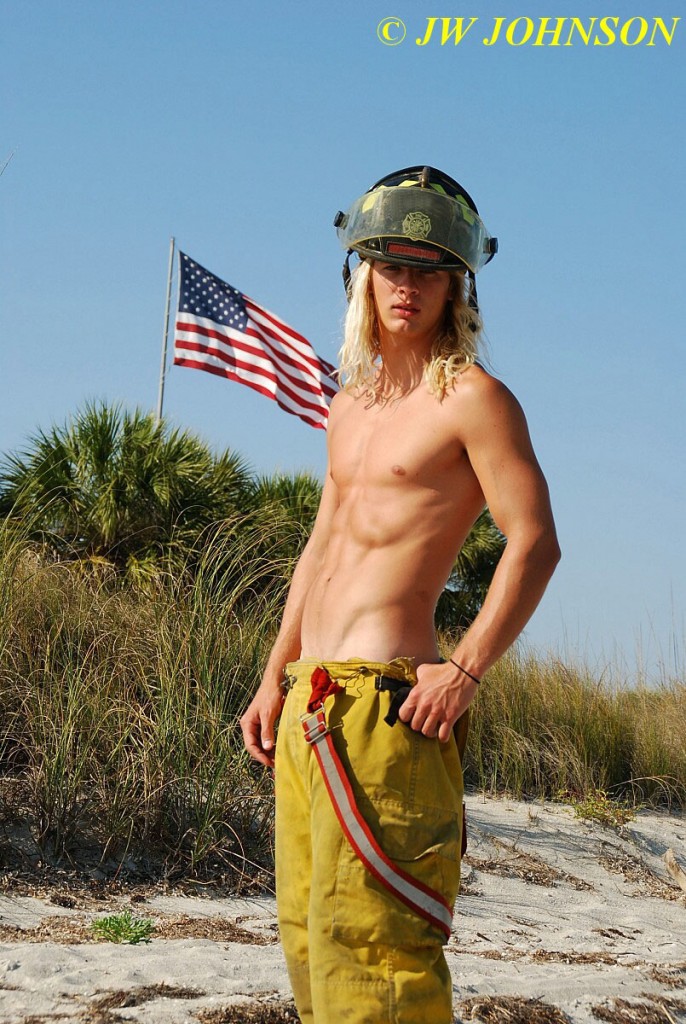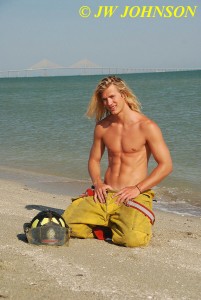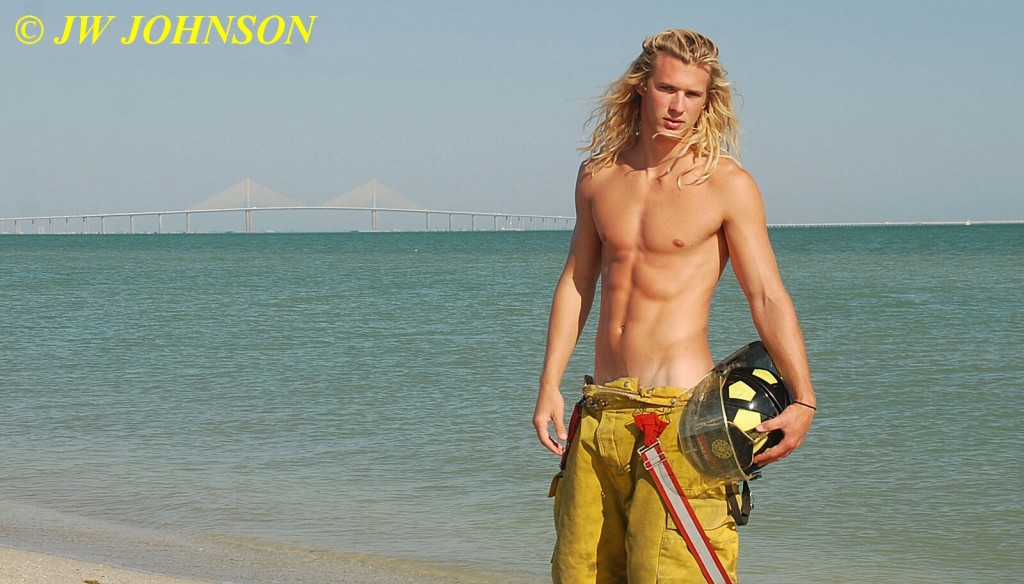 …sure does make good fantasy material for a beach scene tho…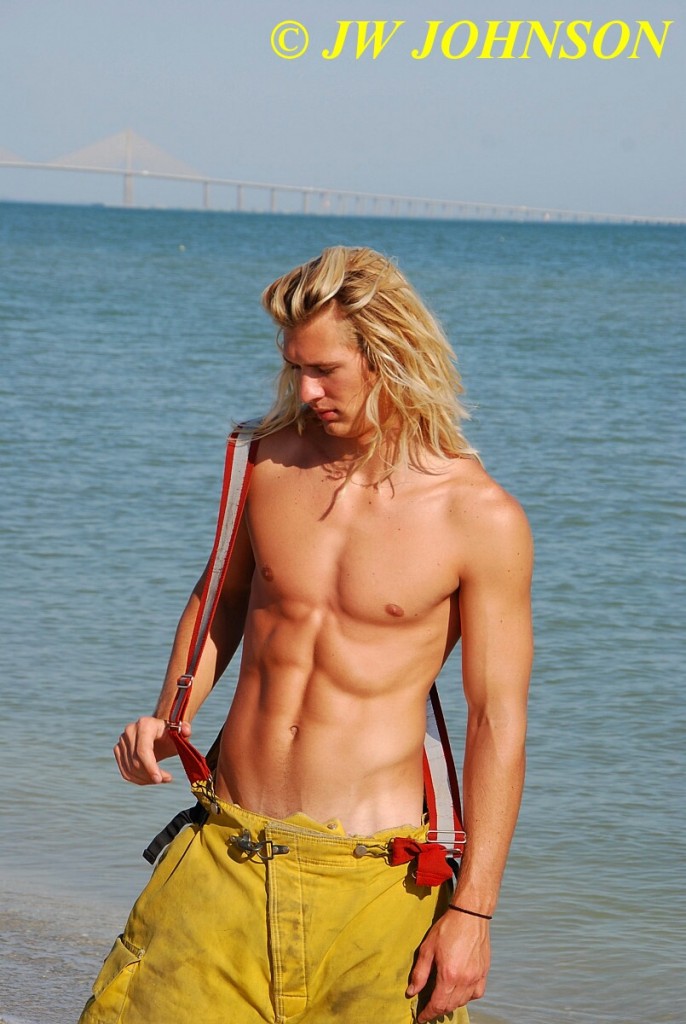 ..and he sure has a hot smile too…
…afterwards Justin, Greg, and I went to a nice Chinese restaurant that Justin knew of and chowed down after a long day of sun and liquid….
The next day, Missy and I drove over to the east coast beaches, and met up with a hot personal trainer named Sheriden, who is just starting out modeling and needed some new images for his port…so we met up with him at Hutchinson Island near Stuart and started shooting at the  House of Refuge Beach…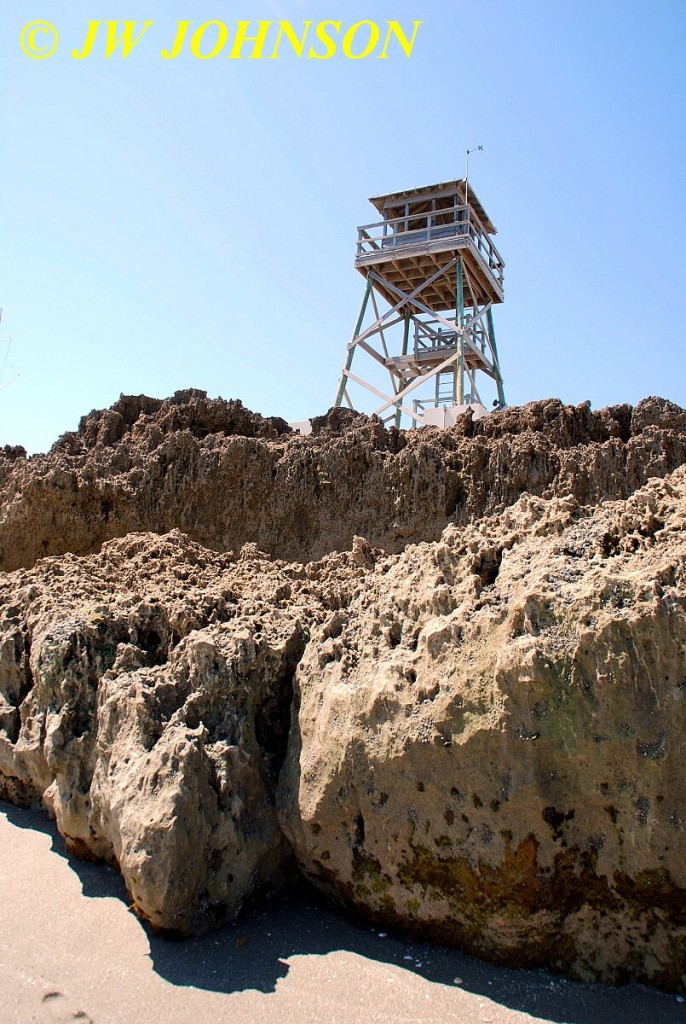 which has a tower high above the water and sand, and a bluff type rocky area above the water…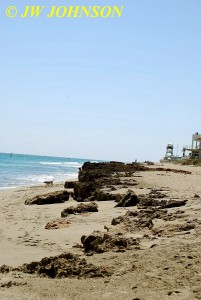 ….so you have sand above and sand below and this is the only rocky stretch like this on the Florida coast…when we pulled up and parked in the limited parking area there..Sheriden was there taking photos of the landscape, or beachscape I should say…he likes shooting as well…and we talked cameras for a bit and then started walking down to a more deserted stretch of beach to start shooting at….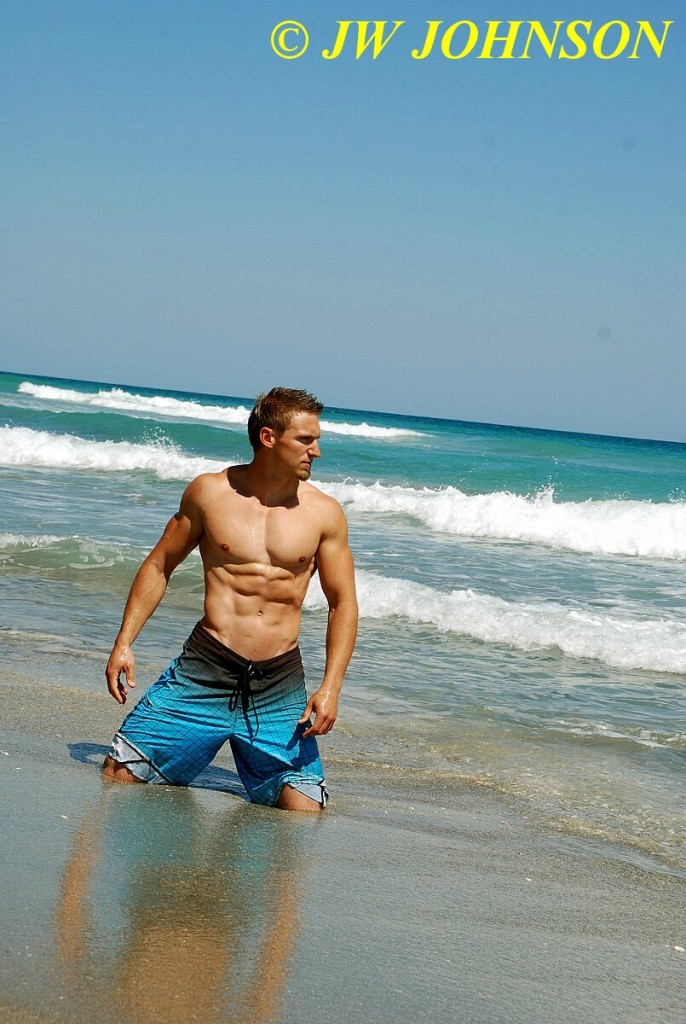 ..and as you can tell here, the tide hadnt begun to recede yet, and the angle of the sun was a bit brutal yet, so we backed up and started shooting some images up on the rocks instead for a bit…
..and as we did a few shots here, we noticed a line of birds that kept cirling around and flying over in a line…prob keeping a good eye on Sheriden and his hot build and look, lol….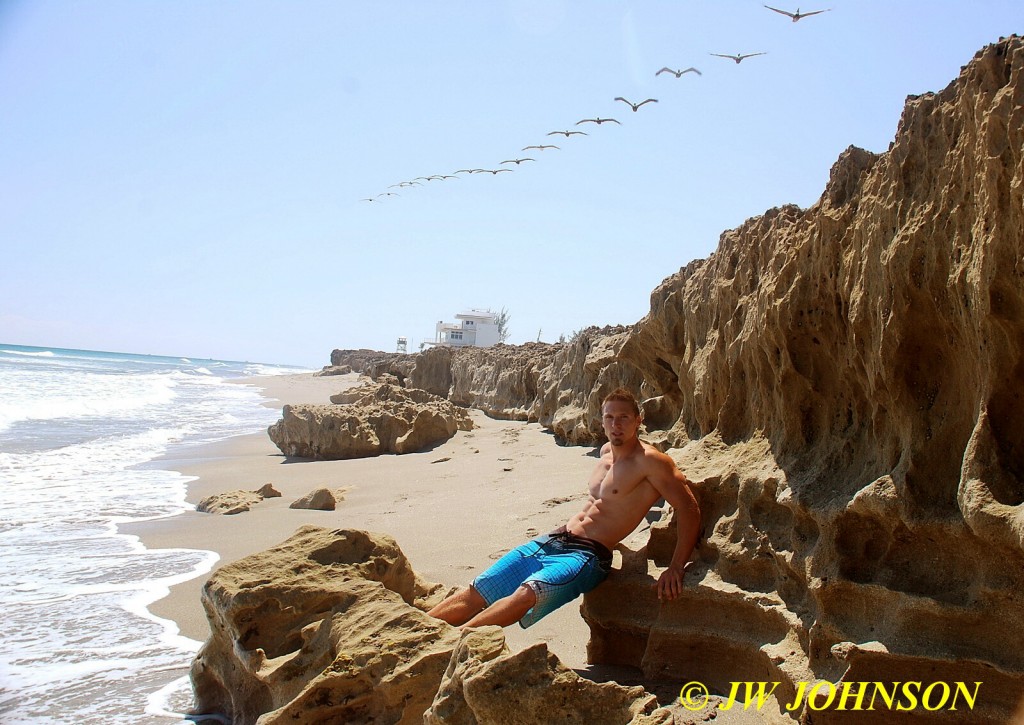 …we then took advantage of the rocky bluff area….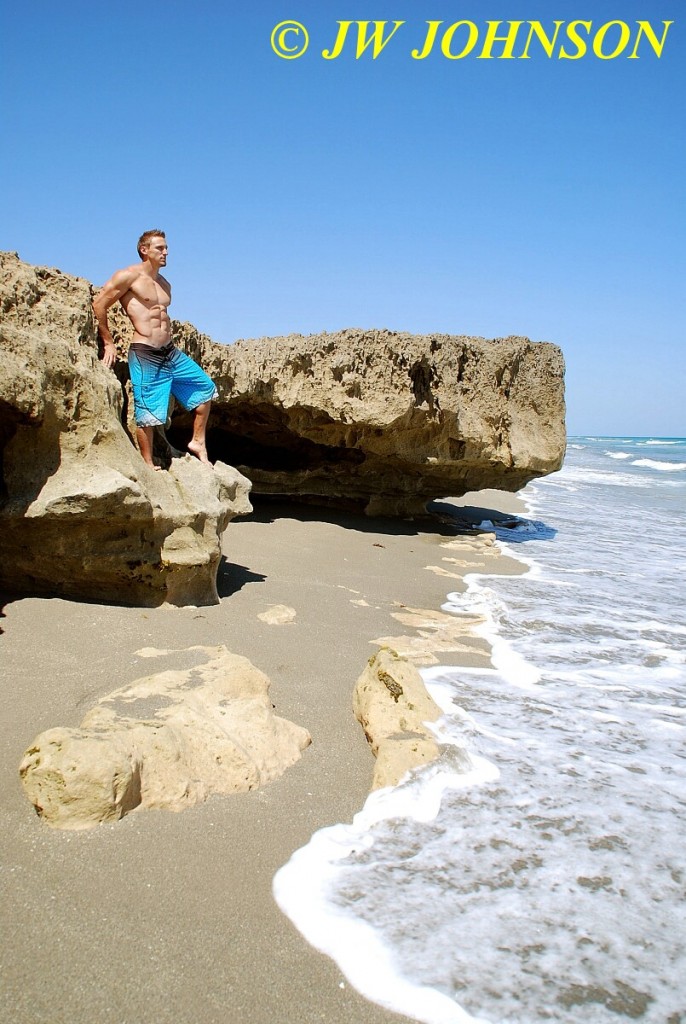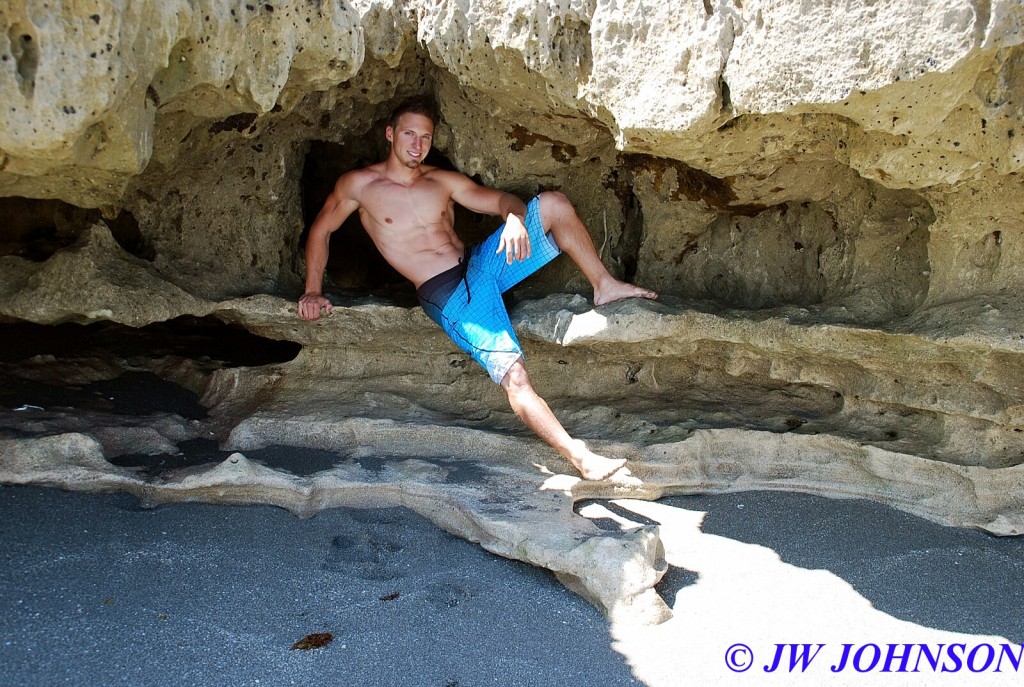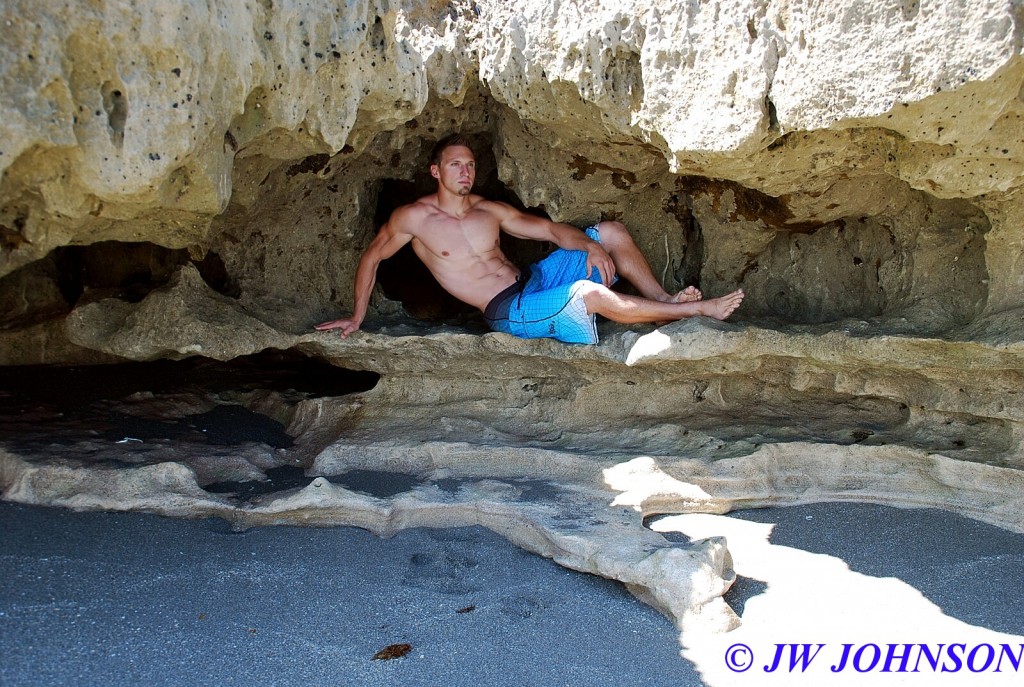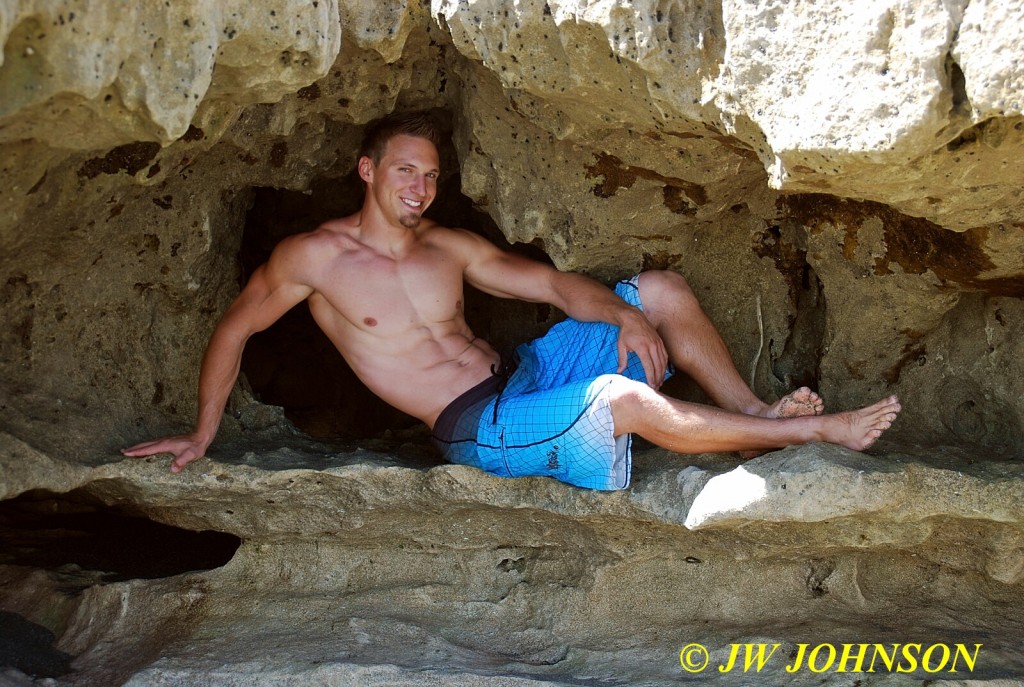 …we then moved back up the beach toward the tower to see what the higher bluff area there had to offer…and he changed shorts as well…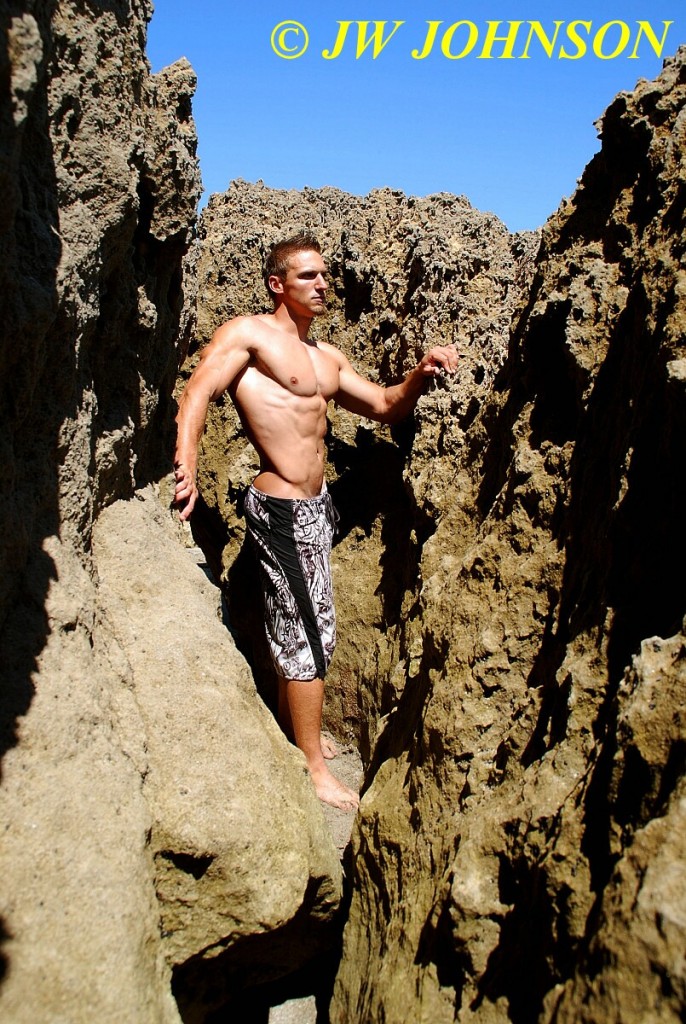 ..then we grabbed some fire gear and headed back down the beach to shoot some images with it…Sheriden is taking classes for paramedic and joined his local fire department earlier this year…prob why he looked so natural in the fire gear…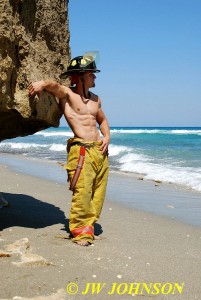 …then we decided to try some rapelling images since I had a coil of rapelling rope with the outfit and he found a neat place to tie off the rope and rapell down from…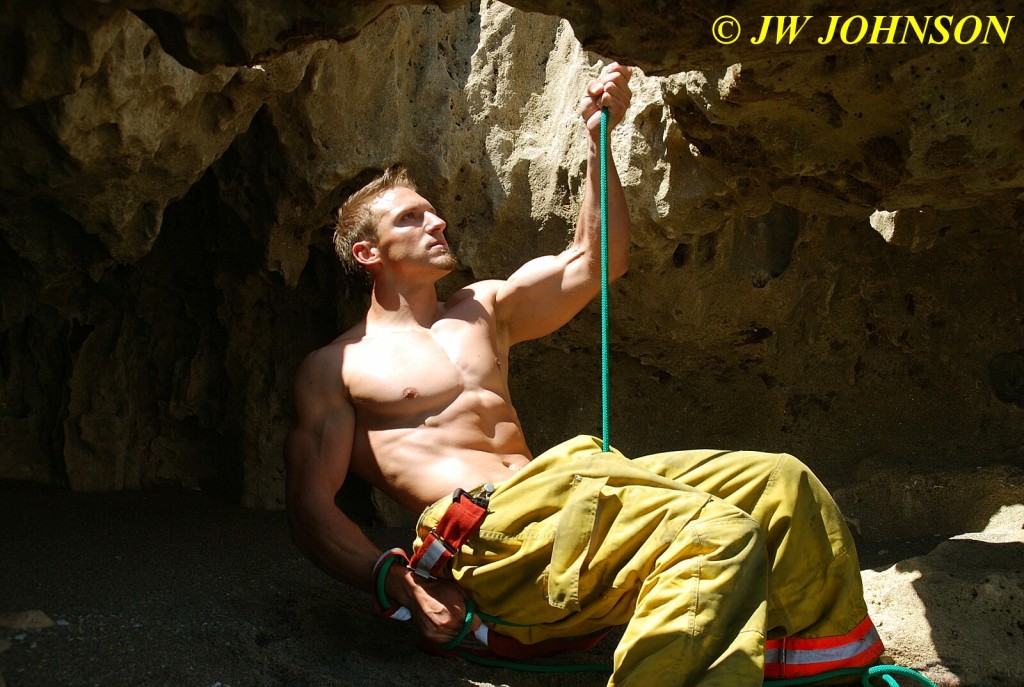 and…
..while he was up in there rapelling and I was shooting him, some gal came strolling down the beach with her husband and once she saw Sheriden in the fire gear, she quickly forgot about her husband and started paying attention to him instead….just one of several times believe me….
I then had him step out to the sand again and we shot a few with the rope coiled around his shoulder....
…ever see a firefighter hunk smile ?
The next day we drove over to the east coast north of Stuart and photographed a beautiful young lady named Aspen…you can find that story in another section of my site….