I hosted a photo shoot for photographer friends last week and invited a few models as well…one photographer friend was able to make it down for the shoot and two models showed up as well…one was new model Nick Turner, who I had photographed a few days before for the first time, and Aaron, one of my models who I helped get started fifteen years ago, and now resides in Missouri. Aaron arrived at my house first, looking as hott and sexy as he did fifteen years ago, tall with a slim toned build and great personality as well, sporting a little more ink these days. Here are a couple of his photos from the early days at the age of 18 when he first came to work with me….
  …and here is how he looks now….
I was able to take these few images of him before my photographer friend Brad showed up to start working with him on the front porch…while I waited for Nick to show up, which was soon after I took a water break.  This was my first shoot with Nick, after interviewing him a few weeks before, and I have to say now, that I was very impressed with this shoot…Nick is not only a natural looker but a natural talent and model, he has a sexy look and a hott slim, yet tightly toned build too…easy on the eyes and great attitude and personality…he almost reads my mind when it comes to posing, while I was able to teach him a few things about posing, he had enough experience to know how to move fluidly too. I started him off in the tack room of the horse barn….
and it was about now that Brad finished shooting with Aaron and had to head home, so after taking a short water break again…..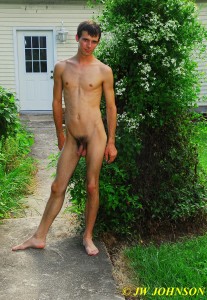 Aaron joined Nick and I out in the field with Sammi, one of the horses that my good friend has on the farm….Aaron holding on to Sammi while Nick started out….and then they switched places with Nick holding the halter rope while Aaron posed on Sammi`s back…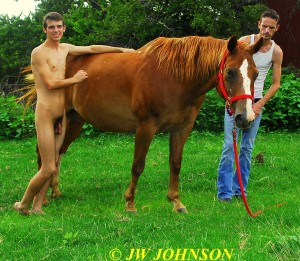 …all in all it was a great shoot with both of these hott guys….and as usual Sammi looked great too…soon after a dip in the pool to cool off both of these guys, and a big thank you to our host, we vamoosed out of there as we could see storm clouds approaching. I took a few more images of Nick at the house and then as soon as the storm rolled on through, we headed out to eat supper as both Aaron and Nick had not had anything to eat most of the day.