A few weeks ago I spent five nice relaxing days in beautiful southern Arkansas as part of my annual fall vacation. One of my St Louis area models rode down with me this year, he likes to both model and go rock hunting like I do, but doesn`t get much time for it with his schoolwork and job too, so when I asked Kyle if he would like to go, he jumped at the chance…he actually went with me two years ago and we had a blast. After a brief stop in Fort Smith, he and I drove on down to Lake Ouachita where we would be spending the next four days and nights.  We did some sightseeing while down there but also had a few photoshoots as well….when Kyle was there with me two years ago, we did a shoot at Little MO River Falls and at that time, I didn`t take any photos of Kyle as we ran out of light and warm weather, so on the way down this trip, Kyle asked if we could go back there and take some shots…I told him we would find the time to do so this trip. I took a few photos of him Wednesday evening in Hot Springs before supper, as the sun was setting over Lake Hamilton…
and the next day as well…….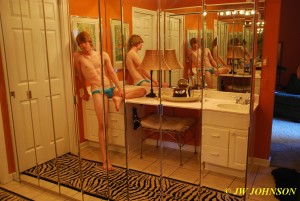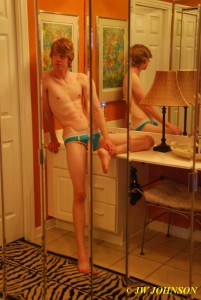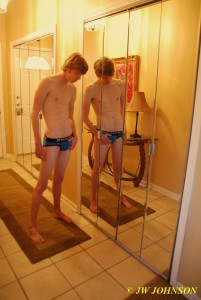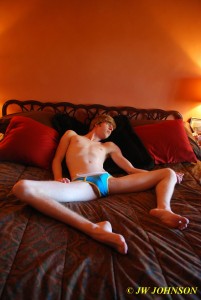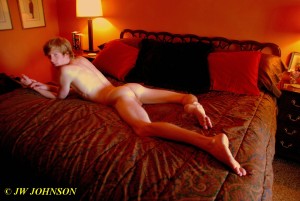 Friday morning, after an early morning breakfast, Kyle and I drove over to the north point to see if there was any nice foliage in the area we were staying at, there seemed to be alot up by the condo on the hillside above the lake…I had photographed Kyle down by the lake two years ago at this spot and it was fairly pretty then, but we were actually seeing more color this time.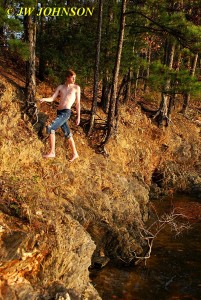 We hiked down to the spot where we shot two years prior and found a little color in the background….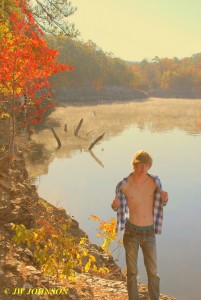 …we headed back to the condo to wait for DJ, a photographer friend of mine from the Little Rock area, who was driving down and bringing with him, a new model prospect for us named Landon, also from the Little Rock area.  After visiting for a little while, we started shooting, Landon with me first and Kyle with DJ…I started with some basic shots of Landon…..
..he started out in Kyle`s newly designed holie jeans….
…and they looked quite good on him too…..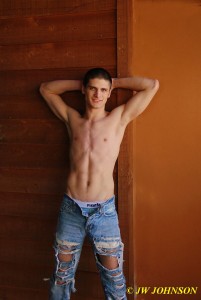 ..we then moved to some underwear shots….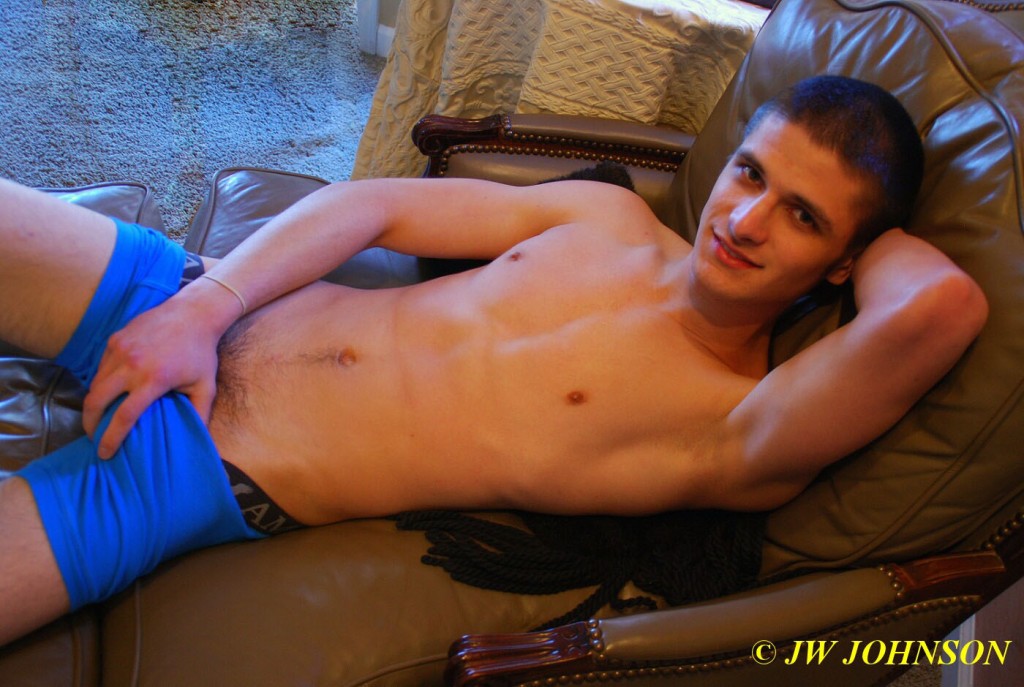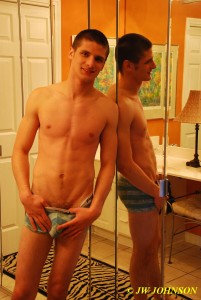 From here, we drove to a beautiful waterfall location, one that one of my models in Hot Springs showed me last summer while I was down there on my summer vacation…its a neat little two stepper that has some beautiful pools of water below as well and can be quite pretty in the fall, some nice ledges of rock to pose on too…after we arrived and I showed them the features, DJ again started with Kyle and I took Landon up above and started him in some older fire gear that a friend gave me years ago….this time at the upper waterfall….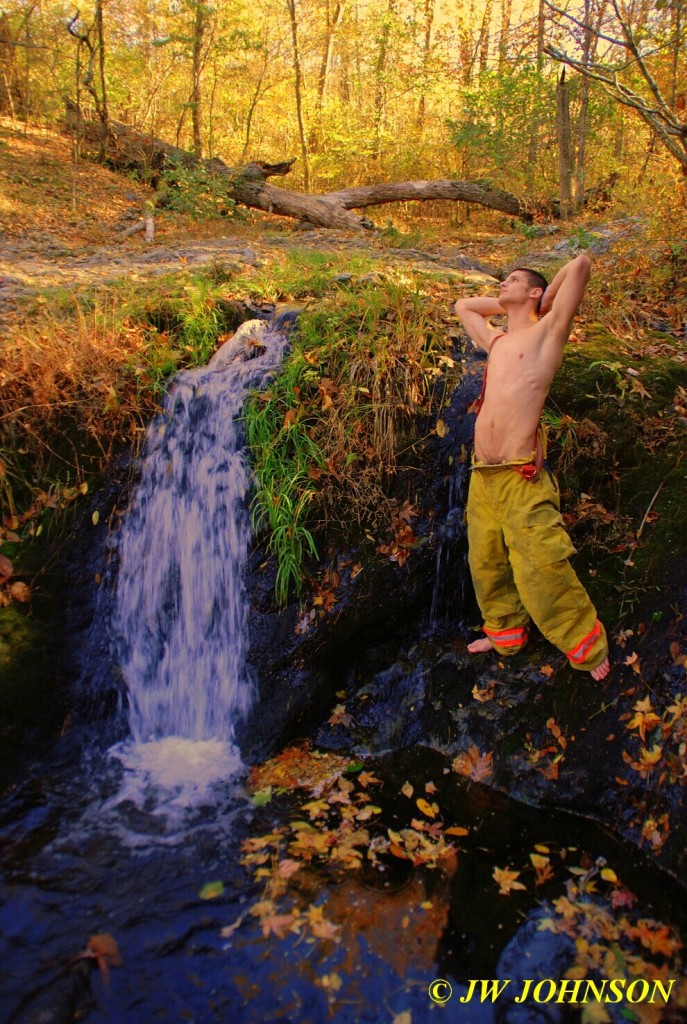 …and then we switched to the holie jeans….while waiting for him to change outfits…Kyle showed us what a handstand looks like….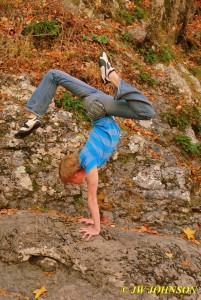 …and then we switched waterfalls with DJ and Kyle, and I shot Landon at the lower pool and falls….starting out at the pool below the falls….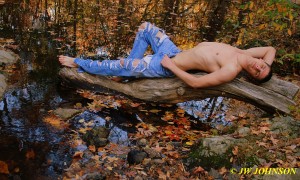 and then we moved up to the lower waterfall itself….if you can pry your eyes away from Landon`s incredible looks and beautiful build for just a second, take a look at the beautiful reflections in the water as well….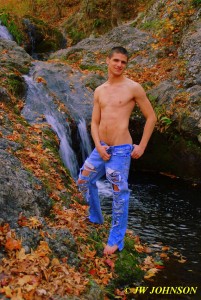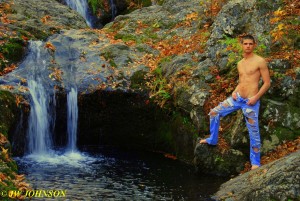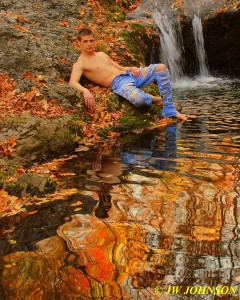 DJ finished up shooting Kyle about the same time I finished shooting with Landon so Kyle joined Landon streamside near the waterfall and we shot them together….they hit it off really well….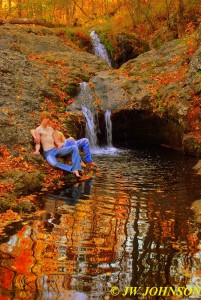 and then we stood them up on the rock shelf between the two falls together as well….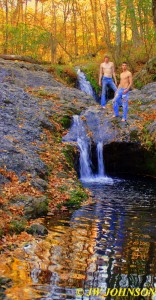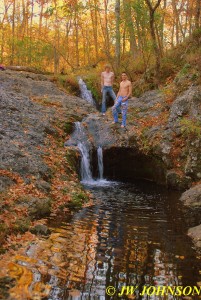 and after the session was over, we headed up to the steakhouse in Hot Springs for a well deserved steak dinner. I hope to shoot Landon up here one of these days soon….
Saturday Kyle and I spent the day rockhunting…thought we were going to have a shoot that afternoon, but the model didn`t make it, so we drove to Hot Springs and had dinner with one of my former models, Scott E and his buddy Riley, at a grill place that serves great food,  where we enjoyed a great steak dinner and watched the Arkansas Razorbacks stomp Tennessee University on the multiple television flat screens there.
We got up early Sunday morning to start home…stopping off at Little MO River Falls to photograph Kyle.…along the way, I stopped at a smaller waterfall that is very pretty and I shot a few photos of Kyle there as well….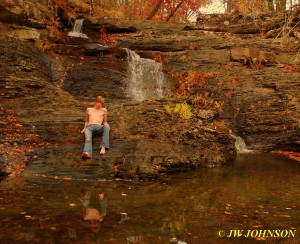 We then drove on over to the main falls of Little Missouri River…its located in a deep and narrow canyon, best time of day to shoot it is mid morning and it can get quite breezy and cool down there this time of year…we arrived about 9 am and there was no one there but us, and it was a bit breezy so I told Kyle we wouldnt be there long…I started him out mid falls, it stairsteps down seven times here…
 …..and then had him stand down by the lower falls there too….
..we then walked up to the upper falls where I had him perform some of his acrobatic maneuvers…which he does very well, very artistically inclined with his posing when combining the acrobatics….such a pleasure to work with too….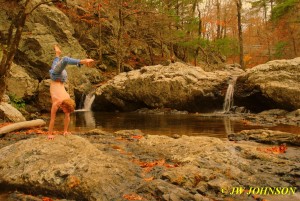 there are two waterfalls on the upper side, with a big pool of water stretched between them….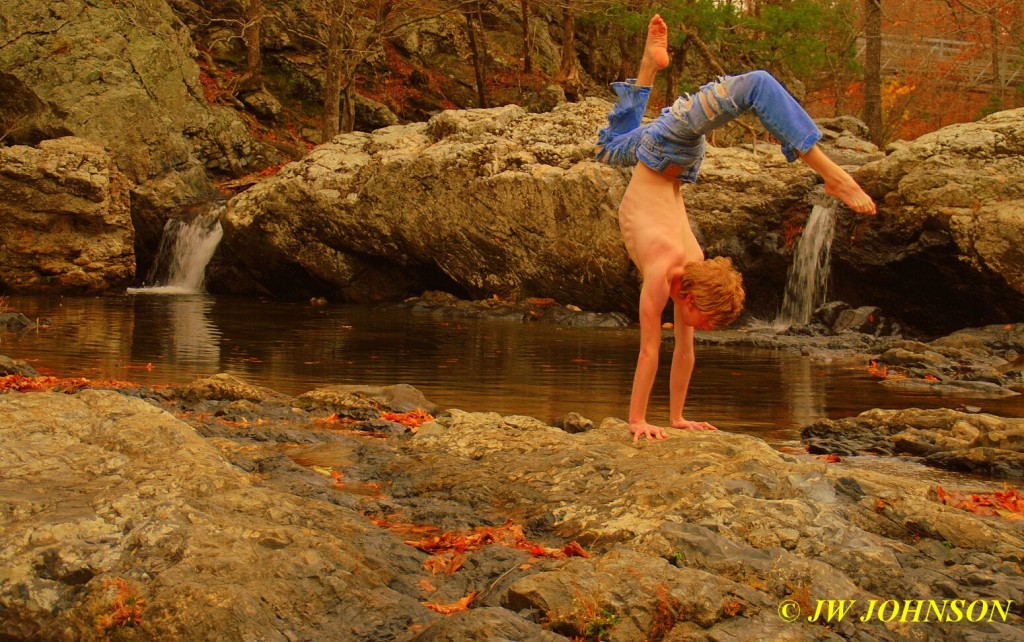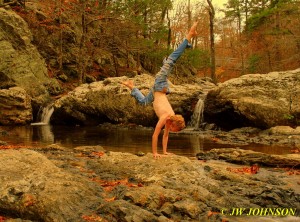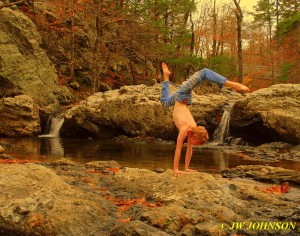 Kyle is so accomplished with the acrobatics that he makes it look very easy, but believe me, its not….but he makes simple art look easy as well…
and after that, we headed toward home,  with a couple of pit stops along the way…