One evening in mid March of 2003, I was browsing online and was contacted by a fellow who had a website that catered to erotic nude male modeling work, he was looking for a photographer with experience in shooting nude male models, both art nude and erotic nude work, to take his place on a cruise…it seems he was a major sponsor of the cruise, called Mutiny and Mayhem, yet he could not go on the cruse ship because he would get sea sick, and then become incapacitated and unable to photograph anyone at all. He had come across my work online, checked out my sites, liked the quality of my work, and hired me to take his place on the ship and photograph as many men as I could during the three days of cruise time. Since there was also alot of paperwork that would need to be completed by each model that I photographed, I was able to convince him that I would need some assistance doing this, and was able to bring along a good local friend of mine, Dennis, to handle the paperwork while I took care of the photography. The client flew us both down to Tampa at the beginning of March, and we attended a Bon Voyage Party at  a local bar there the night before the cruise ship departed. We were able to meet a few models and dancers who would be on the ship for the cruise and establish some contacts, as I was required to photograph the dancers and models as well as anyone else we could recruit for the shoots. Everyone that was going on the cruise then met the next morning at the docks, south of Tampa and after going through customs, we spent most of the morning just boarding the massive ship. We all formed along line, yes all two thousand of us sailors, and began climbing up the massive metal stairway to the halfway mark on the ship where we could enter the ship…and as we climbed up what resembled a massive scaffold alongside the ship, about halfway up, the Tour Director had been kind enough to place one of the models, Michael Brandon, to welcome us all aboard the ship. As Dennis and I approached, we saw a ship photographer snapping photos of each person with Michael, that one could purchase later on as a momento of your trip…when it was my turn to get my portrait with Michael, I asked the photographer for a timeout, and adjusted Michael`s pirate vest a bit to show off his muscletone more….
…and then we continued on up to the ship door and entered the ship. We were immediately given our room number and key, and assigned a valet who took us to our suite and turned down our beds for us, and informed us he would return each morning to clean the room and make our beds. Shortly after setting sail for the Gulf, our destination Key West, we were informed by intercom that we had to report to the deck outside for a lifeboat drill and advised to wear our lifevests…Dennis and I both headed to the deck topside and found our neighbors gathered there, and time to meet and greet…soon we were also joined by none other than Michael Brandon once again…seems he was the Hospitality Director as well as one of the super models on board. The cruise was before digital cameras were prevalent, so I had brought about forty rolls of film with me and two cameras….I took a few extra photos along the way, mainly sunrises and sunsets, and most of my images were lost a few years ago in a computer crash. Here are the few that I have remaining….
   We also had to set up and mann a table on the deck that advertised his website and gave information on what types of shoots were available….needless to say, it was a good thing I was able to bring Dennis along, cause he turned out to be invaluable and freed me up for the photo shoots…there would have been no way I could have done everything required by myself. We basically had the run of the ship for shoots, and since the ship was built in the 50`s and well maintained over the years, there were several very pretty areas on the ship that I was able to shoot in. The crew was very gracious as well and made things alot easier to work with as well. The Cruise Director was from the Tampa area and had a guy from St Louis working for him, and they were great to work with as well and while they offered their suites on the ship, complete with hot tubs, available for shoots if needed, I never found the time to get down to shoot any models there….kinda disappointed cause I really wanted to see how a hot tub was arranged in suites with balcony`s. Oh well, maybe next time. We had no sooner checked into our mini suite and went through the lifevest / lifeboat drill, then we headed to the dining room for lunch…I wish I had taken more photos of the entire ship while on board…the dining room was huge and very beautifully decorated. Each of us were assigned to a certain table with two to three other guests, and we had a specific waiter and server assigned to our tables…and each night was assigned a different theme for those who wished to participate and bring costumes for it. That had seemed like a lot of extra work for us, so we didnt bring the extra stuff and just came as we were…but let me tell you, there were alot of people who really got into it and brought alot of extra costumes for the themes, from tuxedo`s to feathers to leather and chains…never a dull moment on board. Besides the great food, there was also a workout room up on the top deck, right behind the wheelhouse, that I took advantage of every morning, even photographed one of the models up there one evening. While I can`t remember the order in which I shot everyone there that week, I`ll just include a short storyline with each one. I also photographed one of our table mates, his name is Danny….
The first night there, at the Bon Voyage Party, down the street from the hotel, I met Timmy Tyler and Trent Atkins, both actors and models, and while I never did get to shoot Trent while there, despite a great opportunity at Key West to do so, his choice not mine, I did get to do an extensive shoot with Timmy Tyler…he turned out to be a very good model and even flew here a few months later to work with me on some magazine layouts and for another website, and we remain good friends to this day. I shot Timmy in a lounge on an upper deck first, Timmy took a look at the surroundings and just started posing on his own without any direction from me, a very good sign of a natural model….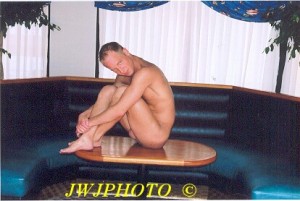 …after this part of the shoot, we stepped out on to the outside deck and shot some images in his string bikini….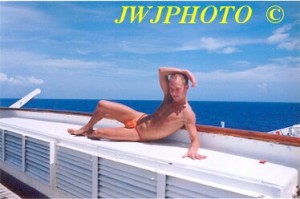 …including a michevious image….
…and one in his birthday suit….
…and let me tell you, as hott as Timmy looked, in and out of clothing, he was garnering alot of attention outside…we were quickly overtaken by several onlookers, so we postponed the remainder of the shoot til we landed at Key West and could shoot at a more private location there.  The Key West Shoot was at a private pool that is owned by good friends of Cruise Director Jim Garcia, and those friends own the leather shop in Key West. Jim met me at the Leather Shop and introduced Dennis and I to the owners and we arranged to meet them at their house around sunset to shoot a few models there. BTW, it should be noted that while it is usually very warm at Key West, and was around 88 degrees that day, all of the pools there are heated, so when you get into one, its like getting into a hot tub…ie…you dont cool down at all. Timmy was the first model I shot at the Leather Shop guy`s pool…they had some big and beautiful palm trees that were ornamental looking and kinda fan shaped, so Timmy stood up on his toes and kind of emulated the shape of them in an artsy way….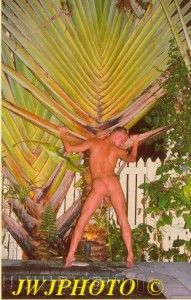 …then they also had this huge arty looking ceramic pot that looked like it was turned over and spilling water out into the pool, a fountain, and I had Timmy walk over under it and reach up and grab the sides of it, looked great, he was wishing by that time, that the water pouring out of it on to him was cool water, not more heated water….
…he then posed in between the decorative pot and palm tree….
Another sweet guy that I photographed on the ship, was Jonny Kfir, who it turned out, was probably the first guy from the country of Israel that I had ever met, let alone photographed, and very easy on the eyes as you can see. I took Jonny down to the ship`s library, which was built with beautiful mahogany wood paneling and absolutely beautiful….and Jonny looked sexy in the library as well….
…and then we walked up to the same lounge that I shot Timmy at and shot a few images there as well…in the next image, you can see how relaxed Jonny was, he was always like this, a natural model and a big flirt as well…he loved to show off….
…we then walked out on the deck and shot some images of Jonny in his blue swimtrunks and some nudes as well…
..and then went up to his room where I shot a few there….
…and when we docked at Key West, Jonny was one of the first models I shot…Dennis and I walked down the street to Island House, a resort at the end of the residential area…there was a big pool there with some shaded areas provided by palm trees on the south end of the pool. There were a couple of older gentlemen reclining on some loungers, and I walked down and asked them if they would mind me photographing Jonny down by the pool in front of them…they looked at me like I had lost my mind and told me to take all the time I needed to work with Jonny….I know they enjoyed the view in front of them, prob everyone there did, and Jonny poured on the show and flirty looks too…
..it was after a bit of a bad experience there, that we left and walked up to the pool owned by the Leather Shop guys, for the rest of the shoots that evening. It was during the shoot that we found out some guy from the ship had followed us down there and began to mess with us and with Jonny mainly…the situation was taken care of, but we decided to go elsewhere and finish the shoots with peace and privacy. I was able to shoot a few guys at the pool, however, I no longer have those other images due to a computer crash a few years back.
Dennis and I were going to grab some dinner there at Key West after the shoot, however it was around 11 pm before we finished shooting and getting the paperwork taken care of at the pool, plus it was spring break and man were the streets down there crowded with high school seniors all over the place. We decided to head back to the ship and grab some pizza from the all night deli on the back deck…we had to cut across the main drag to get back to the dock, and as we approached, there was a huge fight in the street, people physically brawling in the middle of the street, and I`m talking hundreds of people choking the street…we had to walk at least a block to get around it, and as we got to the far side of it, we heard sirens and saw police arriving in mlitary looking jeeps, running blue lights, and looking much like MP`s, to break up the street fight. I was sure glad then, that we decided not to grab supper there along the street in that area….a couple of the models walked back with us and joined us for pizza as well. As I was walking back to my suite, I came across this good  looking guy and was able to talk him into letting me photograph him right there in the hallway….his name was Brent….
…on one of the days, there were some contests on the back deck, one of them sponsored by my client, and I photographed the winner of that contest in the ship`s library, his name was Rod….
…plus I had to help shoot some group photos of the actors and models on board the ship for the Cruise Director and my client as well….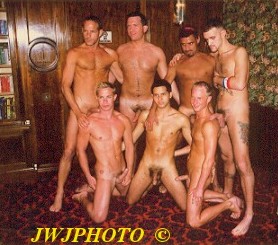 …the front row kneeling is Trent Atkins, Jonny Kfir, and Timmy Tyler, and the back row is Michael Brandon, Brandon Wiliams, Enrique Vega, and Danny Hunter…I had photographed both Enrique and Danny at the pool, and their images are the ones lost in the computer crash…..
..and then we stepped out on the deck and shot one with Cruise Driector Jim Garcia…by the time I got out there, I just had time to snap one from the side before the group broke up….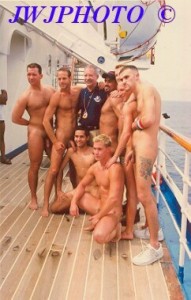 I was awake for some reason, at 4 am when the ship set sail for the return voyage to Tampa, and I remember some guys telling me that there were a few waterspouts about a hundred yards off the deck and I should get a photo of them…I looked out there but all I could see was total darkness…I remember thinking either their vision was much better than mine or they had been drinking too much. It was a very restful days voyage on the way back and we had a great supper that night in the dining hall, I remember having lamb and I believe Dennis had duck and it was very good. We had a great time on the cruise and the only bad time was the wait at the airport for our plane to arrive and getting thru security with all that exposed film…even back then, getting thru security was no picnic.
All in all, Jim Garcia and his crew outdid themselves in putting together such a great event, anyone that didn`t have fun and enjoy the cruise would have had only themselves to blame. Dennis and I left with several new friendships that have lasted well through the years, there are still a handful of guys that I hear from and talk to from time to time even today.