At some point during the early years, I became known for shooting some hot babes and hunks, likely due in part to word of mouth and possibly attributed to my calendar and poster work as well, but at some point I began getting calls asking to photograph babes and hunks on motorcycles, jet skiis, and automobiles, and while some of it included studio work, much of it was shot on location, depending on weather and the time of the year. I also shot a lot of waterfall images with babes and hunks as well….
Here you see Cathy working with Mel above, and we added Chris in the next couple of images…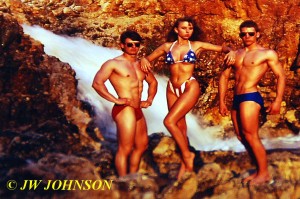 …and on another shoot, Chris joined me to shoot with Julie, who I was fortunate enough to be able to shoot a few times when she had some free time and able to travel down from the Chicago area…Julie became a Budweiser Model soon after my first shoot with here, and then went on to later become a Playboy Model as well. She was a fantastic blonde bombshell to work with and I was able to get her some good poster and calendar work while with me. 
Julie came down and shot with me on a few projects involving four wheelers and restored cars as well…like this beautiful 1966 Ford Mustang, that we shot in a grassy area one Sunday afternoon near the waterfall….Chris brought along another one of his referrals named Kevin, whose long blonde hair was as pretty as Julie`s….
…I had the guys dressed in black slacks and red tuxedo ties at first, but the ties came off soon after and the slacks stayed on, they were a nice contrast to Julie in her  partial birthday suit…and at one time, she had one a fur coat with their tuxedo white shirts opened….
…and she took some fantastic sexy shots on the car solo as well….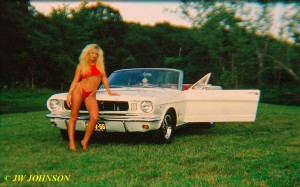 Kevin also came along on another shoot at the waterfall that Julie came back to shoot with me at….
Julie was also in demand by several private owners of dirt bikes as well…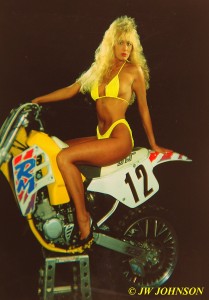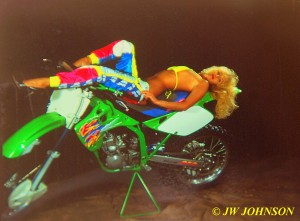 …and I shot her on a few four wheelers as well….
…watch for a post on Julie for more of her photos. 
Cathy also came down and worked with me on a jeep shoot for a firefighter buddy of mine…he had a pretty bright red jeep and wanted some images of a beautiful babe on it, so Cathy drove down on weekend and we went up to a beautiful bluff with a commanding view of the Meramac River valley below….Gus stayed behind the wheel after parking it on the side of the bluff, his foot on the brake which put Cathy a bit more at ease due to the location of the jeep….
…and then she even volunteered to help him fix the engine, but I dont think he really had his heart in working on it at that point….
…we took it down to a local gravelbar by the river a few minutes later tho, and she helped wash off the hood of it….