I was recently down in Arkansas on my fall vacation, and even though I was there for several activities, I also found a hot new model to work with, his name is Tre, and I was able to shoot him at my favorite waterfall near Hot Springs. I had met him online and we had talked several times in the weeks before I even traveled down there. My only regret after meeting and working with him, was that I didnt have more time to work with him….he wound up having to work a couple of double shifts the last two days I was down there. 
On the way to Hot Springs, I stopped off at Hot Springs National Park, to check out the fall color along the creek at the campground there…I had shot there in years past and usually had great color there. I texted him while there and we arranged to meet near the racetrack soon after. He was walking down his street as I drove down to pick him up and a few minutes after introductions, we were heading south to check out the waterfall. The area had received two inches of rain a few days before, so we pulled up to find the waterfall really up and rolling down over the rocky shelf, the water had much more force than I have ever seen it. While it didnt have the explosion of color I found there last fall, it still was pretty. We had the place to ourselves and got started right away. Tre is very hot  with a nicely toned build and he has a very pleasant personality often accompanied by a super sexy smile, and although he had never modeled before, he turned into a big flirt as soon as I lifted my camera up and started focusing….
…talk about a flirt…look at that pretty pink tongue he has….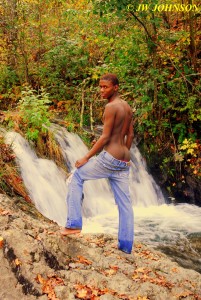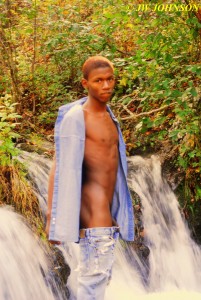 …after seeing what a big flirt he could be, I decided to see if he could handle some artsy type poses too, and he showed me that he could handle those just as easily…..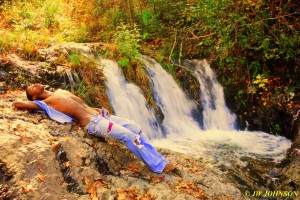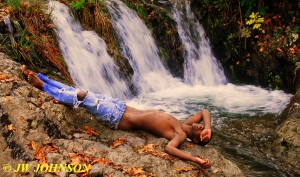 …and then he did a little flirting as well…. 
…we then dropped down to the lower waterfall and worked a bit down there as well….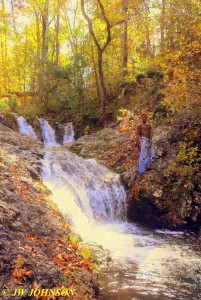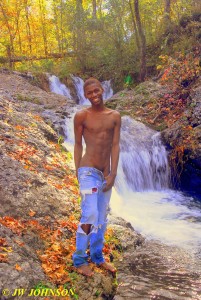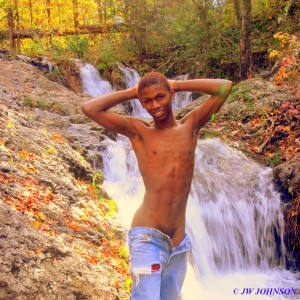 …from here, we decided to drive over to the national park to shoot the creek…there is a small bridge across it where there is usually a few beautiful maples behind the bridge, with branches that hang out over a nice pool of water that can make for a great reflection, however this year we didnt have as much color there and the sun was at the wrong angle, meaning we were there at the wrong time of day to shoot, so I settled for the arch bridge reflections instead….
…shoulda stayed and shot longer at the falls……by this time, I noticed we had an hour before sunset, so we headed back to the lake cause I wanted to shoot him down by the water`s edge as the sun dipped down and lit up the skies…..as it were, we did get a nice sunset and I was able to capture him in some fabulous colors….
…and I`m not sure what happened on this next image, my flash apparently knocked out the beautiful skies behind him, we had moved up the hill to a neat rocky lookout point. I`m still getting used to this newer camera and mainly shooting in manual mode once again, after a few years of automation shooting, this will take some time to master once again I`m sure…however, I did manage to get a great smile and his ripped build…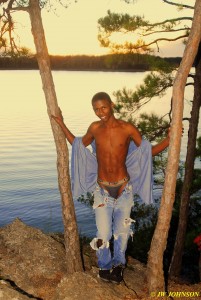 …and from here we walked down to a neat rocky ledge to shoot this next image…. 
…when the colors ran out, we headed back to the cabin to relax a bit before supper and talk some more about modeling work. After a bit of small talk, Tre asked me to shoot him in some neat underwear…. 
…after a great steak dinner, I dropped him back off and asked him to let me know if he found some more free time before I left out, cause he sure was a lot of fun to work with and I`m hoping that he can find some free time to come up here after the holidays and shoot some more with me. 
My last full day down there, I heard from one of my favorite models down there, Pierre, who I had worked with a few years back, after one of my photographer friends had put me in touch with him. Pierre is a armed forces vet and after taking a couple of years off from modeling, lucky for me, has returned to do some more. We had a cloudy day, but fortunately it had warmed up and I took him down to another waterfall that Missy and I had scouted out earlier that morning on one of our hikes….since we weren`t sure how much privacy we might have there, he brought along some pretty blue swim trunks to shoot in….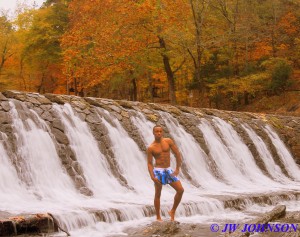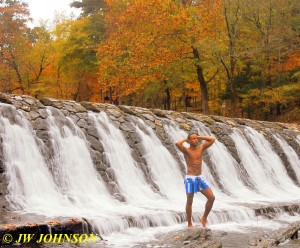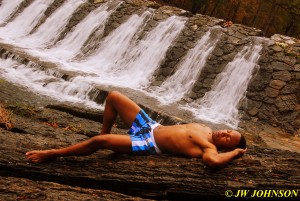 …he was perfectly willing to get wet, but I hadn`t thought to bring a towel since I didn`t intend to shoot him in the water…after shooting the falls we headed on down the trail and found some beautiful maples not far away…and I took advantage of them to shoot him in an explosion of fall colors….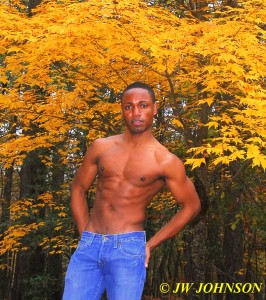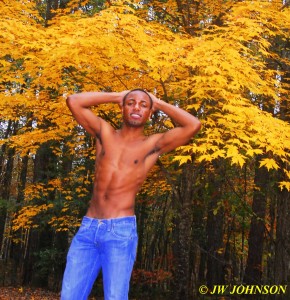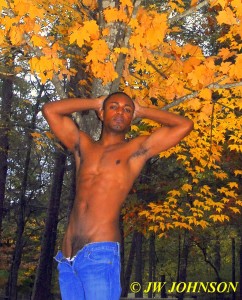 Afterwards we headed to a great restaurant for supper….thanks Pierre, for coming down for another visit and shooting with me once again. I look forward to the next time.