Over the many years that I have been vacationing in Arkansas, I have discovered quite a few male models there, here are a few of them.
Early one spring, I recall receiving a phone call one morning from a good friend who was at that time, modeling print work for Colt Models out in California, his name was Mike and when he called, I immediately thought of the latest series he had at that time been featured in, dressed up as a sexy California cop…Mike was a hott and sexy model with a dark and swarthy look to some, but could pull off about any type of look a photographer or client needed, and he could do it very well. He called me that morning to let me know of a hot young guy in northwest Arkansas that was interested in getting into some print and video work. For whatever reason, Mike wasn`t able to help him make that move, but referred me to him and him to me and suggested that I get down there as soon as possible to photograph him. I was able to make arrangements within a matter of weeks and stopped off there to work with him one afternoon as he was closing his business…Chris was a gymnast and dancer and as Mike had promised, had a very sexy look and build to him. After working with him at his studio there for a few hours, I was able to convince him to drive up a few weekends and work with several of my photographer and producer friends near St Louis. Here are some of his early images….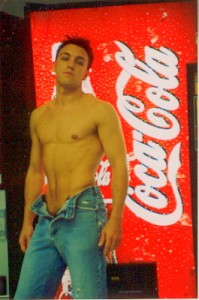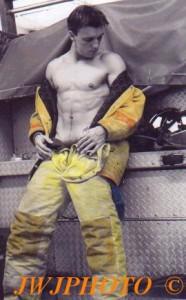 Several years ago was my first of many repeat trips to Hot Springs… I stayed in a hotel called Hamilton Lake Inn and Suites…it was located on a strip of land that stuck out into the lake from Highway 270 on the west side of town, just west of the bypass, and resembled a large riverboat with a huge sunroom in the middle, under which was located their indoor swimming pool and hot tub…there were also a couple of restaurants near the front lobby and then the suites were located on two levels at the back of the building, on the water side and there was water on all three sides of the suites section. Unfortunately, it was turned into a retirement home a few years back…lucky for the residents who get to stay there. The first year there, I photographed a hot young local guy named Joe, who had a great muscular build and grew up in the area…I took a few shots of him at the inn, to start out….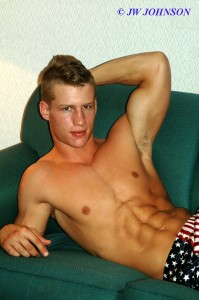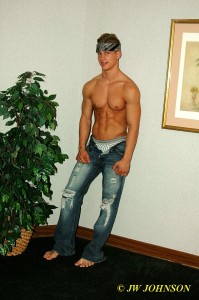 …and then he shot some art nudes as well….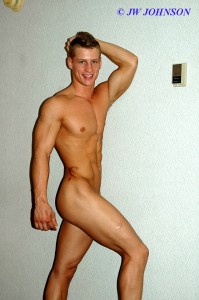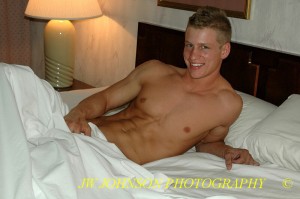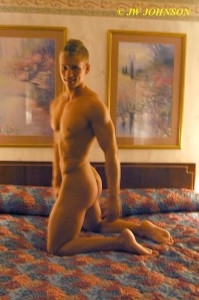 ….then we drove over to a pretty outdoor garden area that he told me about,  for his test shots and he modeled very well…I had never been there, he had been there several times, and it turned out to be a very pretty place to photograph models at….starting out at the Joy Moon bridge there….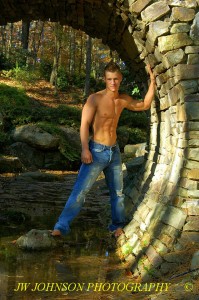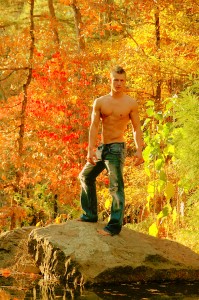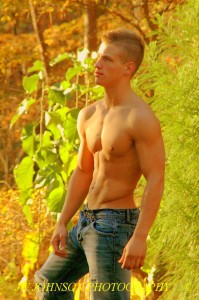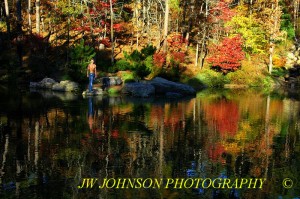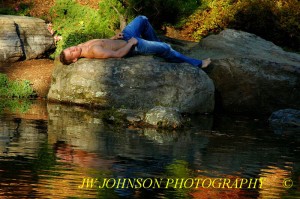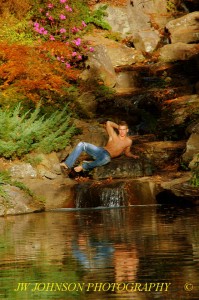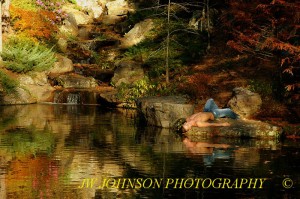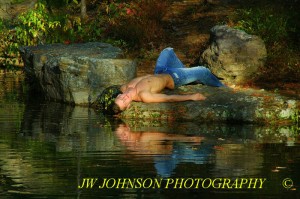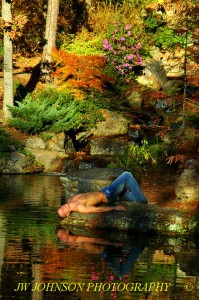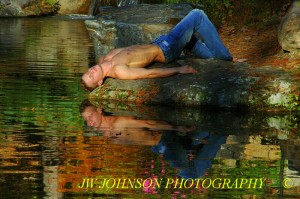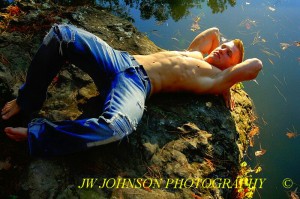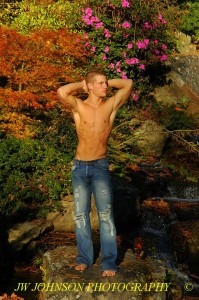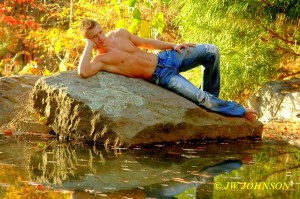 On the way down there, I stopped off in Fort Smith and met with a very cute Asian named Andrew, who was very interested in getting into modeling…his boyfriend was there and he had a hot look and build as well, tennis player, and while he wasn`t interested in modeling himself, he definitely supported Andrew on his quest to give modeling a try…he decided that he wanted to come to Missouri and shoot with me since he had no time to shoot with me while I was at Hot Springs that week…so when he came up here,  I took him to the horse farm owned by my good friends nearby and I had the good fortune of shooting him during a fantastic sunset as well….talk about a sweet guy to work with….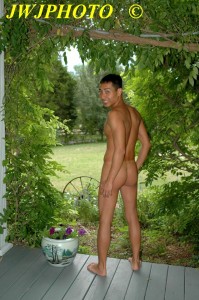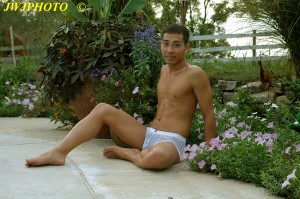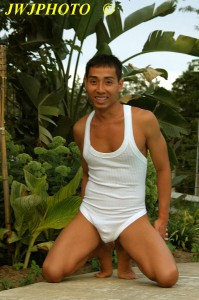 I also met a hot guy online that year, who was from Arkansas, but was attending school in the KC area….Kevin had no prior modeling experience but always wanted to give it a shot, so I invited him down to shoot with me and he accepted…talk about a very sexy guy to work with, nicely build and easy on the eyes…he had no hangups about nude work either, so I started him off with some images at my home….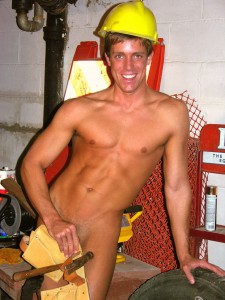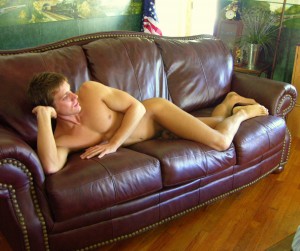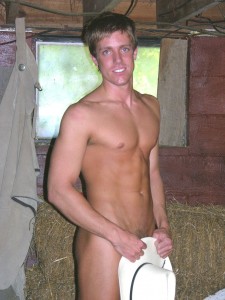 …and he liked my barn setting so much, I took him to a real barn on a real farm, where we spent a few hours shooting some nice door and windowlight images….in and out of his jeans….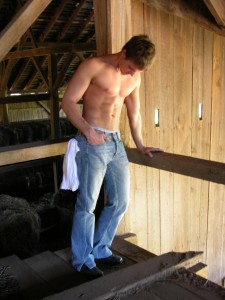 ….talk about a sweet guy to work with….I lost touch with him for a few years but re-established contact with him after he graduated and still talk to him occasionally, he became a workaholic and while I would love to shoot him again, I haven`t been able to work with him again yet.
I drove down to the Hot Springs area in 2007 for some vacation time, and after talking to a hot young guy who lived in north central Arkansas, I decided to take a different route down, one that would take me through his area and allow me to stop off and photograph him and a new Missouri model along the way…I first stopped in southern Missouri and photographed Brandon, who I had also been talking to online and we decided on a meeting place the morning I left the house. It was quite warm by the time I arrived so I was glad Brandon had a nice air conditioned location set up for the test shoot…another countryboy who was easy on the eyes and nicely built….he had some new underwear briefs from Unico that he decided to start posing in…..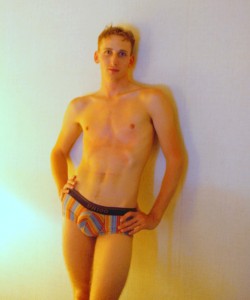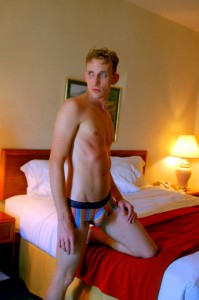 '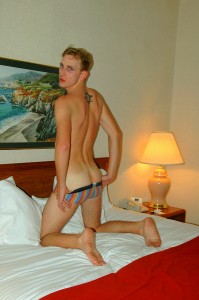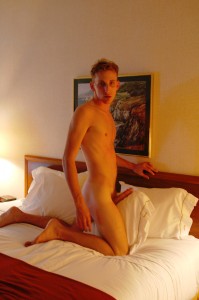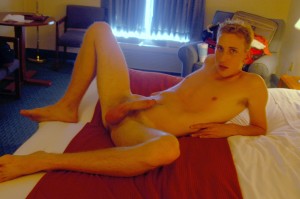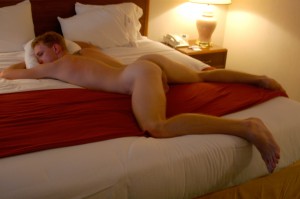 …then I traveled down into north central Arkansas and stopped off at Jaie`s farm near Batesville….his first test shots in the cornfield there….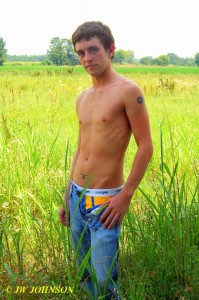 …then moving inside an old garage on the farm and working with the tools and props inside it….
Jaie was a sweetheart to work with, very sexy and soft spoken, but def had the desire to get into some video and print work involving erotic nude work…I told him I would be down in Arkansas again later that year and would be happy to shoot more of him then if he was interested…boy was he…so we made plans to shoot again down near Hot Springs that fall, and I continued south toward Hot Springs, arriving that evening and setting up camp near DeGray Lake.  
I shot a few guys while there at the lake that week, some beautiful locations down there to shoot at, too…the first guy was Chad, a local guy, who looked way younger than his age, he told me he was 29, yet he looked more like 21 to me…he even showed me his id card and I was even more shocked then….this one is slightly out of focus, but you tell me how old he looks here….
..forgot to mention what a sexy smile and smiling eyes he has….will let you in on yet another surprise, he is now even older and still looks the same….hope to see and visit with him again on one of my next few trips down there.
Nick was the next guy I photographed there…shot a few of him where I was staying and then took him down to one of the beautiful locations nearby….he told me he was Italian and had a nice build, and he wanted to get into some video work as well as print work, and nudes were just fine with him, he had no problem showing off anything at all, and he was def right about that…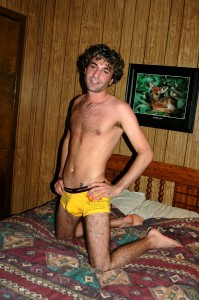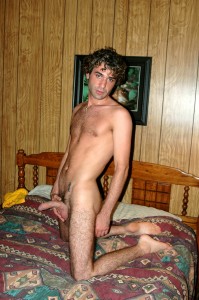 …he just left out a few details on his application and resume….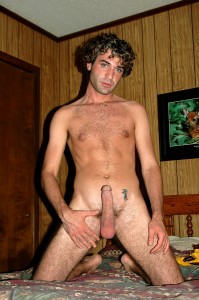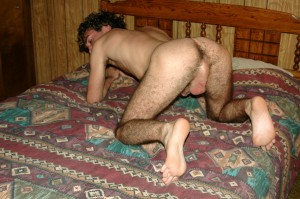 …he also had an artsy look to him when he was posing outside…
…but he def liked to flirt as well, pretty much all the time….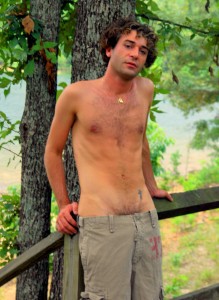 Nick was a lot of fun to work with, he has a great personality and is still a tease and flirt, these days years later, when I see and visit with him on trips in that area.
I spent a couple of days at the Lake Hamilton Inn at Hot Springs before heading home, and while there I shot Joe there once again. This time he didn`t have as much spare time, so we just shot a few images in his underwear and swimwear there at the inn….he was sporting a new hairdo as well….he got into fitness modeling work soon after……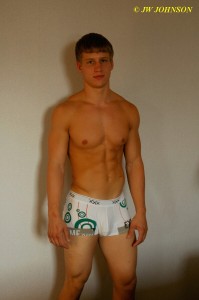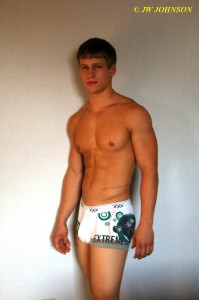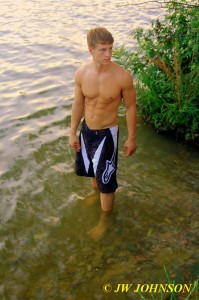 There were several models that I worked with from Arkansas, that I no longer have images of, thanks to a few computer crashes along the way that destroyed not only my extensive photo files but also my backup systems along the way, many of whom I helped get into video work as well as print work.  
True to his word,  Jaie went with me on my fall vacation to the Hot Springs area, it was my first time staying on Lake Ouchita at a new vacation spot. He and I went out exploring waterfalls in the area of Mount Ida one day when we came upon a few that were visible in the forest from the road, so we found a wide spot to park at and then walked over to check it out….
…he started out in his jeans but made it very clear that he wanted to shoot some art nudes too…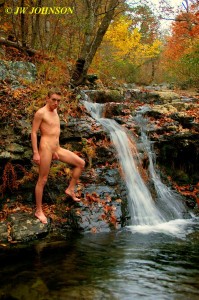 …we then walked down the creek to yet another waterfall, we could hear it from the other one, this one stair steps down several times….
…we then wasted no time in driving to the main waterfall in the area, where we found AMAZING fall colors waiting for us on both sides of the water…I have been to this location several years since, and have never found color like this again. Jaie like the rocks with the puddles of water in between them and so we started there….with his holie jeans rolled up, he looked like a young Huck Finn….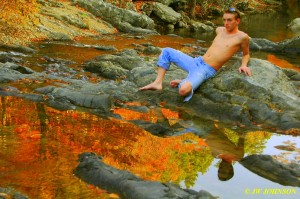 …and then we concentrated on a couple of the waterfalls there….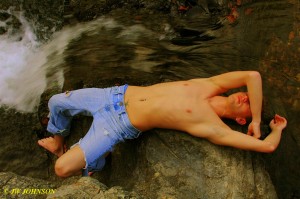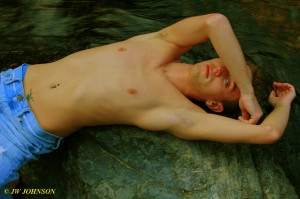 In the fall of 2008, I returned to the new vacation spot on Lake Ouachita….it was smack dab in the middle of several locations that I like to shoot at…. one of those locations was pointed out by Randy, one of the models that I discovered down there that year…..in our discussions online, I found out he was Native American, had long curly black hair, a slim build, wasn`t shy in the least, and was multi-talented….for his test session I shot him in a few local locations near Lake Ouachita….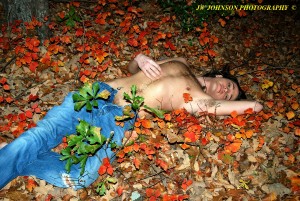 The next day when another Arkansas model, Crys…showed up from the Fayville area to shoot some waterfall images with me, Jaie graciously volunteered to hold on to Missy for me and stayed upon the road. There were some more waterfalls in the area of the last one I shot Randy at, and Crys and I decided to bust through the brush and walk down the creekline to get to them…. it was fairly obvious it would be rough going so Jaie volunteered to keep an eye out for us as well. We found several smaller waterfalls in a mile stretch of the creek…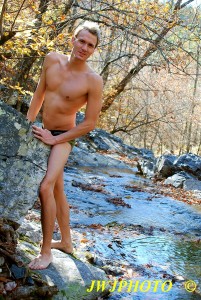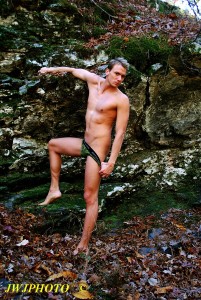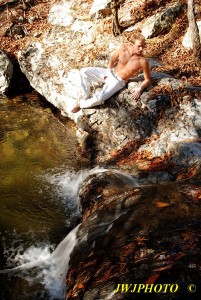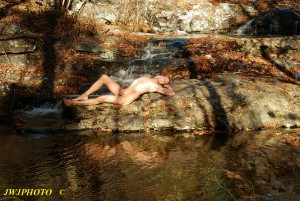 …after an hour of brush busting to get those images, we climbed back up the steep bank to the road and returned to the truck, and drove to the other main waterfall, where there was a bit of fall color along the banks….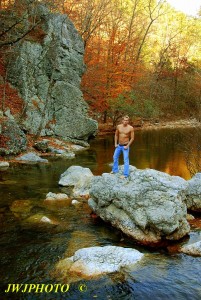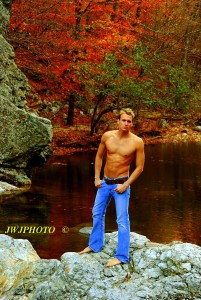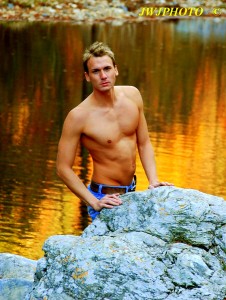 Crys turned out to be a super nice guy to work with, easy on the eyes and nicely built as you can see, and a very hot art nude model. I didn`t get to work with Crys again for three years, mainly due to his travel and work schedule, his employer had him on the road quite a bit. My next shoot with him, ironically, was in a waterfall in Missouri.
Clint was the other model that I shot down there that year….he was a cute blonde countryboy from rural northern Arkansas at the time, we shot a few underwear photos in the short time that he had available to shoot that day….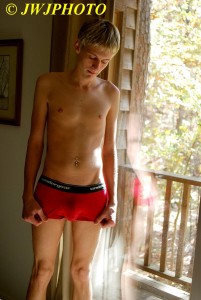 …and a nude or two….
Clint decided he wanted to tone up some more and then shoot with me again….which was fine with me, cause he was def easy on the eyes and had a great personality to work with….