I talked to a cute guy a few weeks ago online one evening, and as cute as he looked, I was surprised that he had never done any modeling work. We talked for about an hour and he sent me some photos, and he had a nice toned slim build as well. I was quite impressed and invited him to come down and shoot with me some time. We set up a time and date and he showed up that afternoon and looked even hotter in person than his pics. 
Brad is his name and he said he would love to get into some nude modeling work…he lives in the St Louis area……has a nice toned build and a beautiful smile that just lit up the room…I started him out in a pair of holie jeans and shot him barefoot in the barn….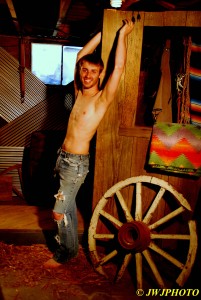 He came down that day with a light dusting of facial hair, giving him a sexier look with the five o`clock shadow….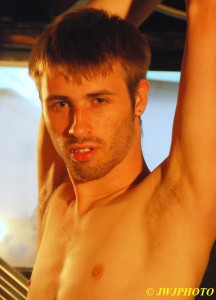 …we were talking during the barn shoot and he told me that he wanted to get into nude modeling work, but didnt think his butt looked good enough for it….. told him I hear that quite a bit but assured him he had a very nice physique and would make a great nude model, not to worry about it….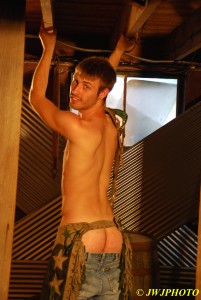 …since he looked so good in jeans, I added chaps and some rope to see if he could make them look good too….
…and he did make them look equally well…..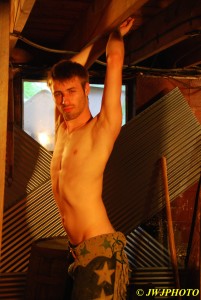 …and not long after, I found out he has a variety of looks as well, from innocent roper to…..
…sexy smile roper…..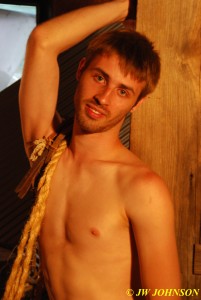 …and then he became a sexy buckaroo as well…..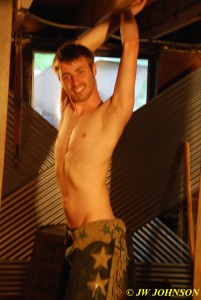 …we then went back upstairs and shot some in his underwear…..
 ….where he turned on many of those innocent looks and smiles again…..
…in other words, a natural flirt…..…and pretty soon, the underwear came off as well and he showed it all off…...and it was soon apparent that Brad was completely comfortable with showing off in every way possible….nude and erotic nude…
….which works well for him because I have some photographer friends that like to shoot nudes as well and often work with some of my models for their projects and shoots…they see my work here and often contact me regarding models who like to shoot nude….a win-win situation for the model and them. I`ll add more photos later on.