In the fall of 2011, I returned to Lake Ouachita and this time stayed in a condo owned by a friend, and Kyle traveled down with me this time as well. I was down there for a mixture of business and fun and added an extra day to my stay as well. We saw and photographed some great sunsets and beautiful scenery with exceptional fall colors and waterfalls that week, and Kyle got to shoot with my photographer friend DJ, from the Conway area, as well as a couple of models, Landon, who was new,  and Nick, one of my older models from southwestern Arkansas. As soon as we got settled in to the new place, we drove down to Hot Springs to check out the color with what light was available and then headed to the chinese buffet…and came upon this beautiful sunset along the way….
  …after supper, we headed back to the condo and I gave DJ a call to see when he and Landon could come down and shoot and settled on a morning shoot two days ahead. I told him about the waterfall and we planned to shoot there as well with both Landon and Kyle…soon after that, Kyle and I hit the hay after a long drive and long day. The next morning, I took care of business, four hours worth, and then we went down to Hot Springs for some vacation fun activities, spent most of the day doing that, but came back and I spent some time photographing Kyle as well…although he isn`t from Arkansas, he is a super hot model and a very good traveling companion as well, he likes to do some things I like to do and enjoys going with me from time to time…and has traveled with me a few times to Arkansas. Plus he is mature for his age and responsible, dependable, honest, and reliable as well, what more could you want in a traveling companion/model….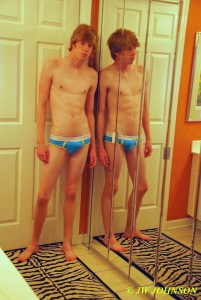 Kyle has a slim toned build, he is a gymnast and tumbler and acrobat and wants to join the circus someday where he can do all of those things that he likes…I really like watching him move into those handstands and other unique positions that he can put himself into, he is an amazing guy to watch and photograph….this place had some really neat mirrors and we took advantage of that….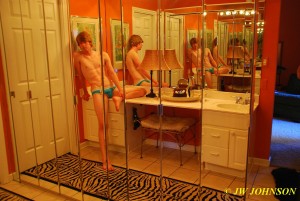 …and these poses with the mirror really showed off his toned build and lines…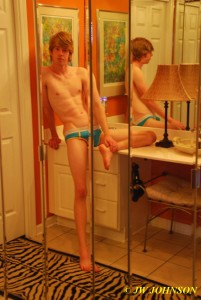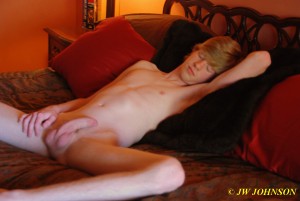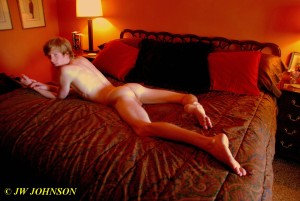 DJ and Landon showed up the next morning and after the introductions and some small talk, we got started, me shooting Landon first and DJ shooting Kyle…Landon has a very nice swimmers build and is easy on the eyes with a pleasant personality and was fun to work with….he took a liking to the holie jeans Kyle had made for me and I let him wear them under the condition that he had to return them….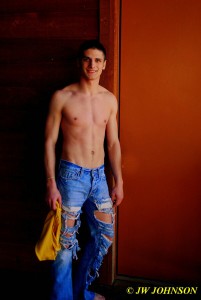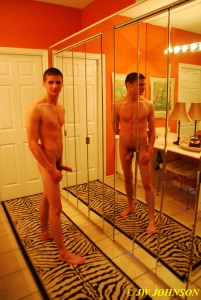 …we soon headed for the falls, the temps were good and warm and when we arrived, we had the place to ourselves, there was good light and good color…I again started shooting Landon since he is closer to DJ who can shoot him anytime, and DJ was enjoying his shoot with Kyle as well…I started Landon off in fire gear….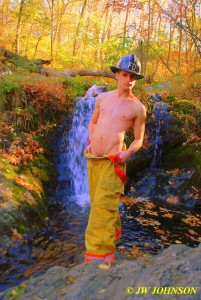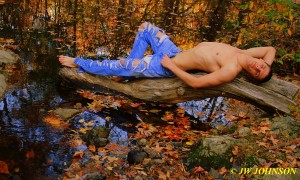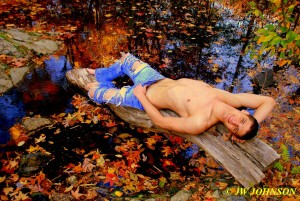 …a few times I saw Kyle doing a handstand while waiting for Landon to change outfits….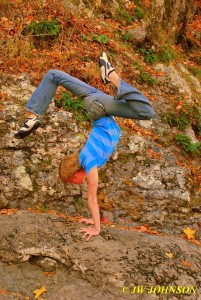 and another one later on, nude….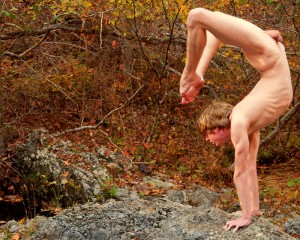 …and then we shot them together at the falls….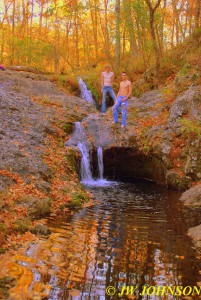 The next day Kyle and I resumed our other activities and then that evening, went down to HS and met up with Scott, one of my former models,  and one of his buddies, for supper at a bar and grill that had huge flat screen tv`s inside…everyone was watching the Razorbacks playing long time rival Alabama. Kyle and I were famished by the time we got there and squeezed into a booth with Scott and Riley and ordered a steak…for a hole in the wall joint, the place sure had some good food. We visited with them for a few hours and then took off for the condo, wanted to get a good nights rest before heading home the next day with a few stops. The next morning we woke up early and headed to a few waterfalls on the way back…Kyle had been with me at one of the falls a few years back and helped me with a shoot there but we ran out of daylight and I didn`t get to shoot him then, so this trip down, he asked if we could shoot there sometime during the trip and I said you bet. As it was, I was going to stop off and see Nic, one of my older models who has been with me several years, and the waterfall Kyle was referring to, was on the way, so we were gonna kill two birds with one stone this time. This waterfall is usually pretty crowded this time of year, but this time we found it to be virtually devoid of all people…we didn`t know at the time we pulled up because there was a car in the parking lot, so we decided to play it by ear…and started out in the holie jeans that Kyle had created….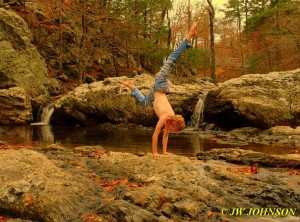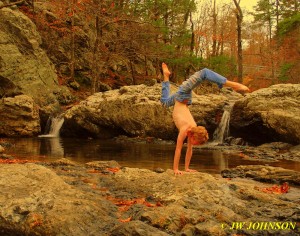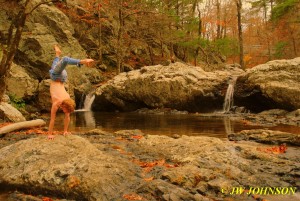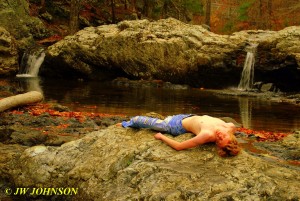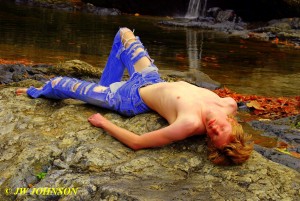 …when we finished and started back toward the highway, we still hadn`t seen another soul there…I wish now that we had shot some nudes while there, but due to the wet leaves on the trail, someone could have easily walked right upon us. There was a nice waterfall on the way back, that we stopped at for a few minutes…it`s located about ten feet off the road and there is a campsite next to it, that was empty this time as well, but we decided not to take any chances there either….
  …we then headed over to visit with Nic for a couple of hours before heading to the reunion and on home.  It was two years later before I worked with anymore models…my most recent trip in the fall of 2013, I had the pleasure of working with a very cute young man named Tre, who wanted to break into some modeling work to pay off some extra bills and help his family out. I stopped off in HS my second day there and met him in town after checking the color in the national park campground. After some small talk, he hopped in my truck and we headed to the falls to take some initial test shots. The falls were really rolling this year, the area had received a good soaking rain a couple of days before my arrival, so I had noticed alot of creeks were up and rolling as well, on my trip down there the day before. I hadn`t given much thought to the waterfall tho, but it didn`t bother him or me, made for a better backdrop….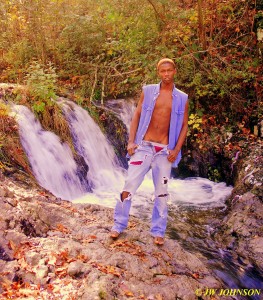 I had discovered on the way to the falls, after picking him up, that Tre had a really laid back and pleasant personality, easygoing laugh and a very cute and sexy look to him…I had a feeling he was going to be great to work with, and despite his inexperience as a model, he made up for it with his maturity, flirtiness,  and his yearning to listen and learn…I soon found out I had a natural model on my hands….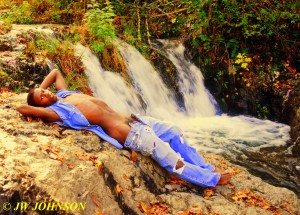 …and then to the lake for some sunset action….